Timothy Bradley has point to prove in Manny Pacquiao rematch
Timothy Bradley admits he has a point to prove ahead of this weekend's rematch with Manny Pacquiao.
Last Updated: 08/04/14 3:25pm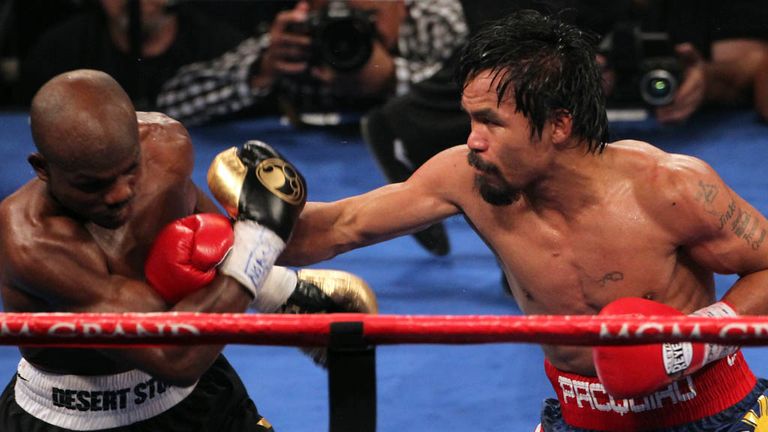 The pair clashed back in June 2012, with challenger Bradley edging a controversial split points decision to hand a stunned Pacquiao a first defeat in seven years.
Pacquiao appeared to have done more than enough to take the decision, despite slowing down in the later stages, but was left stunned as two judges scored the bout 115-113 to the unbeaten Bradley and one handed the win to Pacquiao by the same score.
His career looked to have stalled when he was knocked out by Juan Manuel Marquez in his next outing, but last time out Pacquiao got back to winning ways with a points win over Brandon Rios.
People still dispute the outcome of their first meeting and 30-year-old Bradley (31-0 12KOs) is keen to put the record straight.
"Absolutely, I have a lot to prove in this fight, and number one is that the first fight was not a fluke," said the Californian.
"There were a lot of things that happened in the first fight that weren't right. So I am a different fighter now. A different beast - a different animal this time around and I am going to prove to the fans and everybody watching.
"I got the win but it felt like I lost because I didn't get any credit from the fans and it's important to get the credit from the fans. I feel I need to showcase myself and win by a large margin.
"I am telling you man, both of us have a lot to prove in this fight. The reason why Pacquiao really needs to win this fight - because if he loses this fight, think about it - his career might be over.
"I really need to win this fight because of the controversy of the first fight. You know 'I beat him, I beat him, I beat him', but this time I need to beat him more decisively because of the fans so they can give me the credit for it."
Bradley has twice defended his title since that first meeting with 35-year-old Pacquiao (55-5-2 38KOs), with points wins over Marquez and Ruslan Provodnikov.
And he insists he has the skills and nous to make sure that he hangs onto his coveted world strap.
"I am not going to give away my game plan right now," said Bradley. "But everyone knows what Manny Pacquiao is going to do.
"He is going to try to bring the fight to me and I am just going to show everyone it is not going to work.The one thing I have learned is to not be reckless and not get away from the game plan and listen to my corner, so that won't happen in this one.
"That fact, of me fighting hard and with my determination and my will, and because I want to win this fight with no questions. We have a game plan and I am going to go out there and execute my game plan and that's that.
"When I fight in the trenches or a war, or I go outbox Manny Pacquiao - I will win no matter what."
Bradley also believes he has won the battle of the mind games leading up to Saturday's clash at the MGM Grand.
"The first fight we had he said he was compassionate. He carried me through the fight and he never really trained that hard and made-up every excuse in the book," said Bradley.
"But Pacquiao is going to be vicious. I got under his skin by saying that he lost it. He's been training hard and I heard throughout the grapevine he has been looking sharp - and that's his job, he needs to be at his very best.
"And I have been working hard too, so we can put on a show for the fans and that's what it's all about."