Trainer Joe Gallagher believes Scott Quigg can overcome a late change of opponent
Joe Gallagher expects Scott Quigg to put on a big show despite a late change of opponent on Saturday night.
Last Updated: 17/04/14 11:43am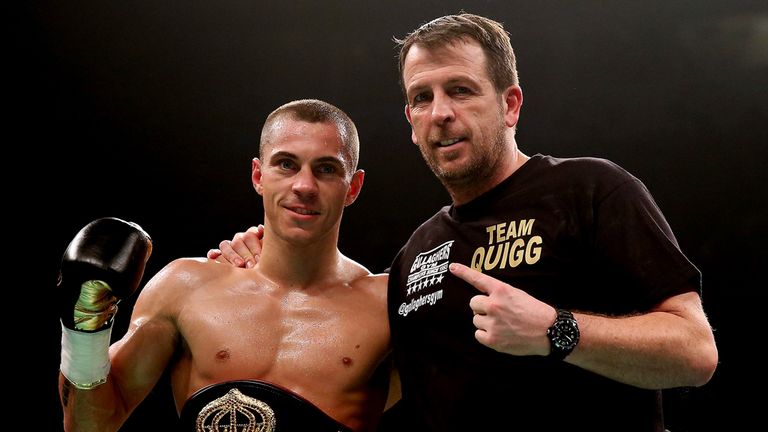 Quigg puts his WBA super-bantamweight title on the line against South African Tshifhiwa Munyai, who came in at late notice last week after original opponent Nehomar Cermeno was hit with visa problems.
A late change of opponent is never ideal but Munyai (24-2-1) presents a difficult test at the best of times, being an awkward, tall and experienced foe.
At just 21 he ended the unbeaten records of British duo Martin Power and Lee Haskins and although he has not quite delivered as expected on the international stage, he looks sure to prove a worthy opponent in Manchester.
"Tricky is an understatement - he's very good," trainer Gallagher told Sky Sports. "He's been over here before, stopped Lee Haskins and beat Martin Power twice - both very capable fighters.
"He's very tall and not scared to fight, he's got quick reflexes and all the moves, it's a very dangerous fight and at a week's notice too.
"He was over here already sparring (IBF bantamweight champion) Stuart Hall, he doesn't have jet-lag or anything else like that to worry about.
"Scott has been in training for nine weeks for a specific opponent with certain habits and to re-adjust that for a really tall kid is a near-impossible task.
"But he's on fire in the gym and I expect nothing less than a knockout."
Dedicated
Quigg is still only 25 but has picked up a lot of championship experience over the past four years and Gallagher is confident the Bury man will get the job done.
"Quigg has been in title fights ever since he's been with me," he said. "They've all been testing, seasoned fighters and he has always produced the goods.
"He's very dedicated and the fittest boxer in British boxing. We got some DVDs of Munyai on Friday and came into the gym for some extra sessions on the weekend to make some adjustments, and I'm confident we've got the right gameplan.
"It's up to Scott to produce now and he's got a great platform to do it at the Phones 4U Arena. Munyai is in the WBA's top-10 and you can't do more than beat the man in front of you."
Saturday sees another busy night for Gallagher with his other stable stars Anthony Crolla and Callum Smith in action, as well as super-middleweight prospect Hosea Burton.
"There's a juicy local derby between Crolla and John Murray while Callum is coming back after six months off and Burton is fighting for his first title.
"It's a tough night's work but I don't want to complain about it, I see it as a challenge to come up with different gameplans for certain fighters on the night.
"Crolla has been sparring over the past week with Liam Smith, a good pressure fighter and just a bigger version of John Murray really. He's very relaxed and only just over the weight now.
"I really fancy a Crolla win by knockout."