Carl Froch: George Groves can't wind me up
Carl Froch told Ringside he is immune to George Groves' pre-fight jibes and focused on his task.
Last Updated: 15/05/14 1:58pm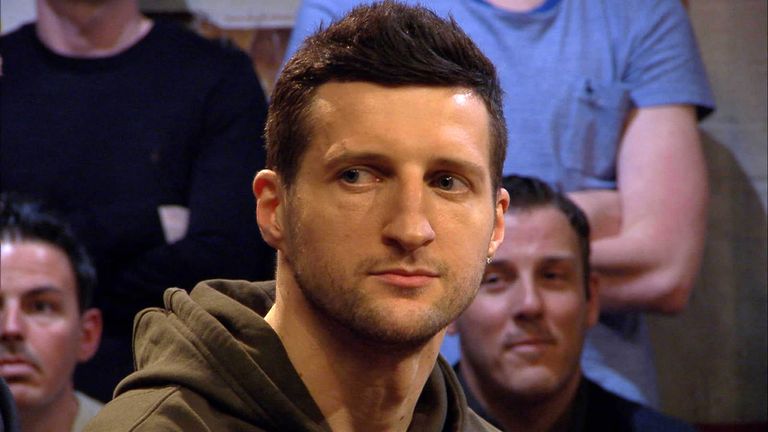 The pair - who will box for a second time in front of 80,000 fans at Wembley live on Sky Box Office on May 31 - were both in the Ringside studio on Thursday.
When the two fighters last appeared on the show, ahead of their controversial first clash last November, Groves visibly rattled the IBF and WBA world champion.
However, a more relaxed Froch - who is seeing a psychologist ahead of the rematch - insists he is fully focused on what he has to do in the ring, rather than what Groves has to say in the build-up.
"I'm in a much better place," said the Nottingham fighter.
"There's certainly not anything he's going to say that's going to wind me up. It's impossible.
"The hatred started when George was being really disrespectful and playing down my performances and writing me off.
"I thought to myself 'hang on a minute, I'm world champion. I deserve a little bit more respect.' But there's nothing he can say now that is going to get under my skin."
Hurt
Groves was typically forthright throughout Ringside, adamant he deserved to win their first bout and critical of Froch's attitude towards him.
However, he says whether Froch is mentally prepared or not, there will only be one outcome at Wembley: a Groves victory.
"I said before the first fight that Carl has insecurities, that he seeks reassurance," said the 26-year-old.
"Ultimately, when I box Carl Froch, whether he's mentally on his 'A' game or whether he falls to pieces, he's still not going to be quicker than me, he's still got going to have better movement than me, he's still not going to have better defence than me. I'm still going to hurt him every time I hit him.
"It doesn't matter whether he's on song, whether he does more miles, whether he over-trains, whether he feels good in himself. It makes no difference to the facts of the technical breakdown of each of us. He's out of his depth and he can't win."
Watch Froch-Groves II on Sky Sports Box Office on May 31.