Floyd Mayweather ready to come through Marcos Maidana test in Las Vegas
Floyd Mayweather claims he has the strategy to keep his record ideal intact against Marcos Maidana in Las Vegas.
Last Updated: 04/05/14 7:22am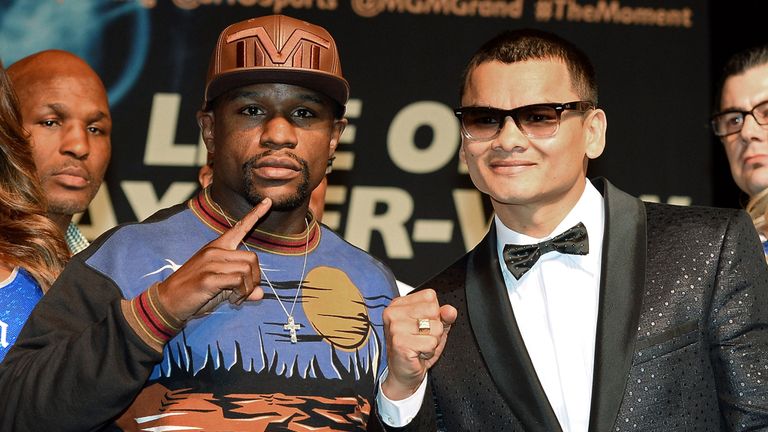 The 37-year-old undefeated American will be a 1/12 favourite when he defends his World Boxing Council 147-pound crown against the World Boxing Association champ Maidana in a unification bout at the MGM Grand Hotel and Casino.
Mayweather has won championship belts in five divisions and remains undefeated in 45 career fights and his counterpunching style may not make for exciting knockouts, but it has served him well during an 18-year career.
"The game plan is to stay in the pocket. Make the guy miss and make the guy pay," said Mayweather who is the highest paid athlete in sport, earning an estimated US$85 million (£50m) year according to Forbes Magazine.
"Is Marcos Maidana one of the best in the sport? Absolutely. But I am the best there is. We are still wondering who's going to solve the 'MayVinci' Code? But come Saturday I will find a way to win."
The fight is the third of a 30-month, six-fight television deal worth $200 million-plus.
In his last fight in September, Mayweather became the unified light-middleweight world champion by dominating Mexico's Canelo Alvarez in the highest grossing pay-per-view bout of all-time with revenues of more than $150 million.
Lucrative
Mayweather is guaranteed a purse of $32 million on Saturday, while Maidana will receive $1.5 million.
The 30-year-old Maidana (35-3, 31 KOs) will be making the first defence of the belt he won by shocking previously-unbeaten Adrien Broner last December.
One of his three career defeats was inflicted by Britain's Amir Khan - fighting on the undercard this weekend - in December 2010.
"Maidana is a predictable fighter," said Floyd Mayweather Sr, who trains his son. "When I see Maidana. I see someone that Floyd can easily pick apart. Maidana may be able to punch strong but here's the thing - how you going to hit something you can't catch?"
Khan squares off earlier in the night against American Luis Collazo in a non-title fight that could put the winner in line to fight Mayweather later in the year.
Khan thought he was on course to fight Mayweather on this card but Mayweather plumped for Maidana instead.
"He will be bigger than me on the night of the fight and at times I will have to dig deep," said Khan, 27, who is moving up to welterweight for the fight.
Broner also reappears on the bill in another non-title bout against Carlos Molina.