Amir Khan not looking to Floyd Mayweather fight before facing Luis Collazo
Amir Khan says he cannot afford to shift his focus away from dangerous Saturday opponent Luis Collazo.
Last Updated: 03/05/14 11:42pm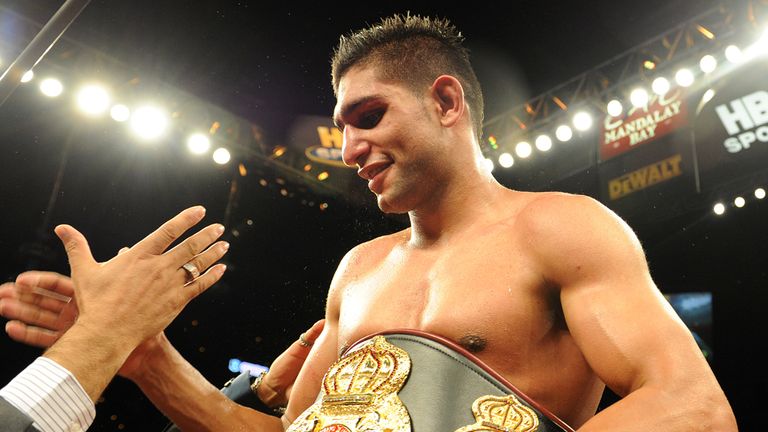 Khan returns to action in Las Vegas and hopes an impressive win over the tricky Collazo after a year on the sidelines will lead to a call from Floyd Mayweather, who headlines the bill at the MGM Grand.
He previously admitted to being worried about such a long spell of inactivity, but now feels it might act in his favour as he feels refreshed for his return to the ring.
"I really believe I needed a long break off and sometimes taking that time off makes you mentally and physically stronger," said Khan, who weighed in bang on the 147lb welterweight limit, as did Collazo.
"Time will tell and on Saturday night we will see how much I've become a better fighter. It has never really affected me. I have always just focused on my next fight.
"The whole focus is going to be on Luis Collazo.
Hype
"I don't really want to get into all the hype about what's happening in the future but what I need to do is keep winning.
"I know I will be in Floyd's eye, even though it didn't happen last time. I'm just going to be focused on the fight because I'm up against a tough guy."
Collazo, narrowly beaten by Ricky Hatton in 2006, says he is paying no attention to any of the talk that Khan sees him merely as a stepping stone towards a payday against Mayweather.
"It's okay - I've been the underdog all my life," said Collazo. "I've been in his position before and I'm more than happy to welcome him up to welterweight.
"Back in 2006 I was on top of the world and I thought it was my time, but God said it wasn't.
"Last year I was heading nowhere - I didn't know where my career was going. And a year later, I'm here, I'm blessed, and I'm very excited.