Nathan Cleverly is adamant he will be seen at his best at cruiserweight
Nathan Cleverly believes he will take the step up to cruiserweight in his stride later this month.
Last Updated: 06/05/14 2:37pm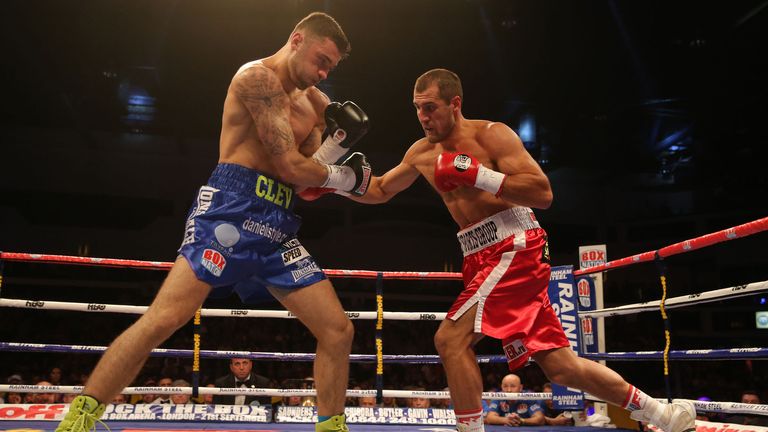 The Welshman moves up from light-heavyweight for the first time against the Guyanese insisting he is ready to show he has the extra power at 200lbs.
"I can still make light-heavyweight, but there's a difference between making the weight and performing at my best at the weight," said Cleverly, who returns to the scene of his final fight at his previous weight against big-hitting Russian Sergey Kovalev last August.
"There's no way I can perform at my best at 12st 7lbs. My body fat percentage is too low and I feel sluggish when I try to get down to the weight, my mouth gets dry and my legs get heavy.
"I've experimented in the gym at various weights and when I am at 13st 5lbs I feel great - really sharp and energetic. Ideally there would be a weight in between light-heavyweight and cruiserweight but there's not.
"I don't want to sacrifice any more to make weight so it's time to move up and to do it properly, that's why I have taken the time to grow into the weight properly.
"I need a few fights to settle into the weight. You are going to come up against some big guys and I need to see how I react to that and deal with it, I think I will handle it well and that's what we'll find out on May 17."
Cleverly enjoyed over two-and-a-half years as the WBO light-heavyweight king and the 27-year-old says that although his defeat to big-hitting Russian Sergey Kovalev last August was painful, it enabled him to rediscover his hunger for the game.
"The Kovalev defeat was gutting, I was disappointed and frustrated and I needed a break," he said. "I had a long training camp and the last thing I wanted to do was get back into the gym or in the ring.
"I ate a bit of junk food, had a few nights out and I was waiting to be mentally back on it. A few months ago it hit home that I wanted to go again and really make my mark and now I am ready for that and excited again now.
"Kovalev is a massive puncher; each punch is like being hit by a sledgehammer. He sparked Ismaly Sillah clean out in the second round - he was completely gone. He didn't do that to me, he shook me up and I was in no position to continue really.
"I was drunk from the punches and I have got a great chin, so he does hit hard and he's probably the most dangerous light heavyweight out there.
"At the time I felt like I could win, he was the favourite going into the fight with the bookies and they rarely get things wrong - he was the favourite for good reason but we took the gamble.
"I want those type of fights and I wanted them earlier truth be told, but we made that one happen and the gamble didn't pay off. But at cruiserweight I will be back at that level in a couple of fights and they are the fights I love - big 50/50 fights with world titles on the line, everything to lose and the pressure on. That excites me."
Cleverly's debut at cruiserweight against Corbin tops a great line-up in Cardiff as Lee Selby faces Romulu Koasicha in an official eliminator for the WBC featherweight title with the International belt on the line.
There's a rematch between Welsh lightweights Gary Buckland and Gavin Rees, who served up a Fight of the Year contender in the same venue in February, and Liverpool's super-middleweight star Callum Smith defends his WBC International super-middleweight title against Swansea's Tobias Webb.
Dale Evans faces Mark Douglas, while Chris Jenkins, Mitch Buckland, Robbie Turley and Alex Hughes are also in action.