Froch v Groves II: James DeGale believes George Groves will win unless Carl Froch makes changes
James DeGale says bitter enemy George Groves will win at Wembley unless Carl Froch makes changes.
Last Updated: 22/05/14 8:45pm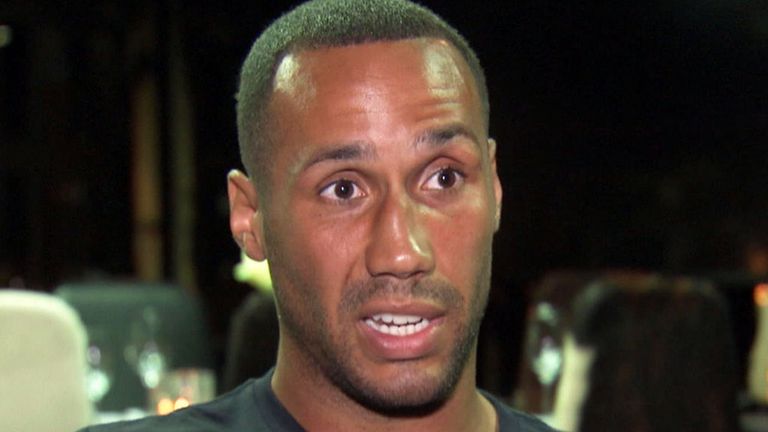 Fight fans do not have to wait too much longer for Froch's rematch with Groves on Saturday May 31, live on Sky Sports Box Office, and fellow super-middleweight DeGale will be in action on the undercard.
The Londoner faces a crucial clash against Brandon Gonzales, with a possible world title shot on the line and even a fight against the winner of Froch-Groves II.
DeGale kept a close eye on the first encounter, which saw Groves controversially halted in the ninth round, but he feels Froch's shortcomings were exposed by the Saint.
Asked whether Froch had taken Groves lightly, DeGale told Sky Sports: "I'm hoping he did because if he didn't he's in trouble.
"The first six rounds were embarrassing to him. The way Groves dominated him was embarrassing, because people have hyped Froch up so much, it looked so much better on Groves.
"I don't know, I'm not too sure if he can change, that's the question. Can he change? Because if he goes into the fight like he did in the first fight, I think he's going to lose.
"I've heard good things about him just keeping his nut down in training so I'm looking forward to it."
Groves emerged from the fight with plenty of credit, despite suffering his first professional defeat, but DeGale doubts whether he can raise his standards even higher in the rematch.
A points defeat by Groves still rankles with DeGale and he thinks question marks remain about his old foe's stamina.
Rattled
"I think we've seen the best of him," he said. "Obviously getting the decision over me, that was three years ago, I think we've both changed but getting that decision over me and I think him against Froch was him on his best night.
"That was him full out. I don't think you can see any better from him.
"I've read somewhere that he said he threw too many shots in the first half of the fight. I don't think he does the 12 rounds good enough.
"Even in my fight when I boxed him, the last four or five rounds, he slowed down a lot. Just in the Froch fight, he slowed down and that's when Froch got on top."
Froch has assumed a calmer demeanour in the build-up to the second fight, refusing to let Groves rile him when they came face-to-face on Ringside.
DeGale fully understands how Groves can infuriate an opponent, but believes Froch has rightly decided not be drawn into any mind games.
"To be honest the build-up to the last fight, Froch looked a little bit rattled," he said.
"He's like me, he can't stand the guy. He's annoying, he thinks he's something he's not, Groves, and yeah I just think he's just got under his skin.
"I think Froch is just taking a step back and letting Groves do all the talking, trying to play all the mental games and I think you're going to see a fantastic fight on the 31st."
Book Froch v Groves II: Unfinished Business now, online at skysports.com/frochgroves2 or via your telephone on 08442 410888.