Carl Froch urges George Groves to stand and trade in their Wembley showdown
Carl Froch hopes Georges Groves will stick to his word by engaging him in a three-round shootout at Wembley Stadium.
Last Updated: 23/05/14 7:41pm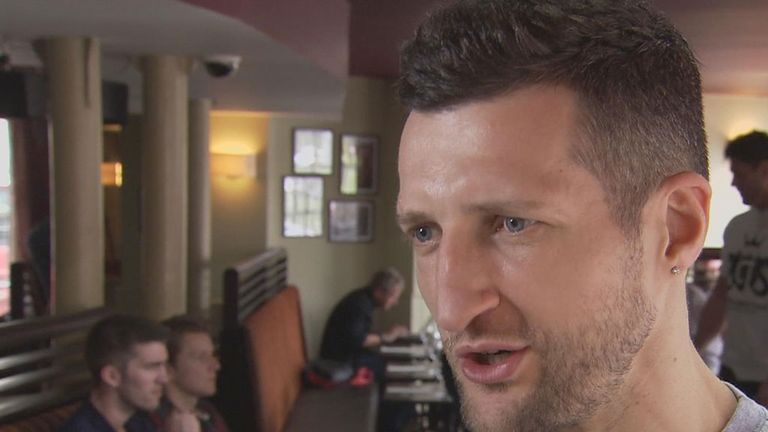 Groves has made more bold predictions ahead of his rematch with Froch on May 31, live on Sky Sports Box Office.
The challenger famously told his bitter rival how he would start their first encounter, promising to land two right hands, and on this occasion he has vowed to finish the fight inside three rounds.
This chilling pledge has failed to unsettle Froch, who insists he would welcome the chance to stand and trade with Groves.
"Hang onto your seats because he's talking about a three round fight," the 'Cobra' told Sky Sports News.
"That suits me down to the ground. Let him come out and try and do me in three rounds. He's in trouble if he tries that. The sooner he tries to fight and mix with me, the sooner the fight is over in my favour."
Froch made a disastrous start to the last clash, suffering a heavy knockdown in the opening round.
The Nottingham man eventually forced a controversial stoppage in the ninth, but plans to seize command from the opening bell when they renew hostilities.
"I'm going to be setting a ferocious pace. This is why I want him to come out and be a man of his word and say he's going to try and do me in three rounds, perfect," said Froch.
"This is what I want, so do that George. If you're coming out for three rounds, come and bring it to me. I'm going to take centre of the ring and I'll meet you there, but I don't think he'll do that. We'll see what happens.
"I know what I need to do anyway, put the pressure on. This fight isn't going 12 rounds. George Groves is getting beat by the better man and the man who has prepared just unbelievably different to the first fight. The real Carl Froch is turning up this time."
There has been a heated war of words in the build-up and the pair engaged in more mind games on The Gloves Are Off on Sky Sports One this Saturday.
The verbal jousting becomes physical as Groves is hauled over a table and Froch feels he had the final word.
"I paid no attention to him. I think I totally dismissed him on that show and the bit you are talking about - when he shook my hand - being a bit silly trying to pull me over the table and pull me about with a silly handshake," he said.
"I don't know if that was an act of bravado, but don't meet a man like me with bravado because I'll meet you face-to-face and take you on every time.
"I feel I got the better of him. It's another kind of psychological thing that he was trying to win, that I think he lost hands down."
You can watch as Froch and Groves come face-to-face again on 'The Gloves Are Off', this Saturday at 10pm on Sky Sports One.