Froch v Groves II: Scott Quigg revels in big fight atmosphere
WBA super-bantamweight champion Scott Quigg is thrilled by the scale of the Carl Froch v George Groves rematch.
Last Updated: 31/05/14 9:38am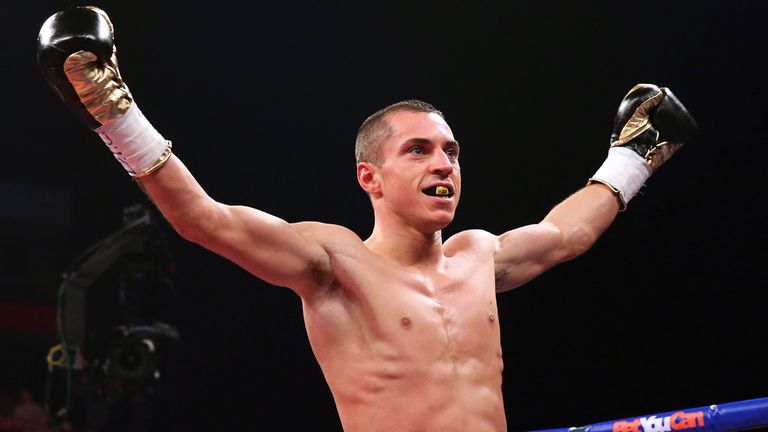 The pair clash at the home of football six months after a controversial bout in Manchester that saw Carl Froch awarded a ninth-round stoppage victory - and Quigg has highlighted the rise of the domestic scene.
Speaking at the weigh-in, he told Sky Sports News: "This is great for British boxing. It's not just a fight, it's an event. The atmosphere here and around London at the moment is absolutely buzzing.
"It's an event that's captured both boxing fans and the general public. You can feel it with the atmosphere in the place and it's going to be a great night tomorrow.
"I was lucky enough to be chief support on the undercard of the first fight and I managed to get rid of my opponent in two rounds. A week later, Froch told me that I'd caused him to have too short a warm-up, so I think he's glad I'm not on the undercard this time!
"Whether you agreed with the decision or not, Howard Foster Jr's made them both another ton of money and it's made a grudge match with every ingredient you need to make a super-fight. That's down to Foster whether he was right or wrong.
"It did get stopped too early but I do believe Carl Froch would've gone on to stop him in that round. Whether it was 10 or 15 seconds early, I think the right person won.
"This time, it's a lot different. Froch needs to start a lot quicker. I think he thought he could go in there and as soon as he landed, that was going to be it. Now, Groves has earned his respect and he knows he can be hurt.
"He's locked himself away for 10 weeks and lived like a monk and I think that's going to be the difference. Froch is going to turn up and be mentally sharp and he needs to be.
"You've got to keep your cool. Personally, I don't think they'll shy away from it. If they start exchanging early and the crowd erupts and Groves can feel the atmosphere, he's got to stick to his gameplan. If he starts trading with Carl then that's going to be a big factor."
On his own future, Quigg added: "We're in talks with Kiko Martinez, Carl Frampton and Leo Santa Cruz. Everyone wants to see a big domestic showdown with Frampton. I think after tomorrow night, the next biggest fight in British boxing would be me against Frampton and I think it needs to be made."
Book Froch v Groves II: Unfinished Business now, online at skysports.com/frochgroves2 or via your telephone on 08442 410888.