Boxing: Don Charles says Dereck Chisora will punish Tyson Fury
By Dev Trehan
Last Updated: 29/06/14 9:04pm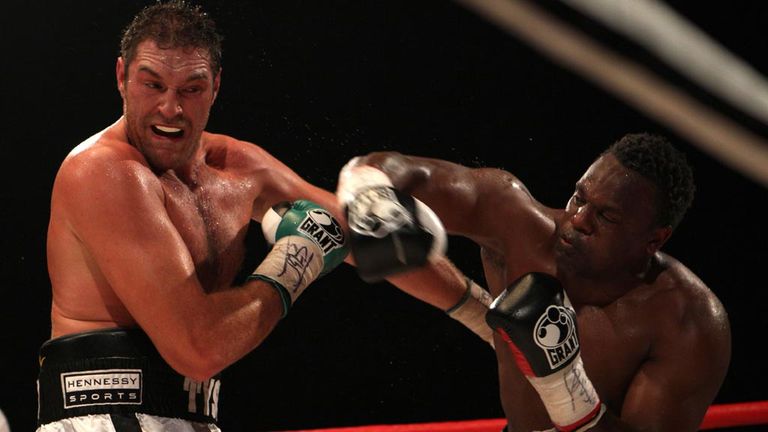 Dereck 'Del-Boy' Chisora's trainer Don Charles believes his fighter will expose Tyson Fury's ring-rustiness when the two heavyweights collide in Manchester next month.
The British and European titles will both be on the line at the MEN Arena on July 26, as well as the number one spot in the WBO rankings to challenge world heavyweight champion Wladimir Klitschko.
Finchley fighter Chisora has boxed 35 rounds in five contests during the last 18 months compared to 11 rounds fought by Fury in two bouts over the same period.
And Charles is backing his man to exploit Fury's recent inactivity and avenge the points defeat he suffered to the Wilmslow fighter when the pair met in 2011.
"Sparring and fighting are two completely different things. It doesn't matter who you are even if you're Muhammad Ali," Charles told the Sky Sports Toe2Toe podcast.
"Sparring helps you get your timing right but it doesn't replicate what you feel on fight night in that ring with an audience watching you and Tyson will find out on fight night that his inactivity will affect him.
"When that bell rings and he's in a fight with Chisora that's when reality will hit him but it's going to be too late because his inactivity will be exposed."
Unbeaten in 22 fights, 6ft 9in Fury is taller and heavier than Chisora, and also possesses a significant reach advantage over his opponent.
But Charles insists the Finchley hitman has all the tools required to nullify Fury's jab and become the first man to register a win over the 25-year-old.
"Dereck Chisora is the only heavyweight in the world who is able to get through and get to the chest of these tall heavyweights," Charles said.
"We've proved it against Vitali Klitschko. People were telling me before the fight we won't last more than two rounds against him because we'd never get inside.
"But Dereck took him the distance and he's never had a problem getting inside these tall guys, in fact his style is designed for and more effective against taller opponents. The taller, the better for us.
"If you stay on the end of their jabs these guys can do real damage but we're confident Dereck has the style to penetrate that long reach advantage that Fury has.
"Dereck is an inside fighter, he's not an outside fighter because of the way he's built. He comes in, he rolls in and then he puts it on you."
Chisora added: "By the time we're finished with Fury he'll be the same size as me don't worry about that.
"Don't forget I am the European champion, it's not like I am the underdog here. I love this game and I promise I won't disappoint in this fight.
"I've won my last five fights in the last year-and-a-half. I was the busiest heavyweight out there last year and I'm going to be the busiest in the next three years.
Wladimir Klitschko fights Kubrat Pulev in September prior to a potential match-up with the winner of Fury and Chisora, but Charles does not rate the Bulgarian's chances of causing an upset.
"When he turned professional his dream would have been to become the heavyweight champion of the world, but I don't believe he can do it based on his style," said Charles.
"Pulev is very tall but that puts him directly in Wladimir's firing line so he won't have to go looking for him.
"These guys do not have the lateral movement to give the Klitschko's a problem."
To hear more from Don Charles download the Ringside Toe2Toe podcast on Wednesday 2nd July