Daniel Geale in confident mood ahead of world title clash with Gennady Golovkin
Last Updated: 25/07/14 5:26pm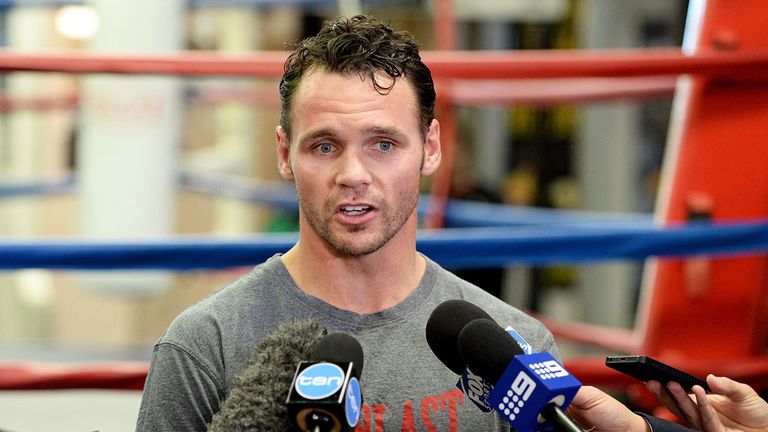 Daniel Geale insists there are no lingering doubts in his mind ahead of this Saturday's world title clash against fearsome puncher Gennady Golovkin.
The Australian will challenge Golovkin for the WBA 'super' middleweight title at Madison Square Garden in New York, live on Sky Sports.
Geale faces an unbeaten opponent, considered the No 1 in the division, with explosive punch power that has brought him 26 stoppages in 29 wins.
But the New South Wales man insists he is brimming with self-belief after an extensive training camp and is excited about battling one of the sport's best fighters at the famous American venue.
"I'm going into the fight confident," Geale told the Sydney Morning Herald. "It's true what everyone says, you have to believe in yourself, and that's what me and my team have done.
"We've trained hard. I have the opportunity to fight a world champion and take some world titles off him and to also get a chance to fight at Madison Square Garden is a dream fulfilled.
"If you go into the fight worried about what he can do; the big KO punch or he can do this, can do that, you can be beaten before you enter the ring.
"I'm going in certain if I fight the way I know I can, I can win this. I have a confidence that I can do it."
The 33-year-old's IBF title was ripped away by Darren Barker last August after the Barnet man climbed from the canvas to claim a courageous points win.
But Geale rebuilt with a stoppage win over compatriot Garth Wood in February and feels he deserves a shot at Golovkin after 30 victories and just two defeats.
"Golovkin, you dream of fights like this," he said.
"I had my goals set very high, even as a young boxer, because I wanted to achieve a lot. I can't say I'm completely surprised this has happened because I've worked my entire life to be in this position. If you have a plan, you shouldn't be surprised when it comes off."

You can watch Golovkin v Geale live on Sky Sports 1, from 1.30am on Sunday morning, with Tony Bellew and Jamie Moore in the studio and Matt Macklin on co-commentary.