Kell Brook hopes to become star in America if he dethrones IBF king Shawn Porter
Last Updated: 04/08/14 11:42pm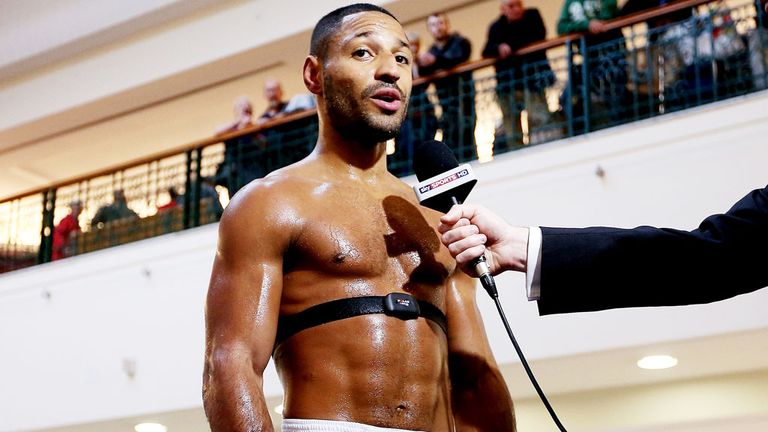 Kell Brook believes victory over Shawn Porter will open the door for fights with boxing's biggest names.
The Sheffield man will challenge Porter for his IBF welterweight title at the StubHub Center in California on August 16, live on Sky Sports.
Brook faces a career-defining fight against one of the sport's rising stars and will burst onto the American scene if he dethrones the champion.
British rival Amir Khan has already expressed a willingness to face Brook, once he secures a world title, and the 147lb division also includes superstars Floyd Mayweather and Manny Pacquiao.
Asked what is at stake for him, Brook told ontheropesboxing.com: "Of course, of course it could be interesting and it is on my mind.
"I know that this is the key to Fort Knox. It's a massive money fight out there, not just Amir Khan but international fights like Mayweather, Pacquiao. I think people in America and around the world will take note after beating Shawn Porter."
Porter ripped the belt from Devon Alexander with a points win last December and his first defence ended in a chilling stoppage of the normally durable Paulie Malignaggi.
Special
But Brook, nicknamed 'The Special One', despatched another ex-world champion Vyacheslav Senchenko inside four rounds and told the American to expect a torrid night.
I'm a big welterweight and I'm strong and determined. I'm not coming to lay down, I'm coming to lay it on the line.
Kell Brook
"Shawn Porter looked good in his defence against Malignaggi - he took care of him, which no one has done before. He's proven he's a worthy champion," said Brook.
"I think I'm more than ready. I've been training very hard for this fight. As my record shows, I'm 32-0, that's what I like to do, win. I'm coming over there and giving it my all.
"I think he knows he's up against someone who's 32-0, who's passionate of becoming world champion.
"He's probably seen the cat-like reactions that I have. I'm a big welterweight and I'm strong and determined. I'm not coming to lay down, I'm coming to lay it on the line. I'm coming to take that title and he knows that it's gonna be like that."
Concerns are always raised about a fighter attempting to win a decision on foreign soil, but Brook has vowed to erase any doubts with a convincing triumph.
"I think the world is gonna be watching, it's a hot division," he said.
"To win is gonna be winning clearly. Obviously it plays into your mind. I'm not a myth in my own country. I think in this fight it's gonna be so clear who the winner is, there's not gonna be any doubts."