Tommy Coyle knocks out Michael Katsidis in second round in Hull
Boom Boom sets up summer showdown with friend and rival
Last Updated: 26/10/14 12:58am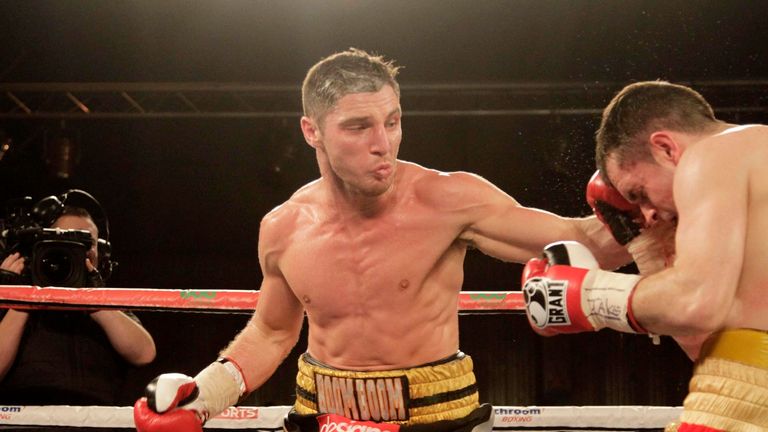 Tommy Coyle stunned Michael Katsidis with a second round knockout in front of a partisan crowd at the Hull Ice Arena.
Coyle destroyed Katsidis with a counter-punch from the ropes, hitting the Australian on the side of his head and dazing him completely.
Katsidis got to his feet and tried to beat the count but referee Marcus McDonnell correctly stopped the bout with the veteran unsteady on his feet.
Both fighters got off the canvas in the first round, although they were only because of slips, but it was Coyle who landed the better shots as Katsidis tried to push forward in his typical style.
I want to thank every punter that walked through those doors. Different gravy, bang on
Tommy Coyle
Coyle continued to get in and out efficiently, keeping Katsidis out of range, but the knockout came just as the Australian had managed to get him pinned to the ropes.
But Coyle's beautifully timed left hook landed flush on Katsidis' head and left his sense scrambled - replays showed his eyes glass over and he eventually tumbled to the floor.
Referee McDonnell gave Katsidis the chance to recover but he was still wobbling as the count reached nine and the stoppage was confirmed, much to Coyle's delight as he celebrated in front of his adoring home fans.
The victory could lead to a mouth-watering showdown with close friend Luke Campbell, who was an impressive winner against Daniel Brizuela earlier on the card - Coyle and Brizuela met in February with the Hull fighter stopping him just before the end of a brutal eight-knockdown fight.
"I want to thank every punter that walked through those doors. Different gravy, bang on," Coyle told Sky Sports.
"I was scared to death for 12 weeks when was had that barbeque at Eddie Hearn's gaff and he told me I was going to fight Michael.
"I've followed Michael's career from day dot. What a fantastic talent and it was an honour to share a ring with him. I'm lost for words. I can't believe I have KO'd him. I'm on top of the world."
Turning his attention to Campbell, Coyle said: "That's the fight you all want and that's the fight you are going to get."