Arsenal manager Arsene Wenger sends James DeGale letter ahead of bout with Andre Dirrell
Last Updated: 22/05/15 2:06pm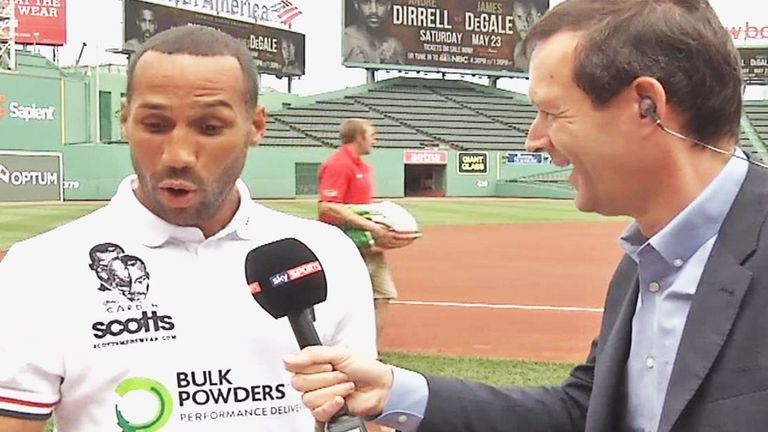 James DeGale was shocked to receive a letter from Arsene Wenger ahead of his IBF world title fight with Andre Dirrell.
Arsenal fan DeGale is hoping to become the first Briton to win an Olympic gold and a professional world boxing title on Saturday night when he fights Dirrel for the vacant IBF super-middleweight crown in Boston, Massachusetts.
The Sky Sports coverage will have former IBF champion Carl Froch - who beat Dirrell in 2009 - in the studio, and DeGale is keen to put on a show.
Eddie Hearn read the letter out at the pre-fight press conference, confirming Arsenal's support for DeGale.
"He doesn't know this but we have a letter sent today from the manager of Arsenal, Arsene Wenger which says: 'Dear James, on behalf of all the players directors and staff at Arsenal football club I would like to take this opportunity to wish you the best of luck in your world title fight your hard work, great spirit and determination has you in good stead and you must never underestimate or lose sight of your achievements so far you have a great opportunity to make history and everyone at the club are very proud of you, best wishes and the best of luck and we look forward to seeing you back at The Emirates, Kind Regards Arsene Wenger.'"
DeGale said he is keen to bring the fight home for his supporters and is grateful for the support he has received on social media.
"Actually I got a bit choked up it's a bit mad," said DeGale. "No, I didn't think it was him until I saw the actual headline. I am doing this for Great Britain, I am obviously doing this for my family, myself and my Arsenal team.
"It's unbelievable I have got the support of my country and I am feeling it on Twitter and Instagram and I appreciate it and I will bring the title home to you guys."
Watch DeGale v Dirrell live on Sky Sports 1, from 8.00pm, this Saturday.