Punchlines - April 11
World title hopeful Tyson Fury talks to Nick Parkinson about his hopes of securing a showdown with David Price.
Last Updated: 25/04/12 10:35am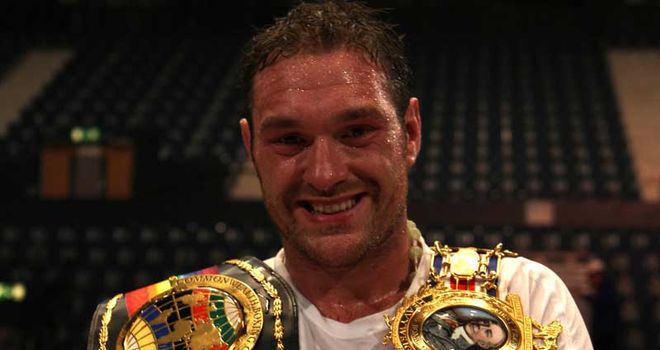 Tyson Fury faces Martin Rogan on Saturday but the former British heavyweight champion still hopes it will be David Price in the opposite corner one day.
The 23-year-old gave up his British and Commonwealth titles rather than defend them against his domestic rival Price next. Instead, Fury takes on Rogan for the Irish title at the Odyssey Arena in Belfast and Price disputes the vacant British belt against Sam Sexton in his home city of Liverpool on May 19.
It came as a huge blow to British fight fans when the prospect of a Fury-Price showdown collapsed just before purse bids were revealed. Price's promoter Frank Maloney called Fury 'a chicken' for his decision to relinquish the belts. But, listening to Fury this week, it seems fight fans can be hopeful of the two big men one day colliding. Fury (6ft 9in) appears as keen as ever to make a clash of the giants with Price (6ft 8in) - but says it should not be rushed.
Fury's plan is to get past Rogan, 40, and then call for a shot at one of the Klitschko brothers, Wladimir and Vitali. It is Fury's hope that a meeting with 2008 Olympic bronze medallist Price, 28, would eventually happen as a world title defence.
"David Price and myself could be one of the biggest domestic fights ever," Fury told Sky Sports. "There is a rivalry between us that goes back to our amateur days and the longer it's left the more it will only get bigger.
"It would sell out the MEN Arena or the Echo Arena in Liverpool at the moment but in 18 months it would sell out Old Trafford or Anfield. I will win the world title and then defend it against Price at Old Trafford. How big will that be?"
The pair's rivalry began when they were amateurs.
"We first met each other in 2006 in the North West ABAs regional qualifier," Fury said. "He beat me on points and it was a fair victory for him. But at the time I was only 17 and had only 10 amateur fights. He was Commonwealth Games gold medallist and a lot older. I was still the aggressor and put him down in the second round where as he tip-tapped his way to make a point.
"There was never any chance of a box-off with Price for the Olympics because of politics, but I've achieved more than him as a professional and have a head-start on him."
While Fury tries to pick up another title this weekend, Price will be trying his luck at the Grand National on Friday. Price will be able to familiarize himself with the surroundings before his fight with Sexton at the Aintree Equestrian Centre next month.
Quick hits
Price's fellow Scouse scrapper Tony Bellew, who defends his British light-heavyweight title against Danny McIntosh on April 27, insists a two-week delay to his next defence is not a problem.
Bellew has already been out of the ring since October and was forced to prolong his wait after illness ruled out McIntosh.
Bellew, 27, is predicting an explosive and possibly short fight at the Echo Arena in Liverpool.
"I've done nearly 100 rounds or sparring and I have done everything right so I'm not worried about an extra two weeks," Bellew told Sky Sports.
"This fight could be fast and explosive. It could be over in the second or sixth round, but it will be early."
George Groves is preparing for his forthcoming world title shot in Northern Cyprus. The unbeaten super-middleweight, from west London, challenges WBO champion Robert Stieglitz in Erfurt, Germany, on May 5.
British title-holder Groves, 23, has based himself in Northern Cyprus where former world heavyweight champion David Haye also prepared for some of his fights. Groves has the same trainer - Adam Booth - as Haye and has prepared for his recent fights at a gym under a railway arch in Vauxhall, south London. Groves was last month warned by police over death threats that gangsters have threatened to shoot him during a live TV fight.
Finding a hotel room in Nottingham on May 26 when Carl Froch takes on IBF super-middleweight champion Lucian Bute is proving as hard to track down as a cheap ticket for the Olympic 100m final. The Cobra's first fight in his home city for over three years at the Capital FM Arena is expected to attract a crowd of 9,000 while up the road England are playing West Indies in the second Test. A group of 30 of Bute's fans are even considering staying 20 miles away in Derby.