World class Carl
Johnny Nelson and Glenn McCrory reckon Carl Frampton has now elevated himself to world level.
Last Updated: 23/09/12 4:44pm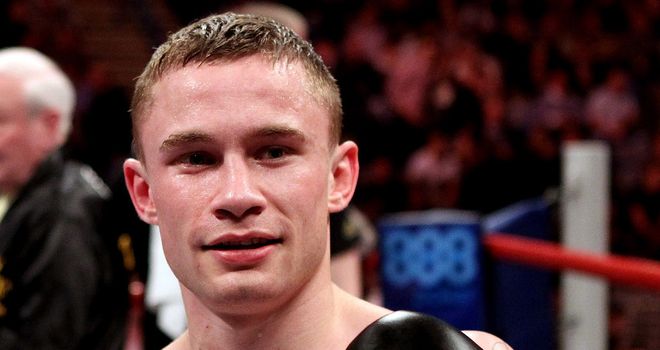 The Sky Sports experts believe Carl Frampton has caught the attention of the world's top super bantamweights after his stunning victory over Steve Molitor.
The Irishman retained his Commonwealth and IBF Inter-Continental super bantamweight titles in front of a rapturous home crowd in Belfast with a sixth-round stoppage victory over the dangerous Canadian.
Sky Sports pundit Glenn McCrory had anticipated a difficult evening for 'The Jackal', but says the comprehensive nature of the display has seen him elevated to world level.
"Any young man that's got 'veni, vidi, vici' - I came, I saw, I conquered - across his chest certainly has a bit of confidence and a bit of purpose," he said.
"He boxed as if he knows what his destiny is and that's to be amongst world class and in with the best.
"I thought he was going to win, but I didn't think he'd do this to Steve Molitor. He bullied him and treated him with total disrespect. He didn't allow him into the fight.
"It was a mugging. He didn't let him in the fight. He went out there and took everything away from him with total disdain.
"It was great to see that sense of power, that sense of purpose. I've spent a lot of time talking to him and he's a really level-headed kid; he knows what he can do and how far he can go. He truly believes he will be a world champion.
"Molitor's only had two losses, both to guys that have been world champs and he's a two-time world champion. He hasn't been in bad fights.
"He's not world champion any more, but he's not far off. On paper it looked a very tough fight and this shouldn't have been so easy for Carl Frampton.
"He's stepped up a level with flying colours. It's almost like he knows what he can deliver. The potential is to be Ireland's next boxing superstar and I think he's well on the way."
Class
Frampton insists he is closing in on a world-title fight, but his next fight is likely to be against a domestic rival such as Scott Quigg or Rendall Munroe.
Johnny Nelson believes he would now be the favourite against either of those opponents and compared his rise to prominence to that of his trainer Barry McGuigan.
He said: "I like Rendall Munroe, I like Scott Quigg and I like my own boy Kid Galahad, but on that performance I'd put Carl Frampton number one out of the four of them.
"All the names on the world scene and the European scene will know who this kid is on that performance. They'll think 'woah, that was a cracking performance.'
"There was nothing you could knock on what he did: speed strength, aggression... he had everything you want from a young man coming through.
"I remember coming to Ireland before Barry McGuigan won the world title and the following was building and building.
"I can see the same thing here with this young man. The following is building and you're seeing class, you're not getting hustled by something.
"He's not hustling anybody, this kid can fight for fun."