Magic still alive
Matthew Hatton reflects on the highs and lows and looks ahead to Friday night's comeback.
Last Updated: 08/10/12 4:16pm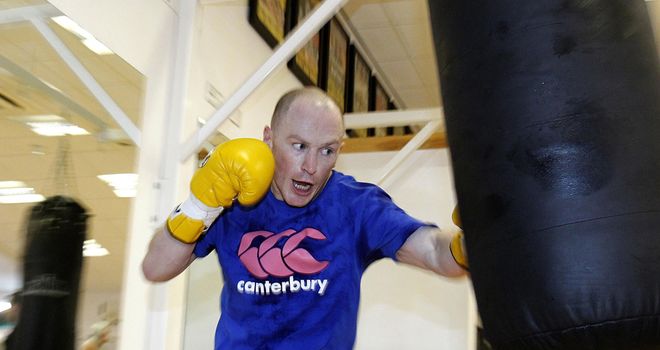 If hunger and passion for the game was worth anything then Matthew Hatton would have been world champion many blue moons ago.
Still battling to emerge from the shadow of illustrious brother Ricky, Hatton Jr makes a comeback of his own this week against Michael Lomax on the outskirts of Manchester.
Cast into the boxing wilderness by a one-sided defeat to world champion-elect Kell Brook earlier this year, many pundits cast the 'Magic' man's career aside.
But the Hattons are made of stern stuff, and at 31 Matthew still has time on his side to scale the heights his brother achieved on more than one occasion.
First, he needs to put that disastrous July defeat to Brook behind him, even though few gave him a chance to upset the young tyro.
"I was very disappointed after that fight, it was one I'd always fancied and one I was confident of winning," he told Sky Sports. "I trained so hard for that fight and I had a disastrous start, breaking my nose in two places in the first round.
"That's not an excuse why I didn't win the fight, it's just a reason why I didn't box to the best of my ability. A broken nose affects you in so many ways, the initial pain, the breathing, I felt so tired in there despite being so fit.
"It was just one of those nights and I was very disappointed after the fight. I had a bit of time away with my family, but even though I needed a rest to heal and get right I had a few months out and I'm keen to get back in the ring.
"Still my ambition is still to be a world champion. I've picked up a lot of belts, the biggest being the European title, I was so proud to become European champion, a really prestigious belt.
"The one that's eluded me is the world title and it still pushes me on. I still believe I can get there and the day I stop believing I can get to the top is the day that I will start thinking about hanging my gloves up."
Slaughter
Hatton has had one shot at a world title so far in his career, when he was pitched in with Saul Alvarez just as the Mexican was gifted his first tilt at the WBC light-middleweight title he holds to this day.
But Hatton was a lamb to the slaughter against a man far bigger than himself.
"Everything was stacked against me when I originally accepted the fight with Alvarez," he said of the clash in March of last year. "It was a welterweight fight, then they said it would be for the WBC light-middleweight title and they'd have to make it at 10st 10lb.
"It's a world title fight, I wasn't going to let a few pounds get in the way. Golden Boy assured me all the way down the line Alvarez would make the weight. He never made the weight and I could have walked away with still a decent paycheck but I'd worked so hard, and people had travelled over to support me.
"After seeing him at the weigh-in I still believed I could win. We then made an agreement he could only weigh 11st 6lb on the night of the fight. He was bang on at 3pm, but when HBO weighed us on the night of the fight I was 11st 2lb, and was 11-11!
"So even though I was confident all the way for that fight, right at the last minute I started to doubt myself.
"But I acquitted myself well, never gave up. He was such a strong fighter, I was very impressed. But everything was against me and I thought it would be a springboard for a shot at the welterweight title, but it never materialised."
Nothing to lose
'Magic' has fought for countless different titles but the one he cherishes most is the European belt that he successfully defended on two occasions.
"I was always the nearly man, I'd picked up a few minor titles, and when I got the opportunity to fight for the European I only had two weeks' notice," he said.
"I'm a regular in the gym and when I got the phone call although I wasn't in the best of shape I thought I had nothing to lose against Gianluca Branco.
"It was just one of those nights where sometimes you box with more freedom and everything I tried worked that night, I got into a good rhythm and won the fight comfortably.
"It was a weight off my shoulders, because I was always thinking to myself I was a disciplined and dedicated fighter who put a lot into the game, but it was getting later into my career and I wondered if I was going to be a nearly man and that it would never happen for me.
"I couldn't face coming out of the sport with no major achievements and when they announced me as European champion it was like a weight lifted off my shoulders."
That victory led him towards the world title shot but defeat to Alvarez and subsequently to Brook means Hatton finds himself down in sixth in the domestic rankings.
But with an IBO title fight against tall South African Chris van Heerden lined up for next year, Hatton makes his comeback against the similarly lanky Londoner Michael Lomax in Manchester on Friday night.
Dangerous
"I was comprehensively beaten (by Brook) so I do have to rebuild," he said. "It all starts on October 12th against Michael Lomax.
"I got the IBO title fight lined up in March so although the contracts are all signed I felt it was too long out of the ring and I didn't want to go into that fight on the back of the Kell Brook fight.
"Van Heerden's a tall southpaw and that's the thinking behind the Lomax fight.
It's such a dangerous game the moment you start looking past people you can slip up. Michael Lomax is a good fighter, he's boxed for the British title, he's a good amateur and won Prizefighter, so it's not an easy fight by any stretch of the imagination.
"But if I'm as good as I think I am and still have ambitions of becoming a world champion then Michael shouldn't pose too many problems.
"I respect him, he's a good opponent but one I'm in no doubt I can go in there and do a job on."
Unbeaten
Hatton has been re-united with former trainer Lee Beard in the run-up to the Lomax fight and is delighted to be working with him again.
"Me and Lee have always got on great," he said of Beard. "I went with Bob Shannon and we were successful to a certain extent, but when I decided to make the move I remembered me and Lee were unbeaten together last time and although I looked at a few other gyms I knew Lee was the man for me.
"Me and Lee get on well together which is important and Lee's a great coach and he's teaching me new things, and I do feel rejuvenated under Lee and it's going really well.
"We've been together for eight weeks and think we'll go from strength to strength."
The words 'Hatton' and 'comeback' have been dominating the sports pages in recent weeks, and I asked Matthew if the shadow cast by brother Ricky's career meant he would forever be under-rated.
"I don't think I've quite got the credit I deserve," he said. "I've had a lot of critics around my career and people have obviously compared me to Ricky, and Ricky has had such a fantastic career - not many achieve what he has.
"But I can say that being Ricky's brother has opened the door to some fantastic opportunities, boxing all over the world in some great venues, again on the flip side comes pressure, the people you fight want to take your scalp.
"So I don't feel I've had the credit my career deserved but I can understand why and with everything in life there's good and bad.
"People will say 'he's been given loads of opportunities' but in a tough sport like boxing you make your own opportunities and although being Ricky's brother has opened doors for me I've been man enough to walk through.
"But my career's not over yet and hopefully I'll get it by the time I've finished."