Carl Froch's trainer Robert McCracken told Ringside their relationship is built on trust
Trainer Robert McCracken told Ringside the secret to his success with world champion Carl Froch.
Last Updated: 14/11/12 8:48am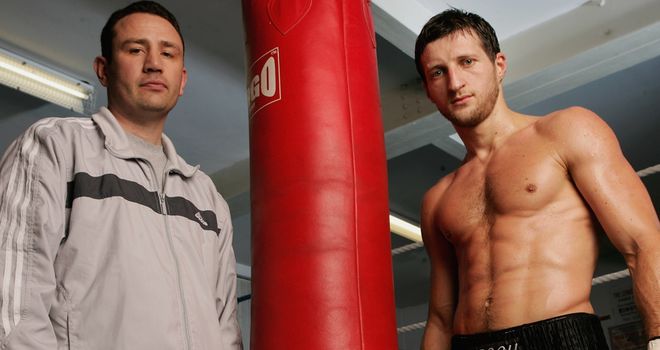 Former middleweight Commonwealth champ McCracken - who is also Performance Director of the Great Britain team - has been working with close friend Froch for years, and together they have enjoyed great success, with Froch now a three-time world champion and reigning IBF super-middleweight king.
"We're good friends," McCracken said of the pair's relationship.
"We've never had a contract; we did it on a hand shake years and years ago. He asked me to have a contract but I said 'no, we're mates'.
"I wouldn't want to work with somebody in that environment. I want to get on as pals and get on and move forward and work as a team together.
"I think he knows I give him the right advice. I teach him technically how to box through fights, get a good gameplan in place for these monsters he fights all the time, these top, top fighters from the elite level. It's tried and tested and he comes through.
"We go back long way and we have a great relationship as friends - but he's a world champion and he fights very good fighters so we've got to get it right physically and technically and win the matches on the night."
Next up for the duo is the challenge of defeating experienced American Yusaf Mack - an opponent, McCracken says they are not taking lightly.
"Mack is a tough job," he said. "He has a 31-4-2 record and he's fought at the highest level.
"He was ahead in all of his fights when he lost, so he's a dangerous operator and he's got speed which is always difficult to negate."
If Froch comes through that fight there is speculation a rematch with Lucien Bute will be on the cards, following their clash in May, which the Briton won in the fifth to claim the Canadian's IBF crown.
Bute looked far from his best when he defeated Denis Grachev on points last week - but McCracken believes his poor performance was more down to complacency than any lasting effects from his fight with Froch.
"Bute just wanted to get through that fight last week," said
McCracken. "When you just want to get through a fight, and not actually go out and win it, that's when things can go wrong."
Legend
It is hard to imagine Froch ever simply doing enough to 'get through' a fight these days and Manchester trainer Joe Gallagher, who was also on the show, praised the 35-year-old's battling spirit.
"Carl is going to go down as a modern-day legend," he said.
"Just 12 months ago Froch lost to Andre Ward and everyone thought he was finished. But he came back with that win against Bute - a fantastic win - and now he's ready to give Nottingham fans a great night next Saturday against Mack."