Time's up
Ricky Hatton went after 'redemption' on Saturday night, and he got it despite ending his career in defeat.
Last Updated: 26/11/12 11:31am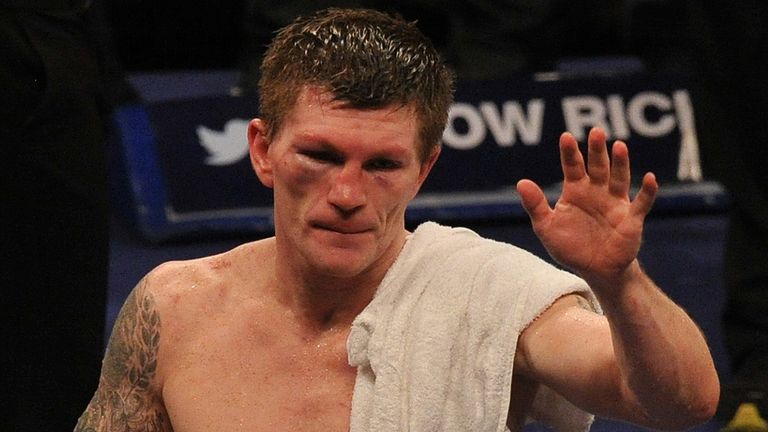 So, that's it then. The comeback that never was. The dream of further world titles and trips to Vegas left in the basement gym.
Ricky Hatton gained redemption of sorts on Saturday night. For him, at the Manchester Arena he once made his own, pulling on his Manchester City-blue boxing shorts one more time was victory in itself.
Earlier this year, Hatton tipped the scales at 15st. Suicidal thoughts followed him everywhere. Without fighting the Hitman was bereft. Having officially retired last year there didn't seem to be a way back.
But he had become a father for a second time. He had a stable of fighters to train - young men who looked to him. He had a fledgling promotions business that needed his full attention.
He got his act together, and the weight tumbled off. All of a sudden thoughts turned to the possibility of a comeback. Redemption.
The shocking defeat to Manny Pacquiao may be a distant memory for some, but it was still fresh in the mind of Ricky Hatton. The thought of ending his stellar career on that bum note was almost too much to bear.
It drove him on, and suddenly his old fighting weight was in sight. Rumours circulated for weeks but few really believed them. However, Ukrainian Vyacheslav Senchenko had been cherry-picked to stand in front of the former two-weight champion on his return to the ring.
The burning question raged. Would his years of burning the candle at both ends catch up with him at the age of 34? Would the loss of more than four stone in six months take its toll on his 5ft 7in frame?
Against Senchenko, who held a version of the welterweight title just six months ago, we would find out. There would be no easy return for the Hitman, who wanted to find out sooner rather than later whether he still had what it takes.
He found out alright. The intensity of old was there, but something else was missing. Whether it was youth, ring-rust or just wear-and-tear, even Ricky wouldn't know. But after that spiteful left-hook to the liver that ended it all in the ninth round you could hear in Hatton's own words he knew his time was up.
"A fighter knows when it's not there any more, and it's not there," he said. "I'm not going to put myself through that torture again, and I'm not going to put my family through it.
"If I don't draw a line in the sand now and call time on my boxing career, I'm never going to do it. I was heartbroken and I'll probably cry tonight - but I'm happy that I went in there and found it out."
So, what next? Many are concerned that Hatton will slip back into old habits and become re-acquainted with old friends Mr Guinness and Mr Dom Perignon, as Ricky used to call his favourite tipples.
But things really are different now. He takes great pleasure in shaping the future of young talents like Sergey Rabchenko and Scott Jenkins, while he wants for nothing on the domestic front with beautiful girlfriend Jennifer and daughter Millie.
Despite closing his career with a defeat, Ricky is in a good place. He summed it up in his own words: "I'll get up in the morning and be very content. I am leaving with a healthy state of mind. I'm a happy man now. I don't feel like putting a knife to my wrists. I have got the answers I needed."
And that should be enough for us, too.