Just Joyce
Super-heavyweight has his sights set firmly on Rio 2016 as he looks to succeed Anthony Joshua as Olympic champion
Last Updated: 05/12/12 9:07pm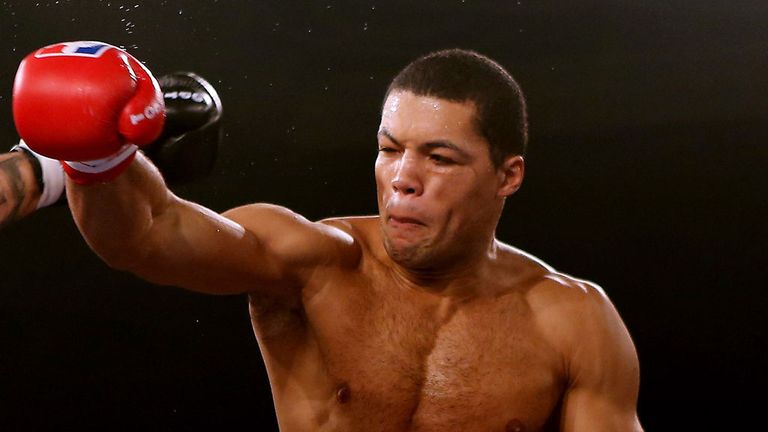 Anthony Joshua may be in two minds about committing his future to Rio 2016 but another London super-heavyweight star already has designs on emulating Joshua's Olympic gold medal.
Just like Joshua, Joe Joyce was a late convert to boxing, lacing on the gloves for the first time during a break from university in his early 20s, but his steep career trajectory is prompting many in the amateur code to sit up and take serious notice.
Joyce does not conform to the usual stereotype of a +91kg boxer, having graduated from university with a fine art degree and seriously considered a career in rugby before belatedly realising it was boxing that held the key to his sporting dreams.
Two consecutive GB titles at the weight would follow, and Joyce's impact on the international stage was equally dramatic, winning gold on his England debut in Estonia in April this year, and following up by scooping the prestigious Tammer title in Helsinki in October.
Signed up for the new GB Lionhearts franchise in the World Series of Boxing, Joyce stopped experienced Italian Matteo Modugno on his debut in the competition last month, and will box again against the German Eagles at Earl's Court on December 14.
"I was a bit unsure about the WSB to begin with because I'd never boxed without a headguard or a vest," said Joyce. "It was unknown territory but I got in there and really enjoyed it and put on a great performance.
"The WSB gives us the chance to earn some quite decent money and experience what the pro game is all about. There's a great feeling when the whole team trains together in Sheffield and it's just great to be involved."
Buzz
Such is the height of Joyce's ambition in the sport that he admits to mixed feelings watching Great Britain's heroic Olympians this summer, having wanted to be a part of it himself despite Joshua having qualified before Joyce had even been elevated to the podium squad.
"I wanted to be the one at the Olympics so it was quite hard following it at home," added Joyce. "I was watching the fights thinking, I could beat that one, I could beat that one. That was the way I was thinking.
"I always wanted to be a sportsman, I did athletics and kick-boxing and rugby was probably the highest level I got to - I reached county level and might have taken that further but nothing gave me the buzz quite like boxing.
"I think I've always had that drive to put the hours and the dedication and I always get in the ring believing I can win. I have made up for the time I lost as a late starter to the sport, and I'm really ready to push on now."
Even the fine art has been put on hold by Joyce as he targets more success in the amateur code which could yet lead him all the way towards Rio - and possibly a collision course with fellow Londoner Joshua down the road.
"I've got loads of paintings back home but I haven't really put on any exhibitions or sold much yet," added Joyce.
"It's something I can go back to later but I don't really have the time at the moment. I have too much I want to achieve in boxing."