Going the distance
SkyBet's Jamie Casey tips either Manny Pacquiao or Juan Manuel Marquez to win in rounds 7-12.
By Jamie Casey - @skyjamiecasey
Last Updated: 10/12/12 6:02pm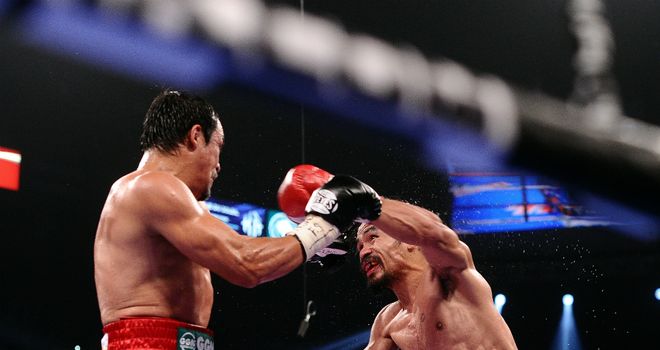 The MGM Grand in Las Vegas plays host to another instalment of one of the greatest rivalries in recent boxing history as welterweight superstars Manny Pacquiao and Juan Manuel Marquez touch gloves for the fourth time this weekend.
There's been enormous interest in this one from a betting perspective too, with Sky Bet receiving a number of huge stakes on 2/1 second-favourite Marquez, whose main motivation to settle this series stems from a sense of injustice in at least two of their previous three meetings.
As it stands, Pacquiao has won two of the three fights, with their first match-up in 2004 having ended up a draw - an outright result which can be backed at 20/1 this time around.
Those long odds haven't stopped punters predicting such an outcome, though, with an abundance of small stakes on the draw being taken off Sky Bet punters already, but Marquez to win (2/1) has received most of the money so far.
With Pacquiao's hunger, desire and commitment in question ever since his loss to Timothy Bradley earlier this year, Marquez has never had a greater opportunity to right what he believes to be the wrongs and finally defeat the Filipino.
Whatever Pacquiao's motives for this fight are, few can deny that he remains the king of speed, and few will forget that memorable opening round in 2004 when he floored Marquez three times, effectively confirming his status as world class in the process.
On that occasion Marquez rose from the canvas, kept his composure and boxed out the draw, but Sky Bet go 33/1 for Pacquiao to finish off the Mexican in round one this time around, while same result in reverse can be backed at 66/1.
Such an explosive conclusion is unlikely, though, with 33-year-old Pac-man and 39-year-old Marquez having lost a fraction of their prowess since the turn of the decade.
Nonetheless, Pacquiao's style remains aggressive, while Marquez, who has got himself into fantastic shape with the help of strength coach Angel Hernandez, may well need to exercise his fine counterpunching traits.
All-in-all, it's difficult to see this one not going to the cards, with either fighter to win on points 4/9 on. Marquez on points at 3/1 seems more appealing than Pacquiao via the same method at 11/10, with the Filipino's status as favourite up for debate.
The MGM crowd like nothing more than to be entertained though, and as we move closer to the cards either fighter might look for the grandstand finish if they don't trust what's on the judges' scorecard.
Therefore, either fighter to win in rounds 7-12 at 4/1 is Sky Bet's biggest tip ahead of the bout.