Darren Barker was better than before his lay-off and can get another world title shot, says Jim Watt
Darren Barker is back to winning ways but it was a brand new - and better - boxing show, says Jim Watt.
Last Updated: 09/12/12 9:42am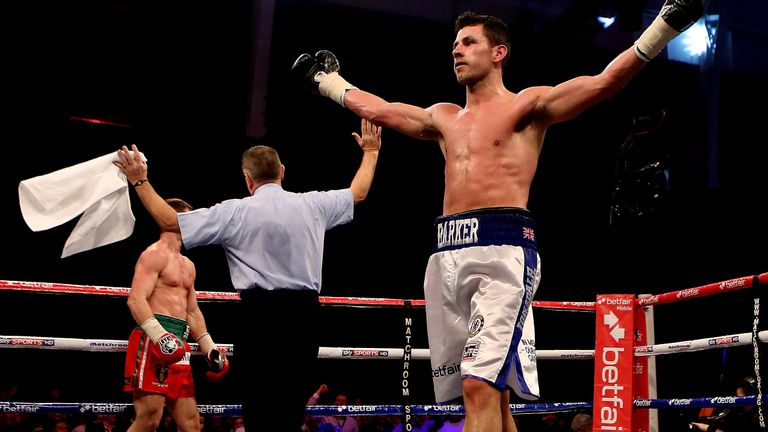 The former British, Commonwealth and European middleweight champion returned to the ring after 14 months out and needed just four rounds to stop Kerry Hope.
Barker piled the pressure on the Welshman with a vicious right early in the third session and stepped up another gear in the next, which led to Hope's corner throwing in the towel.
It left 'Dazzling' with a 25-1 record after his last fight - his only defeat at the hands of middleweight king Sergio Martinez over a year ago.
But Watt could not believe what changes Barker had made since being beaten for the first time.
"I wouldn't say the old Darren Barker is back, because I've just seen a different Darren Barker," he told Sky Sports while ringside at Olympia.
"That was not the Darren Barker I'm used to looking at.
"It was tremendous. I think that losing performance against Martinez has created a completely different man. Would you believe he has been out of the ring for 14 months?
"That was a tremendous performance; I've never seen so much snap in his punches, so much power, so much confidence in his boxing. He was the favourite to win tonight, but there was no way he was going to dominate Hope."
Hope, himself had held the European title briefly and many thought he could even upset Barker on his return.
Most expected Dazzling to start off slowly and try to get rid of the ringrust before turning on the style.
Watt though, saw a whole new side to his game and believes Barker not only came back looking better, but can already start eyeing a return to the world title fold.
Compliment
"We thought he might struggle at times, particularly in the late stages of the fight - but this was a fight that was never going to the late stages," he said.
"I used the word 'solid' when he was boxing and it is a word I never usually use for Darren Barker.
"You compliment him on his movement, his skills and his textbook boxing but never the solid look.
"Hope did well to get back on his feet and back into it again but by then the corner had decided that the next bit of trouble that was coming his way, the towel was going in.
"OK, he continued but I looked at Darren Barker's face and he looked like he was going to finish it.
"Look at the way Barker was digging those shots in - it's something I have not seen from here before.
"So we can look forward now. At the age of 30 he can go onwards and upwards, back into world title level we hope."