Mikkel Kesler was a class above Brian Magee, say Carl Froch and Johnny Nelson
Denmark's Mikkel Kessler was simply too much for Brian Magee to stomach, says Johnny Nelson.
Last Updated: 09/12/12 9:52am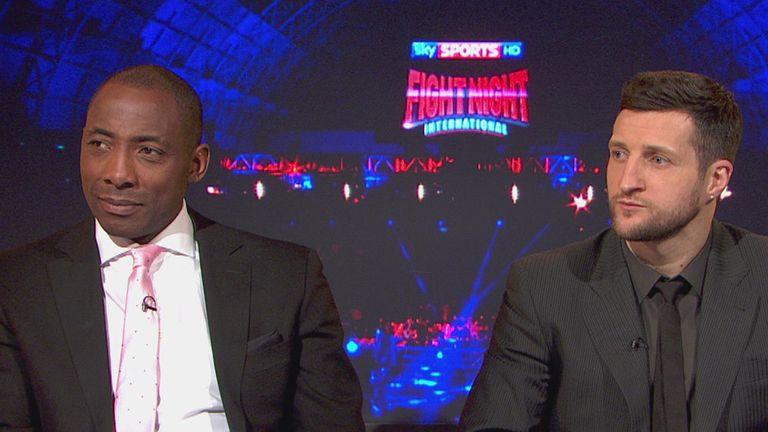 The Danish middleweight took just three rounds to reclaim the WBC world title, flooring the champion three times before it came to an end 20 seconds into the third.
Kessler, who held the 'Super' version until he was beaten by Andre Ward three years ago, is also the man most people want to see fight Carl Froch next year.
Magee was hoping to throw a spanner in the works with a win but was overwhelmed from the word go.
And the suggestions that Kessler, who is now 46-2, is on the slide couldn't have been further from the truth.
In fact, Nelson was left stunned by the sort of display that the 'Viking Warrior' is still capable of - which also provided a warning for Froch, who watched in the Sky Sports studio alongside him.
"Kessler seemed to have long arms and has a naturally fast right hand," said Nelson.
"We saw him signing autographs earlier, so he is left-handed, but he has the speed in the right hand that you would normally have from a jab, and the banging power of a right hand.
"It just makes him more awkward."
It was the bodyshots that ended Magee's chances, as early as the second round.
He was put down twice before it came to an end in the third when Kessler again targeted the stomach. But Nelson was quick to point out it is not as easy as it looks.
"When you lead with a body shot, when you've got an opponent in front of you, it takes guts, it takes confidence and it takes accuracy - and we saw that in every round from Kessler," he said.
"He did it to Brian Magee in every round and he hurt him."
It was then revealed that Kessler had been sent some tactical advice from none other than Froch. He had stopped Magee way back in 2006 and had seen no difference to his game some six years down the line.
And with a mouthwatering rematch on the cards, Froch was happy to help his old nemesis come through in winning ways.
"I'm expecting a 'thank you' message from him because I said if there's nothing happening early on, send the right hand down to the body," said Froch.
Handle
"He (Magee) doesn't like body shots.
"It went in to the pit of his stomach. Nothing against Brian Magee, he's done himself and the sport proud, but the body shots he really seems to wince at. He can't handle them."
Froch though had some sympathy for Magee and had expected him to test Kessler at some stage.
And with the WBC title recently handed to him, the Northern Ireland man needed to put on a show to prove that he was a worthy world champion.
But Nelson believes it was no real surprise to see Kessler end the night with another belt.
"Magee went in there with great dignity and was humble too," he said.
"Remember, he went in the ring as the champion, but the way he was talking was saying 'this other guy is the champion'.
"There are not many world champions that arrive somewhere believing you are the best in the world and I think the way Brian Magee was talking (afterwards), he was in a position where he'd been called a champion but he realised he was going in with a better fighter."