Glenn McCrory, Johnny Nelson and Jim Watt preview Amir Khan's bout with Carlos Molina
The Sky Sports experts assess whether Amir Khan can get back on track against Carlos Molina.
Last Updated: 14/12/12 5:25pm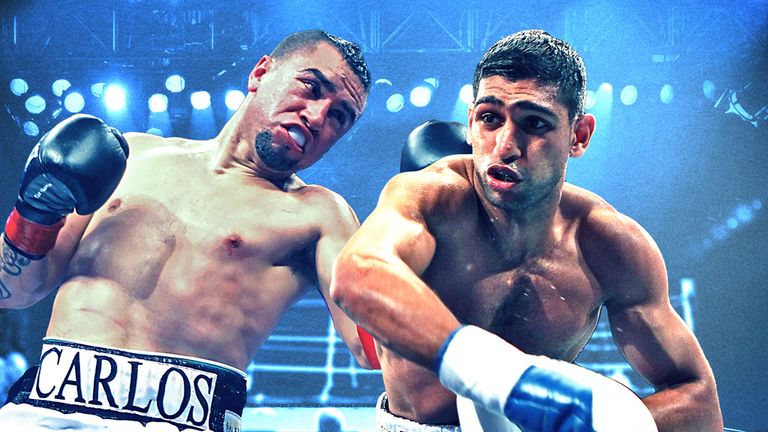 The Bolton boxer was defeated by Lamont Peterson on points in a highly controversial clash last December and lost his WBA and IBF light-welterweight titles, while his hopes of a rematch with the Washingtonian were dashed when the 28-year-old failed a drugs test.
Khan was reinstated as WBA champion but was then quickly relieved of his strap when he was knocked out by Danny Garcia inside four rounds in July.
But he will get a shot at redemption when he tackles unbeaten Californian Carlos Molina, live on Sky Sports 1 HD, this weekend.
Sky Sports pundits Glenn McCrory, Johnny Nelson and Jim Watt will be keen observers of the duel - Khan's first since he parted ways with trainer Freddie Roach and began working Andre Ward's coach Virgil Hunter - and ahead of it, they answered some of skysports.com's key questions...
How does Amir Khan defeat Carlos Molina this weekend?
GLENN: I think Amir will win if he keeps a calm head, punishes the American with his wonderful jab and starts letting the big punches go. If, and it's a big if, Khan decides he wants to prove the world wrong, prove that he does have a chin and tries to impress people - something that has been in his make-up since the 2004 Olympics when he won a silver medal - he could get flattened again, even though Molina is not famed for his muscle. But if Amir focusses on his best traits and boxes sensibly, he shouldn't have too much trouble and should get a victory that he desperately needs.
JOHNNY: Amir has to do what got him to world title level which is fight with his very astute boxing brain and not get involved in a tear-up and give Molina a chance. Amir got very confident in his ability and became too gung-ho when he was stopping his opponents and hurting them; he believed that he was more of a banger than a boxer, and that cost him against Prescott and Garcia and he was knocked to the canvas. But when he respects an opponent - as he did Zab Judah in their bout in 2011 - and thinks, he can look superb.
JIM: Molina is unproven at the top level; he's moving up a division and isn't even a full light-welterweight, so he's not a dangerous opponent as far as punching power goes - and, all in all, you have to say Khan's people couldn't have come up with a better opponent to launch his comeback. Yes, Molina's undefeated, respected and a decent fighter with a good style but the bottom line is Khan is a better fighter. All the advantages are with Khan: he's a former world champion, he's fought at the top level in the 10-stone division and beaten a lot of good fighters.
Was Khan right to employ Virgil Hunter and what will the pair have worked on in the gym?
GLENN: The first thing fighters do when they lose is sack the trainer so they can park the blame at someone else's door other than their own, and I think there is an element of that in Amir's decision to leave Freddie Roach and join Hunter. However, it was not Freddie's fault Khan got knocked out by Garcia, it was Amir's need to look good. It's okay changing coaches - and Hunter is a great defensive trainer - but will Amir listen to what he is being told, and even if he is listening, will he carry out those plans in the middle of the ring?
JOHNNY: I have spoken to Hunter and I like the guy; he knows some old-school tricks that a lot of trainers have forgotten about - or never even been aware of; he has not tried to teach Amir anything different but he has got him to concentrate on what he does best. We can debate whether Amir should have stayed with Roach all day long, but now the change has been made, we have to look at the positives and if Hunter can drum in some of his defensive nous into Amir and keep him on the straight and narrow in the ring, Khan can match anybody.
JIM: Roach did a terrific job with Amir, but Khan couldn't be number one in the stable with Manny Pacquiao and Julio Cesar Chavez there. Andre Ward is number one in Hunter's gym but Amir will have the one-on-one attention that any top-grade fighter requires. He won't be a different fighter but I expect a different approach. I think they'll cut down on his work rate; when he goes to work he'll still want to use his speed, reflexes and the combinations he's mastered, but he'll take his time and not try to counter-punch every time the other guy throws something.
What threats will Molina pose?
GLENN: Most fighters will pose some sort of threat to Amir because he always gives you a chance and Molina is unbeaten in his 18 pro fights so he knows how to win, but he does not have a load of punch power, and is a shorter and lighter man than Amir and hasn't been in with as good a fighters. The main threats will come from Amir himself, though; Molina is not a world beater so Amir won't need to be too defensive, but he will have to keep his hands up and his suspect chin down and not give his opponent a target. He needs to cut out the mistakes - and force Molina to make them.
JOHNNY: Molina is going to have to put it on Amir becuause he should not be able to outbox Khan and if he does it means Amir is past his sell by date. The Briton is a 26-year-old athlete, while Molina has a size and weight disadvantage and is moving up from lightweight to a division that he is not familiar with. Molina has promised to bring hand speed to the match and he may be more talented than a lot of people are giving him credit for, but I think his best chance of winning is to lure Amir into a war, while, as a smaller man, he will have to get inside Amir's jab.
JIM: Molina is going to have to come up with something he's never come up with before, but it's a huge opportunity for him and if he can get a win then all sorts of doors will open for him. He has been solid in the past, but now we need to see if he can mix it at world level; this is his acid test. I don't think he is good enough to go and challenge for world titles but he thinks he is and that's more important! He's not a huge lightweight and is only moving up because of this opportunity, so he'll be giving away a bit of weight on the night, as well as a few inches in height.
Will defeat signal the end of Khan's career?
GLENN: I'm not sure it will end Amir's career but it will most certainly end it at the top level - although there is an argument to say that his span at the top level is already over. He has been beaten three times and knocked out twice, and while his natural talent means he can beat great fighters, talent only gets you so far. If Khan loses to Molina I don't necessarily think he will hang up the gloves, but it will be very difficult for him to get matches with the truly big names, like Floyd Mayweather, who was definitely on his radar a year ago.
JOHNNY: Yes is the answer, but on the flipside, if he wins it will open up endless possibilities. The American public see the Golden Boy fighter as a real Golden Boy, and a victory can secure Amir some cracking fights over the Atlantic. Headline bouts against Shane Mosley and Victor Ortiz have been mentioned as organisers in the States know that, win or, lose, Amir will provide excitement - but first things first he has to beat Molina and prove that, after a sketchy period, he still belongs in the top tier and deserves to fight the names that I have mentioned.
JIM: If Khan loses to Molina it's a long road back and I don't know what promoter would want to accompany him, so his career is on the line. Fighters can always re-establish themselves after defeats but I don't know how Khan could do that if he loses this one. Although he's lost his last two - and has reasons or excuses form those defeats - he's been in some really good fights since he moved to America and we've seen some terrific performances from him, but if he loses this one he will lose most of his appeal. He has to win - and look good.
Will Khan win and when - and can he be world champion again?
GLENN: I think Khan - who will be buoyed by having a new trainer - will win and I expect him to stop Molina because he is, without doubt, a level above. A victory would get Amir's credibility back, but then he will have to have a long, hard think about what's next. He could still win another world title and beat certain fighters - I think he could have a great bout with Kell Brook - but because he is kamikaze and a bit of a tearaway, there will always be vulnerability - and I reckon another world title shot could end in the same way the Garcia fight did.
JOHNNY: I think Amir will record a late stoppage; Molina is undefeated and boxing at home but I think Khan's pressure shots will eventually shut him out. Amir can definitely be world champion; I'm sure that if he fought Lamont Peterson again he would beat him, while he also has the ability to beat anybody if he is fully focussed. Take his win over Judah; he didn't enter the fight looking for the knockout he just wanted to box and he dominated his opponent with his terrific speed. Amir has all the tools - but now he has to use them in every fight.
JIM: I'm pretty sure Khan will win this. I expect him to put Molina under pressure that he can't cope with and stop him in the last third of the fight, shortly after the eighth round. Talent-wise, Amir is at least as good as anyone in the division and he's lost his last two fights on tactics, not ability. His chin let him down against Garcia but there were plenty of warning signs before the big punches which stopped him. If he'd taken those warnings on board and adjusted his style and tactics he would not have got knocked out, as he was clearly out-boxing Garcia.
Watch Amir Khan v Carlos Molina, live on Sky Sports 1 HD from 1am on Sunday morning