Could it be Magic?
Matthew Hatton's career may never live up to that of brother Ricky's but the 51-fight veteran has the chance to win a world title for the first time when he travels to South Africa in March. We caught up with Matthew and training partner Argenis Mendez
Last Updated: 01/03/13 10:03am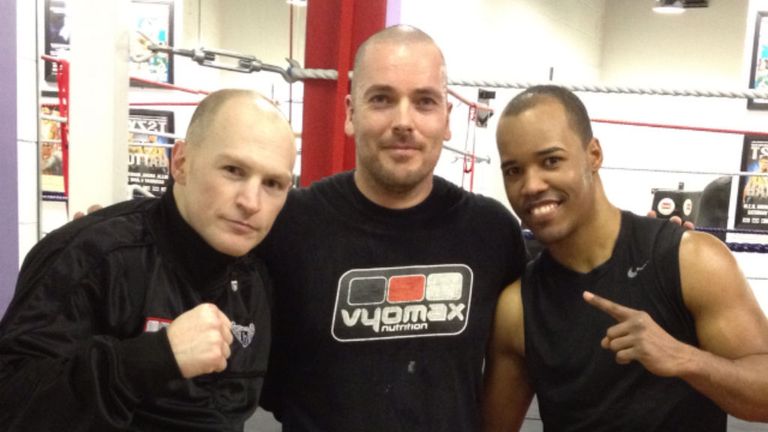 You may be surprised to hear there's something stirring in Stockport at the moment.
For the Cheshire town could lay claim to two world champions by the middle of March in the shape of Matthew Hatton and Argenis Mendez, who are currently training together at the Metro Fitness gym.
For Hatton, his IBO welterweight fight against champion Chris Van Heerden in South Africa on March 2 surely represents his last chance to gain global recognition.
While Dominican Mendez, little known on these shores but a long-time student of Manchester trainer Lee Beard, is looking to 'win big' when he re-matches IBF super-featherweight champ Juan Salgado in California a week later.
Beard will be clocking up the air miles to be in the corner for both his fighters, but in the meantime is putting the two contenders through their paces as the countdown begins in earnest.
Hatton, a 51-fight veteran at just 31, was cherry-picked by the highly-ranked Van Heerden as the South African looks to announce himself to a worldwide audience.
This much Hatton knows. But while the social media banter between the pair has been of a good nature thus far, the former European champion knows this is a big chance to get amongst the big names in a stacked division.
Confident
"I'm not one of these people who does or says things to build a fight up," 'Magic Matthew' told Sky Sports. "There's been good banter but he's not my friend, he's my rival. It's been good so far and there's nothing that's gone too far.
"He's quite a big name over there - the press conference was in a big theatre and it was a really big affair. There's a lot of interest in the fight, they've not really had a good fighter out there and they're pinning their hopes on Chris.
"I've got to go out there and scupper their plans. To be honest, I respect Chris but it's a fight I go into very confident of winning. I think I've been in with better people.
"But I'll be honest, I will be worried about the judging. I've not had great experience of the IBO judges in the past - like when I fought Lovemore NDou in my own back yard - you've got to be a realist, there's a lot of IBO fights take place over there so I'm not expecting any favours.
"But I've got to put those thoughts to the back of my mind really and concentrate on what I've got to do in preparing for the fight, and hope I get a fair crack of the whip or try and take the judges out of the equation.
"If I see an opportunity to stop him there'll be no holding back and I'll have to go for it because that could be my best chance of winning the fight."
Hatton's last world title shot came against WBC light-middleweight champion Saul Alvarez, but back at 147lb he believes there are fights he can win.
"Even though it's a world title fight, if you ask people 'who is Chris Van Heerden' nobody would know him, but every independent rankings I've been looking at he's in the top 10 and even as high as six, so he's a quality fighter.
"I think he sees me as a stepping stone to bigger and better things and that's what I see him as, it's my way to get back amongst the big boys in the welterweight division. There's some big names and big fights. I'm under no illusions, I'm being taken over there as the sacrificial lamb for Chris to move on.
"I'm not looking past van Heerden but you've got to have incentives and there's fighters out there I can beat, Paulie Malignaggi for one is a fight I could win and obviously Vyasheslav Senchenko.
"He beat Ricky and that wasn't nice for me to see, I'd like to get revenge over him and it's another fight I believe I could win."
Statement
New York-based Mendez, meanwhile, enters his own title fight against old rival Salgado confident he can avenge the contentious loss to the Mexican in 2011.
After a slow start, the 26-year-old came back into that fight, knocking down the champion in the 12th round with Salgado desperate to hear the final bell.
Now that Mendez knows he can hurt Salgado, he doesn't plan to leave this fight to the fate of the cards.
"Last time we fought his game, this fight I want to fight my fight and it will be different, I will use my skills, my jab, my speed," he said in his clipped English.
"I will go for him. I will look for him. It will be very different. By the fifth round I will stop the guy."
Victory for Mendez - fresh from sparring at the Ingle's gym in Sheffield - will not be enough though. Not interested in remaining in a quiet 130lb division - and at 5ft 9in big at the weight - he is looking to make a statement before stepping up to challenge the likes of Ricky Burns.
"I'm hungry to be world champion," he added. "I want to win big. I know I beat him before but I will beat the guy big this time.
"I want to move to 135. I'm too big. After I fight Salgado I may move up and I'll be better at 135.
"I want to have big fights. I want to make that happen. I would love to fight in Britain, I know a lot of people here so it will be good."
And Beard for one is a firm believer in the talents of the slick Mendez.
"He's got everything, he's just got to produce it on the night," he said. "If he produces what he's capable of he's by far the best 130-pounder in the world. I think he'll show it on the 9th.
"He's got great defence, hand speed, good power, and he's a very, very smart fighter. He's just got be more aggressive and in his mind he's going to destroy him. He was devastated after the last Salgado fight and there's no way he'll let this one go to the cards."
For Hatton, Mendez and Beard 2013 could be a big year, one in which all three could put themselves - and Stockport - on the map.