Carl Frampton is ready to prove himself the best in Britain
Nick Parkinson looks ahead to Saturday's European title fight between Carl Frampton and Kiko Martinez.
By Nick Parkinson
Last Updated: 05/02/13 3:50pm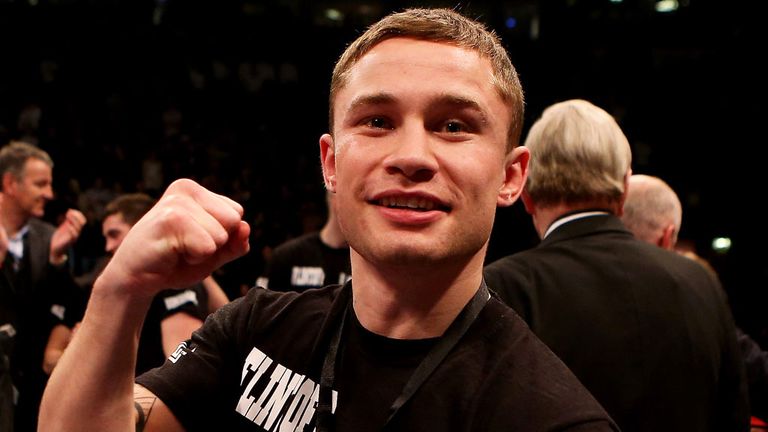 The Belfast boxer hopes victory over Spaniard Kiko Martinez in his home city will put him first in line for a shot at the IBF world title.
Unbeaten Frampton, 25, also declared he is prepared to face any of the world champions - Abner Mares, Nonito Donaire and Guillermo Rigondeaux - later this year.
Frampton wants to settle the domestic dispute as to who is Britain's leading super-bantamweight with Bury's unbeaten Scott Quigg after this weekend - but has questioned whether his rival wants to face him.
"I'm highly ranked by the IBF and I would be happy to straight away fight the winner of the vacant IBF title fight between Alejandro Lopez and Jonathan Romero," Frampton told Punchlines.
"They fight a week after me so it would work out well, or I could fight Scott Quigg, which after David Price-Tyson Fury is the one fight British and Irish boxing fans most want to see most.
"I would be happy to fight the WBC champion Abner Mares this year, in one or two fights time. I think I'm stronger and punch harder than him already.
"At the moment I'm not ready for Nonito Donaire (WBO champion) and Guillermo Rigondeaux (WBA champion) but give me a year and I will be. They are top of the division right now.
"I want to prove I'm the best in Britain as well but if Scott doesn't want to fight me I can't do too much about it. There are other exciting fights for me."
Frampton has trained for Martinez with trainer Shane McGuigan - son of former world featherweight champion Barry - at a gym in Battersea, south London in what he admits are bizarre surroundings for a boxer.
"It's a great little gym but it's a weird place to find a boxer training, it's really arty-farty," Frampton told Sky Sports' Punchlines.
"There's a few toffee-noses around and Vivienne Westwood's studio is opposite, Victoria Beckham and Simon Cowell's offices are around the corner.
"There are celebs walking around. Bob Geldof poked his head into the gym to watch me train and my trainer Shane gets a bit embarrassed when I ask for autographs and photographs.
"I walked into the café just opposite the gym the other day and there was a naked, fat burlesque model who artists were drawing.
"There can't be too many boxing gyms where you can get artists doing life drawing and drawing on the walls with chalk next door."
Quick Hits
Anthony Ogogo will not be trained by former world champion Ricky Hatton for his forthcoming professional debut, according to his management company.
The 2012 Olympic bronze medallist, who has recently appeared in reality TV show Splash!, is still undecided as to who will train him.
But a spokesperson for his management company denied speculation the Lowestoft middleweight will have former world light-welterweight and welterweight champion Hatton in his corner.
He told Sky Sports' Punchlines: "It will not be Ricky Hatton for the moment who will train Anthony and he's not going to Manchester for a week to train.
"We are still in the process of finalising Anthony's first fight and we are still hoping for April time. He's not training at the moment but can't wait to start.
"There are a couple of people he's looking at bringing in as trainer, but neither of them are Ricky Hatton."
Ogogo, 24, is being lined up to appear on the undercard of Amir Khan's next fight, set to be in the UK on April 20 or 27, or in Las Vegas on the same bill as American Floyd Mayweather Jr's next fight on May 4.
Ogogo has turned professional with American promotional giants Golden Boy after his success as an amateur at London 2012.
Another former Olympian James DeGale, the 2008 gold medallist, expects to box again on March 23.