Taming the Cobra
Rob McCracken has played a huge part in guiding Carl Froch through the minefield that is professional boxing. He talked to us as the duo prepare for a 10th successive world title fight, and a re-match with 'Viking Warrior' Mikkel Kessler.
Last Updated: 12/02/13 6:09pm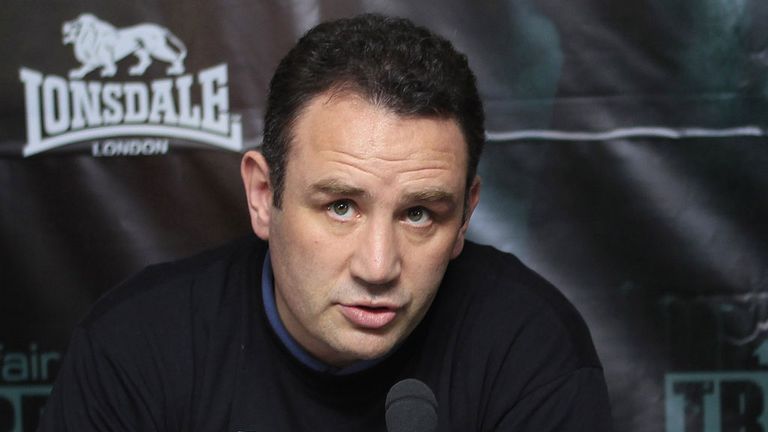 A sense of calm always comes over me when I talk to Rob McCracken. As friend, trainer and mentor of Carl Froch, the 'Cobra' readily admits McCracken has played a large part in his rise to stardom. He's the kind of guy you'd want in your corner.
In turn, McCracken's total belief in Froch's ability to overcome adversity in the ring is omnipresent. And the Nottingham brawler has given his trainer enough anxious moments along the way to test those feelings.
There was the Jermain Taylor knockdown in Froch's very first title defence, when the Brit grabbed victory from the jaws of defeat. And in his next fight Andre Dirrell hugged and mauled his way to what the American felt was a robbery in Nottingham.
Those two fights presaged Froch's first war with Mikkel Kessler in their World Super Six Series clash in Herning, Denmark. On that occasion it was Kessler who got the benefit of a 'home' decision, although most believed the Dane just edged it.
But things didn't go smoothly for Froch in the lead-up top that fight in April 2010, and in any case he's a different fighter now. He continued to 'grow' with wins over Arthur Abraham and Glen Johnson, and then bounced back from another defeat, this time to Andre Ward, by demolishing then-champion Lucian Bute, as well as Yusaf Mack.
That brings us to the present day, where the languid McCracken is about to embark on another 12-week training camp as Froch looks to get himself in the shape of his life for the long-awaiting rematch with Kessler.
It's a camp in which McCracken knows nothing can go wrong, as his charge seeks to redress the balance with a first career defeat that still rankles.
Professional
"We've done it so many times, it works. He knows exactly from experience what's right and what's not right for him and we'll get it right," McCracken told Sky Sports. "Obviously you look to avoid injuries, that'll be the first job, then get him in the best shape possible.
"He's learned over the years the mistakes he's made so I think he'll be very professional and he'll be switched on mentally and physically for this fight.
"Kessler's a tremendous fighter. He's very confident, you can see that, so it's up to Carl and myself to prove Kessler's wrong and see him off, and we're very confident Carl will win. Kessler could have avoided this fight but he's confident he can do it again, but that will only get Carl better prepared for what's ahead."
And while Froch has had five world title fights since losing to Kessler, the Dane has fought just 13 rounds in the intervening three years owing to eye and back injuries that threatened to end his career.
The 'Viking Warrior' insists those issues are far behind him, but many believe that Froch himself has progressed markedly since their first match and he will start this fight an odds-on favourite.
"Carl will know some will fancy him and some will fancy Mikkel," McCracken continued. "I think international press probably edge towards Froch because I think a lot of them felt Carl won the first fight.
"But he's not silly - if you underestimate Kessler you do so at your peril and he looked great in his last fight - as fresh as ever. We'll prepare for the best Kessler, and I keep telling everybody it won't be easy.
"The first fight was a disaster, for two or three days in the week before the fight we thought it would be called off. It caused Carl to switch off mentally and without going into details it was the wrong move to go out there and it ended up not working out for us.
"This could set up a trilogy. The fans got a great exhibition of boxing and fighting, they'll get to see that again and hopefully Carl comes through. Who knows, we could do it all again."
Unhappy
While the volcanic ash cloud that upset Froch's plans was a valid excuse for a sub-standard performance against Kessler, there appeared to be few when the Briton lost again two fights later to undefeated American Ward.
And yet McCracken believes Froch wasn't himself that night in Atlantic City, when he only lost by two rounds on two of the judges' scorecards.
"Ward won the fight but Carl was unhappy, he wasn't happy going into the fight having built himself up for years that it was going to be somewhere else and be a pay-per-view extravaganza, and it wasn't," said the former middleweight title challenger.
"But he knows he let himself down on the night, I think the last three rounds Ward was getting himself into trouble but it just wasn't Carl on the night.
"But the good news in this sport is that you can put things right. Carl did that with Bute, he was an underdog there, he took Mack apart and gets the chance to avenge the loss to Kessler.
"If he does that, who's to say he can't fight Ward in the UK? Ward would obviously be favourite after the first fight but Carl has improved so much because of that, he's learnt a lot from it. We think Carl will win and we'll move on from there."
Coming from someone like Rob McCracken, you'd be a fool to argue.