Talking points
We take a look at what's rattled your cage in the world of boxing over the past seven days.
By Adam Norman
Last Updated: 19/02/13 4:41pm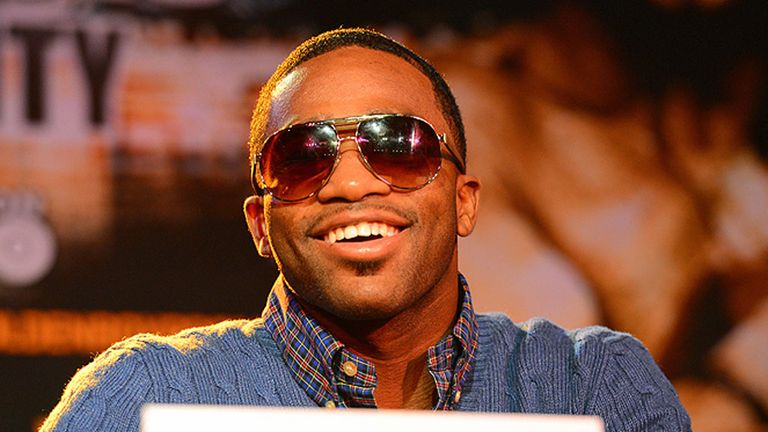 We've delved into the comments sections of our boxing stories and gathered together the best posts on the most contentious issues of the week.
Over the past seven days we have seen Gavin Rees fall short in an ambitious world title bid, while Devon Alexander seemingly gave a green light to a title defence against Kell Brook. Nathan Cleverly admitted his frustration at not being able to fight the big names at light-heavyweight.
We don't make any apology for the typing errors!
As always, we welcome your comments in the box below
The only talking point over the weekend surrounded Adrien Broner's latest victory against Welshman Gavin Rees. The majority of you praised the American's performance while giving Rees his dues for taking the fight to him. It wasn't long before thoughts turned to Ricky Burns...
jonny said: Very easy win for Broner, just too big, strong and fast. Rees tried his best and was landing on Broner easily but couldn't hurt him. A Broner vs Khan fight in the future would be interesting, Khan could get KO due to Broner's power but Khan would also land incredibly easily on Broner and there would be a possibility of TKO'n him.
john said: Impressive from Broner, he did well to keep his cool after Rees started so well. I think Broner was surprised. It will be interesting to see him fight Burns- a guy who is bigger than Broner. Theres still questions as to his stamina obviously because he takes alot of his opponents out early and credit why not. Although if there is anyone that can do it it's Burns.
andrew said: looking at the both of the fighters it looked like 2 fighters from 2 different weights...broner is very talented has great hand speed and devasting power but his movement isnt great and was getting tagged quite easily in the first few rounds..when he moves up to LW could cause him problems with people with genuine power like matthyesse and rios.. but he has a very bright future....
wayne189 said: rees was outclassed easily. broner will move up to lighwelter soon I should think as he is big for a lightweight. in two years he will be a welter. some good fights at lwelter though Garcia,peterson,khan etc and I think broner would destroy them all same with the welters
frank360 said: Adrian Broner is really something. At the age of 23 he really does have the potential to be one of the true greats. The thing that really impresses me about the fights I've seen him in so far is that he hasn't even shown 50% of what he can do yet. He really does just go into the ring see what the opponent can do, then and if the opponent is only 20% as good as him. He'll jump to 30%. Tonight was a prime example. He toyed with Gavin really, let him exert all show what he could do, then Broner just put him out of business. He needs to go up to 140. Plus don't be fooled by the arrogance. its all an image to promote fights, and be THAT character in boxing.
punch drunk said: Burns may give broner more of a run out but the result will be the same. Broner looks like a welter fighter, I think 143 or 147 would be his perfect weight. My money is on him cleaning up at 135, then light welter before a move up to welter in about 2 years. His record is padded, but he will be a hall of fame fighter, all the skills are there.
hamza said: There's so much hype over Broner. He still has alot to prove. He's in a division where no one can really test him. When he moves up to 140 then we will see if hes the real deal. He looked good against Rees but he was to small. I would love to see him with Khan or Peterson and see if he can do well and cope with their speed and power.
terry said: Rees showed a big heart but was completely taken apart by a top class operator shame Bronner doesn't show as much class outside the ring he doesn't have to give off this persona,just let you boxing do your talking. Ali use to run off with his mouth but he was extremely entertaining,funny and charismatic which allowed him to get away with it,Bronner just comes across as arrogant and disrespectful.
Devon Alexander was in town last week and he told reporters that he fully intends to fight Kell Brook after controversially pulling out of their proposed February 23 clash, scotching rumours of a potential clash with Floyd Mayweather. The news was well greeted by fans, although some of you are still not convinced by Devon's excuses!
bousee said: No surprise to me . devon would get destroyed by floyd so it makes sense to stay away and try and keep his belt against kel .
phil said: If there was a chance to fight the biggest star in boxing (and possibly the world), he would put the title in a bin and tell Kell the fight isn't going to happen!!
ozzy said: So when and where is the rearranged fight going to happen? There are many Kell Brook fans who would prefer golden boy to make the new fight arrangements as soon as possible so that they can rearrange flights and hotel reservations. Golden Boy seem to have been really dragging their feet over this.
phil said: Reading in between the lines he was never going to fight floyd! Would you turn down the chance to have the biggest pay day in your career vs fighting a very dangerous fighter (who may beat you) who isn't a massive ppv fighter across both sides of the Atlantic
deano said: there is very much a case of devon having more to lose than gain against Brook and the risk is very high! where as a fight with mayweather gives a massive pay day, the chance to beat the no 1 pound for pounder in the world and if he loses his reputation stays in tact. so i think he'd have jumped at the chance to fight mayweather if possible
l.t.f.c said: Im pretty sure this is mind games, delay the fight a few weeks get kell to switch off as he was looking awesome in the gym.......... keep switched on kell eye on the prize buddy....
WBO light-heavyweight champion Nathan Cleverly reflected on a frustrating year in 2012 as he looks to step in the ring with a viable opponent. Defences against the unheralded Tommy Karpency and Shaun Hawk last year have left him hungrier than ever. Promoter Frank Warren came in for a plenty of stick!
neil said: I imagine he feels he owes Warren, for getting him the title shot in the first place. However at some point he is going to realise that he has paid him for his services and that this is businesses, nothing more. If Warren felt Cleverly was no longer good enough, he certainly wouldn't stick around and bend over backwards to help him!
red said: Alot of people feeling sorry for cleverly and giving him the benefit of the doubt here, many times in the past fighters who felt that thir promoters were holding them back, have kicked up a fuss to leave. Cleverly hasn't, need to consider the possibility he doesn't actually want to fight live opponents. I mean come on, seriously, Hopklns and Dawson scared to fight him?? get real
naughty said: Clev is nothing more than a paper champ. He was given the belt with a family size bargin bucket and he's defended against bum after bum. Lets be honest, Bellew was only domestic level at the time they fought. This is just another example of old fish eyes refusing to match his fighters against the best.
ryanster1985 said: Naughty has a good point. Clev was given the belt, he didn't even have to fight for it. The WBO belt might as well be called the Frank Warrwen belt as the majority of his fighters hold or have held that sham of a title. Who has Warren got in his stable that you can say is at a world class or even excellent. Ricky Burns that is it Clev has earned the right to be classed as an excellent fighter as he only fights BOUNCERS & WASHED UP BUMS.. Matchroom have Froch, Brook, Frampton, McDonnell, Bellew - The list is endless For the good of Boxing i hope Warren cuts all ties with the sport because he is stuck in the stone age and he is holding back his stable of boxers. I would of knocked Shawn Hawk out, who the hell is that guy!!! (Enough said)
chivell said: I agree with the rest of the post's you need to get rid of warren he's a useless promoter who will kill your career. You need some big names on your CV and take some risks, you never no one of these nobodys may KO you and you've lost it all ! Goldenboy seem the best option as the US is where your trying to conqueor, I heard Roache is keen to work with you I think its time to up sticks and fly the flag for wales !
ozzy said: Whether Warren is doing a bad job with Clev or not is irrelevant at the moment as he now has a strong mandatory challenger to deal with and on top of that he is still contracted to Warren and so can't go to other promoters until that contract expires. I would recommend a change to golden boy when that happens.