War of words
Eddie Hearn has defended allegations by Frank Warren that he only targets the 'bottom line'.
Last Updated: 06/03/13 7:08pm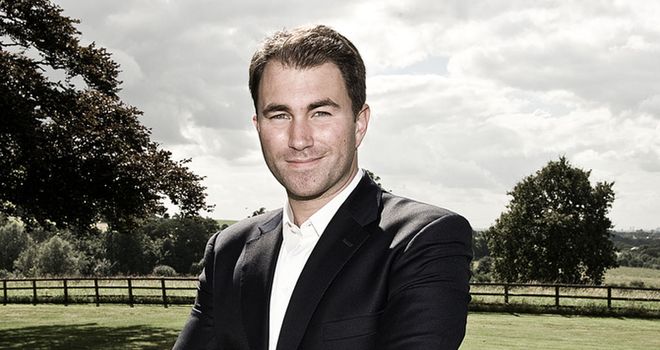 Matchroom promoter Eddie Hearn has launched a staunch defence of his operations after rival Frank Warren accused him of targeting the 'bottom line'.
Warren on Monday used his self-owned TV network to hit back at comments, reportedly made by Hearn, suggesting he 'stacked' his shows and as a result risked big losses.
One such show on March 16 has had to be shelved after Ricky Burns' opponent Miguel Vazquez pulled out with a virus amid rumours that he had still not agreed financial terms for their unification fight, while Nathan Cleverly was also ruled out of his world title defence after being hit with a stomach bug.
This came on top of George Groves, who was also set to appear on the bill, joining Matchroom over the weekend and for whom he will now debut this coming Saturday.
"Of course we stack our shows, because that's what I've always done," Warren said. "That's why my fighters get home advantage when they fight, very rarely will I take them on the road unless I really fancy the job or they're getting fantastically paid."
And Warren said that he had a right to express his opinion in his regular column in the Sun and that Hearn should not take anything said in there personally.
"What have they (Matchroom) done in the last year - taken four guys abroad and got them all beat," he added. "What a great track record. There's a good way to build your business.
"He says I slag him off in my column, but it's not a question of that. My column is about expressing my view, and my view was they would all get beat. That's not being disrespectful.
"That's me giving my opinion, I'm not always right and sometimes I get it wrong. I do find it strange that they always go abroad though and the reason is because it's a cheaper option, rather than investing in your fighters and trying to get them home advantage.
"My motive is not the bottom line. Their motive is the bottom line. They care more about the short term 'grab the money now', rather than investing in the long term for your fighters."
Opportunites
Hearn refuted those allegations, saying Darren Barker and Gavin Rees - two of his fighters who have lost world title fights in America - had not seen their careers suffer as a consequence.
"I want my fighters to fight the best in the world and be tested at the top level," he said. "I want big paydays, big fights and world titles for my fighters. It's not entirely my decision - we sit down with the teams and I present all the opportunities in terms of what's available.
"If they feel it's the right package, they'll take the fight. If they want advice I'll give it, and my advice for those two fights was to take it.
"Barker was two-time European champion and ready for a world title shot. The only one available was Sergio Martinez. If he didn't take that fight he would have stayed at European level for the same money with nobody that interested.
"Gavin Rees was European champion, he defended that three times and was set to fight John Murray who had to pull out.
"So here's a chance to fight Adrien Broner for six times as much money, on HBO and try and upset the applecart.
"Both fighters came out of that with great credibility and a huge amount of support from HBO. Their stock rose and they got a nice paycheck. The only reason not to take those fights would be through a lack of ambition.
"People don't want to watch fighters making easy defences again and again. They want to see big fights and guys being tested.
"If you just want to make routine defences then that's fine, if that's the way you want to do it. It's not how I want to do it. I want to make boxing exciting again and I want to make the fights people want to see."
Hearn added that he was not interested in what is happening 'over the garden fence', with his own stable of fighters growing by the week.
"I couldn't care less. I don't go to work thinking 'I've got to get one over on Frank Warren'. It may be for him because he always seems to target us," he added.
"If I wanted to I could start asking about the Miguel Vazquez situation, but it's petty and I've got too much on my plate. I've got a dozen fighters wanting to sign up with us and no fighter leaves Matchroom. In the last three years there hasn't been one.
"We're running a business here. I don't want the losses that Frank Warren's got. It would jeopardise my business.
"If you're not making money you can't pay your fighters. We're not making massive money, but we're doing okay."