Carl Froch says George Groves needs tougher tests before they could meet
Carl Froch says George Groves needs to prove himself before he would consider facing him.
Last Updated: 10/03/13 2:47pm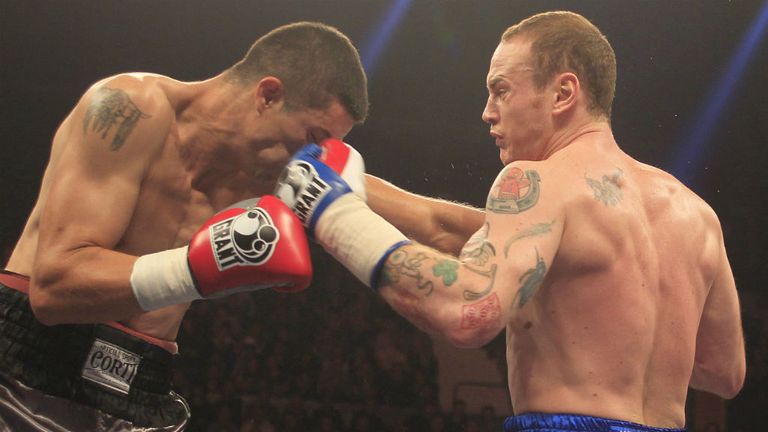 The Londoner marked his return to Matchroom and Sky Sports with a straightforward stoppage of Dario Balmaceda at Wembley on Saturday night and is now preparing for a high-profile fight on the undercard of Froch v Mikkel Kessler on May 25.
Groves has indicated that he's eyeing a headline clash with the IBF super-middleweight champion "sooner rather than later", but Froch played down the speculation after watching Saturday's bout in the Sky Sports studio.
He says he would be open to the prospect, but Groves needs a couple of big tests before he can step up to his level.
Froch said: "It would be a big domestic fight, provided he comes through a couple of tests.
"He needs to step up the level of opposition for people to take him really seriously against people of my level and the people I've been boxing at world level.
"He needs those fights and Eddie Hearn will deliver them. He's on the best platform with Sky television, the best place for boxing is Sky Sports, it's as simple as that.
"It's a move he's been talking about and it's the best possible career move he could have made. He's going to be given the opportunity now to showcase his talent and let everybody know he means business."
Groves needed just three rounds to take care of Balmaceda and Froch said there were promising signs from his new stablemate.
But he wasn't impressed with his Argentinian opponent and says his clash with an as-yet-unconfirmed opponent on May 25 will show us how good he really is.
Froch added: "That's a great opportunity for him to display in front of a big crowd against somebody who's a better level than what he's boxed here.
"It was very limited opposition here, so I fully expected him to do what he did. He was loading up a little bit for me and you could see what he wanted to do from the offset; he was looking for the stoppage and was loading up the shots.
"He did what he had to do and is looking good. He landed the big body shot and the guy fell on the floor. The opponent wasn't up to much so it's hard to gage, it really is.
"He's got a good jab. He sets up the jab well and moves well and his jab is very sharp. Is it world class? We'll have to see if it lands against a world-class opponent!"