Talking points
We take a look at what's rattled your cage in the world of boxing over the past seven days..
Last Updated: 18/03/13 10:30am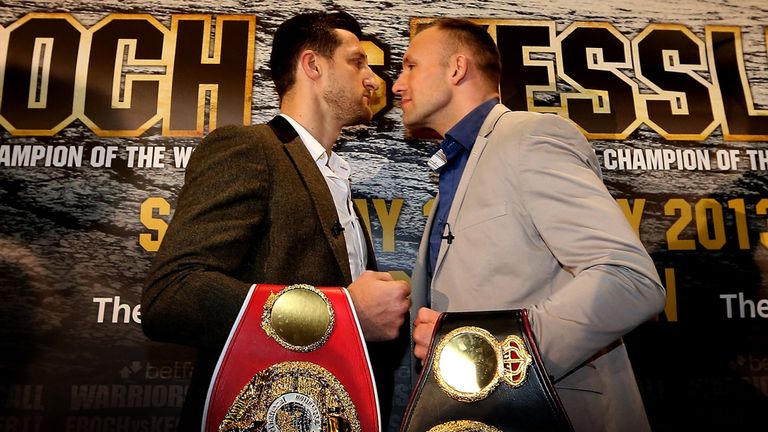 We've delved into the comments sections of our boxing stories and gathered together the best posts on the most contentious issues of the week.
This week the promoters were again in the news as Ricky Burns switched from Frank Warren to Eddie Hearn, while the latter also added Lee Selby to his growing roster at Matchroom. Meanwhile, Mikkel Kessler was in town as the build-up to his fight with Carl Froch gathers momentum.
We don't make any apologies for the typing errors!
As always, we welcome your comments in the box below...
Mikkel Kessler was in London this week to promote his fight with Carl Froch on May 25. As ever, his comments sparked a debate about the outcome of the fight and also the merits of the Briton.
nick: Even though these two are warriors with chins of granite I have a funny feeling this one could be over within the first 5 rounds. Hopefully it will be Froch taking the win but its a 50-50 fight. One thing that's certain is it will be a great fight no matter how log it lasts.
chris: I felt Froch did enough to win the first fight, i had him up on my card but you can't argue the decision either way. Makes room for another cracking contest, no messing about, all out scrap! Froch to win late on.
kopholden.plc: I bought my ticket as soon as they went on sale. I went the Lucian Bute fight and it was the best fight i have been too. I cant wait for May 25th going to be a barnstormer. Can see Frotch winning by late stoppage. The reason for this is because Froch has been more active than Kessler because of the eye injury that Kessler suffered which kept him out of the ring for months. Also look at the improvement Frotch has made since he got beat by ward looks a lot fitter and heavier handed. If Frotch wins could set up a trilogy maby in a neutral venue like MGM Grand or even a re-match with Ward. Both would be big money fights as well.
mateen: I agree that Kessler on paper is arguably the better fighter, by the faintest of margins. But Carl is our man and I trust he will put heart and soul into halting Kessler. COME ON FROCH!
19times: I think kessler is going to win, he will smash him!
paulb: I think Kessler could win, but he will not smash Froch. No one has ever smash Froch. Ward schooled him, there is a difference.
bibba: You'll be able to put these two in a telephone box! Potential fight of the year!
ozzy: Surprised there aren't more people expecting a Kessler win. The fight seems too close to call one way or the other to me - the only thing I'm fairly certain of is that it will go the full 12 rounds. I hope the winner gets to fight Ward in their home country however I don't know if Ward is genuine in his offer to leave oakland.
joe: I want froch to win but my money is going on kessler points, im suprised how many people are going froch ko because i think this is a dead cert to go the distance
quacksandpiper: I watched the first fight just yesterday, just cause I am dieing to see part 2. I thought Froch looked to stand over Kessler at times and looked very dominant, respect to Kessler cause he landed some great shots to get back on top, but i think with the crowd behind Froch the tables aren't gonna be turned so easily by Kessler. I predict a Froch win on points.
christopher: Think this is going to be one of the best fights in a long time. Both guys have a chance. Hard one to call as I like both fighters. Good luck guys
claus-holmen: Kessler, he's such a gentleman. A pride to the sport. This is about boxing and two boxers with no need to express anything but their skills. No spitting, no biting, no bad words. I've think this fight will be over before the 8th round - either Kessler being stopped earlu by Froch in the Bute-manner or Kessler catching Froch with a KO-punch when Froch is moving forward punching.
The week began with the confirmation that Ricky Burns had left Frank Warren to join Matchroom. Sky viewers can now look forward to Burns' next title defence on May 11.
ozzy: I have no idea why Ricky Burns thinks Frank Warren is to blame for Vazquez postponing due to illness?? The lack of proper explanation for Burn's position makes me wonder if Burns is simply avoiding a fight with Vazquez just as he did with Broner. Thankfully Broner's gunna fight Malignaggi at welterweight so Ricky can stop hiding now!
john: There is a simple answer to this. Burns spent £12,000 on training and it transpires Warren hadn't received a signed contract from Vazquez for the fight!! Not to mention Jose Ocampo? A fighter of this level at his peak should not be this inactive. It's got nothing to do with avoiding Vazquez or anyone else, where did you possibly pluck that from?
gibby: Great news that Ricky is now on sky. Hopefully they can get Vazquez's team round the table and get that fight sorted for May 11th.
alex: Great career move for Ricky Burns. Hopefully the unification fight with Broner will go ahead in the Autumn now. Fighters want the big fight's and Frank Warren only has himself to blame for not making them happen.
james: Broner fight still won't happen. Its Burns' manager, not Frank Warren who is blocking... Even so, good move under the circumstances, and all the best to Ricky. He's 29 now, so no time to mess about. Interesting to see what Cleverly does once he gets past his April 20th foe.
bobby: The trickle of talent leaving Frank Warren has become a flood. It really doesn't speak well to how Warren has been managing these guys' careers. With a non-event defence against Robin Krasniqi looming, and a realistic possibility to match up against Bernard Hopkins within reach, how long before Nathan Cleverly becomes the last high-profile domino to fall?
stephene89: Best thing he could have done in my opinion. He wasn't getting anywhere with Warren and Hearn already has the ties to Broner to make the big unification fight. Lets hope they can make it.
Saul 'Canelo' Alvarez has a difficult title defence next when he takes on fellow champion Austin Trout. Canelo's confidence was not shared by all of you, however.
anon: Really looking forward to this fight! Like most fight fans, I think we can all agree that while Canelo is a good fighter, he hasn't really been tested against great fighters / champions. How can someone who is 22 have 42 wins? He has obviously been fighting journeymen to get his confidence up and to improve his stats but Trout IS his biggest and best challenge to date. Should be good ...
sean: Canelo is the most exciting fighter around at the minute, I watched him destroy Cotto last year and although Miguel is past his best I just cant look past Canelo for this fight. It will be one of the fights of the year, along with Froch v Kessler. Cant beat a unification bout with two warriors in the ring, which I feel both of those fights will be.
evan: Erm... Saul Alvarez beat JOSE Miguel Cotto in 9 rounds in May 2010, but he's not the Miguel Cotto you're thinking of, I think. Other than that, I agree with what you're saying.
inside-man: I think this will be fight of the year or certainly up there. Alvarez is pure quality and for his age he boxes like he is at his peak where as Trout wasn't given much hope against Cotto (by many) and he showed what he is about, styles make fights and I think these 2 are made for each other, they are both offensive fighters but have different approaches, Trout hits off the counter and likes to go up-down-up where as Alvarez is patient and picks his power shots constantly working off his solid jab, I think it will be a fast pace and prob go the distance as both can take a punch. Can't wait for this one.
dave: Trout will do to Alvarez what he did against Cotto and that is be very clever and slick, Trout is a bit like Mayweather he is a very clever boxer and is hard to hit and also his southpaw stance will make it a very difficult night for Alvarez who is a good fighter but has not really thought anyone that can give him a proper test so come April 20th we will see if Canelo is as good as he believes he is, im defiantly going for Trout on points and at 2/1 its too good to turn down.
chris: I think people are underestimating the boxing ability of Alvarez, this guy is a great fighter. Trout makes for very boring fights due to his style, Alvarez will win by UD possibly a late stoppage. I do agree that Mayweather probably won't fancy Alvarez after this.