Spent A-Force
Audley Harrison's tortuous journey to the top eventually came up short, and he has finally decided to call it a day. We look back at his career and asses his impact on the sport of boxing.
Last Updated: 01/05/13 4:46pm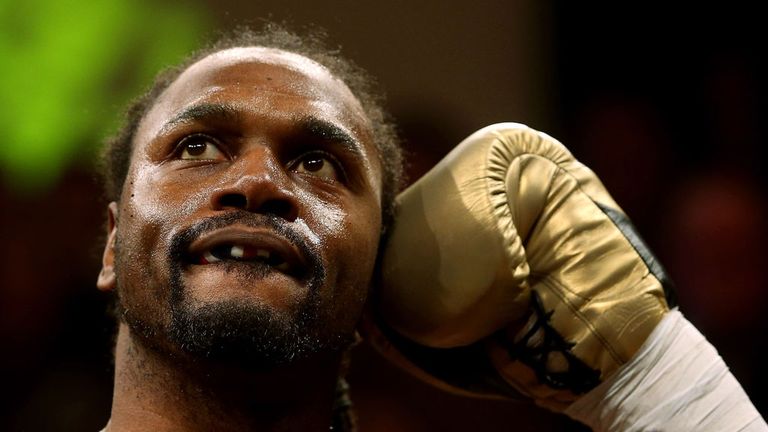 Last Saturday night in Sheffield was a night for dazzling debuts and rich talk of future superstars.
Hours after the capacity crowd at the Motorpoint Arena had cat-called Audley Harrison from the ring for what has now proven to be the final time, Golden Boy Promotions chief Richard Schaefer held court in a back-corridor bunker to heap praise on Anthony Ogogo and Haroon Khan.
For Ogogo and Khan, the talk was of an imminent Stateside debut in Atlantic City. For Harrison's conqueror Deontay Wilder, a future of fighting the Klitschkos and getting used to the notion of being the heavyweight division's next big thing. By that stage Harrison had long disappeared into the Sheffield night.
In his near-deserted dressing room shortly after his seventh and final career defeat, Harrison had slumped on a chair in the corner and conceded that a career once imbued with the same kind of optimism and expectation now afforded Ogogo and Khan was as good as over.
"I've done well to turn my life around, but sadly my dream to be a legitimate world champion will be unrealised," he confirmed on Wednesday.
Spirit
Mocking Harrison has become a national pastime, and conveniently ignores the commendable spirit he showed in clambering into the ring against the likes of Wilder - 27 wins and 27 knockouts to his name - or the then unbeaten David Price.
It also overlooks the fact that Harrison was one of the first British fighters to reject the entreaties of traditional promoters and go it alone, providing a blueprint from which the likes of Ricky Hatton and Amir Khan would learn and follow.
Doubtless some of the negativity with which Harrison was met from his very earliest professional days was encouraged by some of those who had most to lose from any such fighter-promoter revolution.
But it has to be said Harrison was often his own worst enemy, his iron-clad belief in his future greatness only serving to swiftly diminish the public goodwill which had swirled around him since those long-forgotten days of Olympic gold.
What Harrison singularly failed to realise was that such bombastic statements left the media with little choice but to judge him not for what he was - a professional novice like Ogogo and Khan - but against his claims to being a boxer destined to win a world title from the start.
Build-up
Prior to his professional debut against an American journeyman called Mike Middleton in May 2001, he lured the press to his training camp in Bodmin Moor, then staged the pre-fight press conference for the bout at the Imperial War Musuem.
It was a build-up that smacked of big beasts and bad intentions, but his boasts - such as the one which said he would be British champion inside four fights - were seldom backed up with his fists.
It took Harrison 19 fights to earn a fight for any such recognised title, and when he got it he flopped to a dismal split decision defeat to Danny Williams.
Through defeats to the likes of Dominick Guinn and Michael Sprott, the bombast never stopped.
Crazily, it even accompanied him to the ring in Sheffield on Saturday night, his own proclamations of 'Here Comes The King!' blaring from the speakers during his ring-walk. It was the voice of someone unwilling or unable to learn from his mistakes.
Yet in his dressing room, as on so many other occasions away from the public lights and their requirement for relentless hype, Harrison spoke so openly and honestly about his failings that it was impossible not to feel for him.
For all the areas in which he came up short - none more glaring than the ring itself - he never shirked a challenge and on Saturday night he was guilty only of seeking to eke the last drop of possibility from his improbable dream.
Ogogo and Khan can learn more than they might think from Harrison's tortuous travails. If they do so, and go on to become the kinds of fighter he never was, the sport might have more to thank Audley Harrison for after all.