Froch v Kessler II: The panel on preparation
Our experts discuss Froch and Kessler's fight night preparations - and what they'll have learnt from 2010.
Last Updated: 15/05/13 12:06pm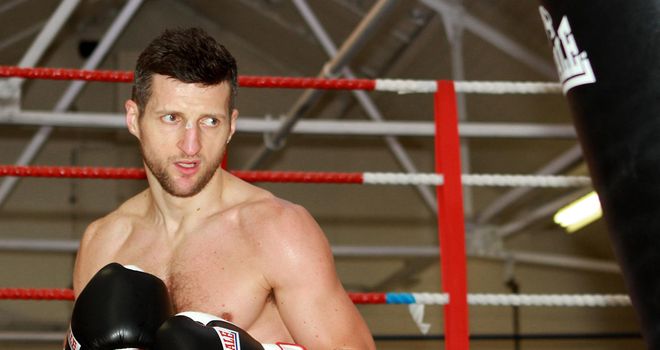 What will Froch and Kessler be working on ahead of the rematch?
Richie Woodhall:
In a contest like this they both have to be 100 per cent fit and they will both know that. A lot of the preparation will also have dealt with the first fight, breaking it down and seeing what they can learn so they can win this one. They will then have called in the right sparring partners - and that means tall ones, because a short guy would be working them on the inside and neither Froch nor Kessler focus on that; they are both quite rangey boxers.
As for dealing with the mental side, I spoke to Rob McCracken a while ago and he told me they are going to be in this one for the long haul and preparation is absolutely crucial. The good thing is that sparring at the English Institute of Sport, McCracken, very cleverly, will bring in the top amateurs, who might be a weight above Froch or even heavyweights, and they'll do two or three rounds and then the next sparring partner will come in. That means they are fresh and they are fast. And they will jab, too because that's what Kessler does. He's quite tall and has a great jab and that is what McCracken has had to sort out - and that is what Carl will have to deal with on the night.
Glenn McCrory:
The bottom line is, these guys are not going to change much at all: what you see is what you get. It is going to be barbaric and it is going to be brutal! If these two faced each other 10 times it would be the same fight every time and either could win it, so it might well come down to who has the desire and who has done the best preparation.
Johnny Nelson:
The first fight was the best preparation they could get, because they know what they're up against this time. Kessler will have seen certain things he didn't take advantage of and the same goes for Carl, who will know he has to step up the pace at a certain point in this fight.
But they're both better fighters now. Just look at the opponents they've faced and defeated since their first fight. Froch has changed the pace he starts a fight at; he's now more aggressive from the first bell. He doesn't throw single combinations like he did in the first fight now, either. Kessler was a bit of a war-monger and wanted a toe-to-toe tear up. This time, though, he'll have to hunt Froch down to get that - and he probably will!
Jim Watt:
Both fighters have been doing this a long time so they won't prepare any differently but Kessler will be aware Froch will be a tougher proposition than he was last time. Last time Froch's mind was different, as well. It was part of a series, now his career is on the line and he'll be fired up to perform in front of his fans at the O2 Arena.
How does a rematch affect the mentality of a fighter - and will it change the way Froch and Kessler approach the contest tactically?
Johnny Nelson:
If it was a hard fight before you can sometimes go into a rematch a little gun shy and think 'I don't want to have to dig so deep again' but if you're like these two guys - and I admire their attitude - then be sure they will put it all on the line.
When they come across each other they're very polite, very matter of fact, like two paid assassins eyeing each other up thinking 'I know what I'm going to do to you'. These two guys are for real and it's a mark of their physical and mental maturity that they are prepared to go there and give it their all once again.
Glenn McCrory:
I had a couple of rematches back in my day, two back-to-back rematches in my first year as a pro. I don't think I was as good second time round, certainly not as convincing. I was going over old ground as I had beaten them both, so beating the guy you've already beaten might make it harder for Kessler.
I think because he won that first one, there is more pressure on Kessler, too, while, because he lost that first one, Froch knows he can do better. And has to do better!
Richie Woodhall:
Psychologically, going into this, Kessler has a little advantage because he won the first one. Carl desperately wanted the rematch so he can even it up, whereas Kessler will want to win with style and show he can do better than he did in the first fight, which was a close call.
He'll remember how he beat Froch last time and in a way that might work against him - or rather give Froch the advantage. He is a tough, tough man psychologically and he will have that added desire to level the score because he will be the hungrier of the two.
Jim Watt:
If you look back through history of return matches of great fights they haven't always lived up - for instance, Marco Antonio Barrera-Erik Morales was phenomenal first time round but the second fight didn't touch it. The first time you box someone you don't know what to expect. But ahead of the return you are sitting in the dressing room knowing what's ahead of you.
Your character really comes into a return match. Do you really want to do it the way you did before? Or do you want to lessen the impact a bit? Well, neither of these men are lacking in the character department, I can tell you.
Of the two, Carl is the one who will drive this fight. He doesn't care about it being as hard as the first time, while Mikkel may say 'I've got skills I can use, I will have to go into the trenches once or twice, but it's not my plan to go there'.