The Rematch #1
Politics, patriotism, race and redemption combined to make up the incredible story of Joe Louis' rematch with Max Schmeling...
By Stephen Turner
Last Updated: 15/01/17 11:34am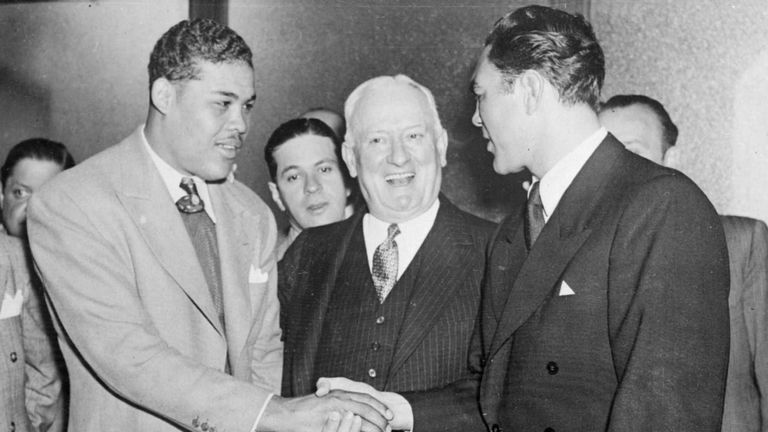 Boxing has often fallen back on stereotypes to sell itself. Good guy vs bad guy, boxer vs brawler, warrior vs spoiler: all are old chestnuts which suit promoters, broadcasters and boxers peddling a story as much as a fight itself.
SCHMELING v LOUIS
THE FIRST FIGHT
Yankee Stadium, New York
June 19, 1937
Schmeling Won, KO12

THE GAP
1 year 362 days
Schmeling - 4 fights (W4)
Louis - 11 (W11)
THE REMATCH
Yankee Stadium, New York
June 22, 1938
Louis Won, KO 1
More often than is dignified fighters have used race or politics to gain an advantage - think Muhammad Ali deriding Joe Frazier as an 'Uncle Tom' or Bernard Hopkins trampling on the Puerto Rican flag of his opponent Felix Trinidad.
But there are few beyond the confines of a Rocky film who have entered a ring shouldering the weight of a political ideology or the burden of fighting for an entire race.
And in that context no story in boxing carries quite the historical significance - socially, politically, perhaps even in pure sporting terms - as the 75-year-old tale of Joe Louis' two meetings with Max Schmeling, the heavyweight whose rise to prominence coincided with Adolf Hitler's grip on power in his native Germany.
When Schmeling - dispatched to the United States on a charm offensive ahead of the 1936 Olympic Games - secured a fight with Louis the 'Brown Bomber' was an unbeaten 22-year-old "too good to be true, and absolutely true", in the words of Ernest Hemingway. More than that, he was a beacon of hope - often the only beacon - for an African-American community fighting gross inequality against the backdrop of the Great Depression.
Over the course of the next two-and-a-half years both would be reduced to useful caricatures at home and abroad, but for each the immediate and prevailing motivation for fighting was a sporting one.
Bogeyman
Schmeling had won the world title in 1930 when his opponent Jack Sharkey was disqualified for a low blow, but a contentious points defeat in the rematch (his manager Joe Jacobs' famous "We wuz robbed" summation remains in the lexicon to this day) was quickly followed by two more. Among his conquerors was Max Baer - later demolished in four rounds by Louis. At 30, many considered Schmeling past his prime.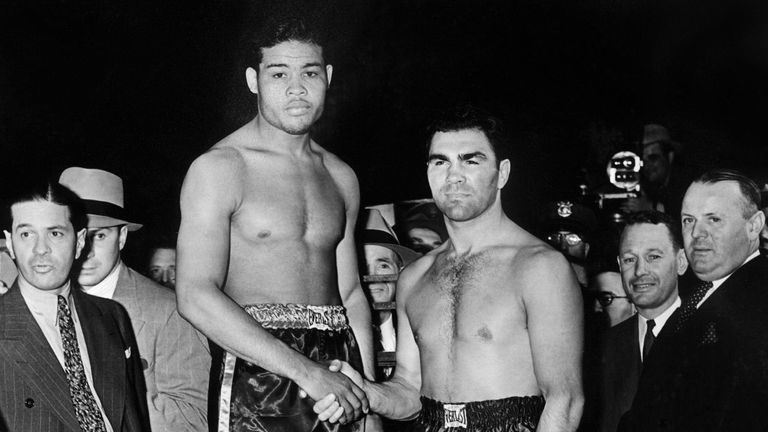 With a Jewish-American manager in Jacobs, an easy way with the press and a high profile in the States following the two Sharkey fights he was not universally depicted as a Nazi bogeyman. In fact Schmeling's relationship with Hitler's regime was difficult to pin down: he later admitted he was flattered by the Fuhrer's interest in him, but was independent enough to defy, initially at least, Hitler's demand he should replace Jacobs.
Back across the Atlantic, his trainer Max Machon was working on a way to achieve the unthinkable: knocking out Joe Louis. Painstaking examination of his previous fights revealed a chink in the young pretender's armour, a tendency to lower the left hand after throwing a hook, and Schmeling became convinced his own clubbing short rights could punish Louis' weakness.
Sensational
Meanwhile Louis, if reports were to be believed, was cutting corners on his own preparations to indulge a new-found passion for golf, but still few anticipated what happened at Yankee Stadium on June 19. Schmeling carried out his gameplan perfectly, dropping Louis with a right cross in the fourth and repeating the dose until the end finally came eight rounds later.
It was a sensational result, one which resounded way beyond the boxing world. In Harlem, there were riots, and contemporary reports claimed several African-Americans had suffered heart attacks while following Louis' defeat on the wireless. The American press reacted with astonishment, and there were those in their ranks who openly revelled in a white man's victory over a black man.
Schmeling's life had changed, too, in the instant that first right hand had sent Louis cartwheeling to the canvas. Nazi Germany had hardly gone out of its way to promote a fight its man was expected to lose. Now, though, the party's propagandists were falling over themselves to salute an Aryan icon. Nazi weekly journal Das Schwarz Korps trumpeted: "Schmeling's victory was not only sport. It was a question of prestige for our race."
Louis went back to work and fought nine bouts in the time it took Schmeling - frustrated by a failure to nail down a contest with champion Jim Braddock - to return to the ring. Braddock had instead chosen to take on Louis in June 1937, was stopped in eight and lost his title.
MAX SCHMELING
From: Brandenburg, Germany
Nickname:Black Uhlan of the Rhine
Fights: 70
Wins: 56
By KO: 40
Lost: 10
Draw: 4
Champion in name, Louis insisted he would not consider himself the world's best until his score with Schmeling was settled, and a deal was struck for a rematch to take place on June 22, 1938. New York's Yankee Stadium would again play host.
In the months before the fight Hitler's Germany had shown its hand in Europe, annexing Austria, and the sporting ambitions of Louis and Schmeling were hopelessly lost amid the wider implications of their rematch. This was no longer a contest between two boxers, not even a fight between a black man and a white man. The stakes were higher still: this was American against German, democracy vs Nazism.
President Roosevelt courted Louis at a press conference, publicly admiring "the kind of muscle we'll need to beat Germany". Back in Europe, quotes attributed to Schmeling appeared. He would knock out the American, the black man, to prove the superiority of his race. Schmeling denied making the comments until his dying day, but the damage was done.
Hounded by a one-time amenable American press and the target of relentless protests from anti-Nazi groups in New York, a browbeaten Schmeling was annihilated in 124 seconds by an opponent who was an entirely different proposition to the one he had faced two years earlier.
Democracy
Whatever national pride was at stake did not stop Machon throwing in the towel and, although referee Arthur Donovan threw it back out in accordance with local rules, he soon recognised the battered German's life was at stake if he allowed the fight to proceed any further.
Louis knew "the whole damned country was depending" on him to strike a blow for democracy, and the impact of a second defeat on the African-American struggle was too terrible for some to contemplate.
Maya Angelou, the author and civil rights activist later recalled her emotions as she listened to the fight. If Louis lost, she wrote, it "might be the end of the world. If Joe lost we were back in slavery and beyond help. It would all be true, the accusations that we were lower types of human beings."
At its most pared down, though, this was a story of one boxer beating another. A story of how an 'invincible' pretender was undone by his own hubris and the wiles of a 'washed-up' opponent, only to reinvent himself, avenge his defeat and conquer the world.
JOE LOUIS
From: Detroit, Michigan, USANickname: The Brown Bomber
Fights: 69
Wins: 66
By KO: 52
Lost: 3
Draw: 0
Schmeling and Louis were just human beings, and their post-fight fortunes reflected that. No longer a darling of Nazi Germany, Schmeling fought during World War II and briefly resumed his boxing career before making a fortune with his company selling soft drinks. He came to view defeat to Louis as a blessing, saying: "Victory would perhaps have made me into the toast of the Third Reich. After the war I might have been considered a war criminal."
It would be 12 years before Louis was beaten again, but his career was prolonged beyond the peak of his powers by debt; support from the US government now conspicuously absent as its officials pursued him over tax irregularites relating to charitable donations to the war effort. In the years before a heart attack killed him in 1981, Louis suffered personal problems and worked as a greeter for a Las Vegas casino. He and Schmeling became friends, and the German was among the pallbearers at his old rival's funeral. Schmeling died 24 years later, aged 99.
Neither man, in truth, could easily be categorised: Schmeling, the Aryan superman who had a Jewish manager but signed up as a paratrooper for the Wehrmacht, who socialised with Hitler but sheltered Jews on Kristallnacht; Louis, the young black man lionised as an all-American hero even as his country's law-makers failed to implement the most basic equal rights.
Such complex realities could never fit the black-and-white narrative their sport, their people and governments demanded, and the story of Louis-Schmeling is all the more compelling for that.