The Rematch #3
Lennox Lewis may have lost his first fight with Oliver McCall, but he gained a key ally and took revenge in a bizarre rematch...
By Stephen Turner
Last Updated: 15/01/17 11:38am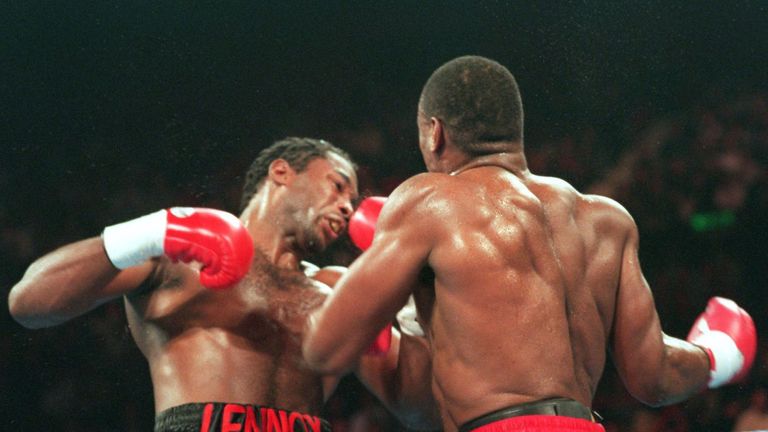 Lennox Lewis may have lost his first fight with Oliver McCall, but he gained a key ally and took revenge in a bizarre rematch...
"A loss can make you look at yourself in a way that victory cannot. It gives you a feeling that inspires you to be better. Gladiators need to experience setbacks, because if you can come back from them it shows just how great you are." Lennox Lewis
LENNOX LEWIS v OLIVER McCALL
FIRST FIGHT
Wembley Arena, London
September 24, 1999
McCall Won, TKO2
THE GAP
2 years, 7 months, and 17 days
Lewis - Won all 4
McCall - Won all 2
SECOND FIGHT
Hilton Hotel, Las Vegas, USA
February 7, 1997
Lewis Won, TKO5
It is almost a decade since Lennox Lewis, in the words of the late and great Emanuel Steward, "took it to the streets" to stop upstart Ukrainian Vitali Klitschko on cuts in the last of his 44 professional fights. Lewis remains the heavyweight division's last recognised undisputed champion, but all those years on from retirement he can still divide opinion.
To his detractors, the Klitschko fight was an unconvincing send-off which reinforced an impression of Lewis as vulnerable and a grind to watch. Where on his record is the mark of genuine greatness, goes the argument, beyond a thorough demolition job on an over-the-hill Mike Tyson and a decision over an Evander Holyfield no longer in his prime?
To Steward, the legendary trainer and long-time mentor whose death last year left Lewis devastated, his man had simply done what he did best: found a way to win. "The thing about Lennox," Steward later said in an interview with East Side Boxing, "was he did whatever you asked him to do to win a fight. He could make the adjustments."
Twice, of course, Lewis' famously strategic thinking deserted him: once, in 2001, when he complacently walked straight from a Las Vegas movie set, into the altitude of South Africa and onto a monster right cross from the little-known Hasim Rahman.
Lewis would avenge that defeat the same year, heading up to the Pocono mountains to get in shape and leaving nothing to chance ahead of a one-sided rematch.
But it was the first defeat of his career, seven years earlier at Wembley Arena, which would send the London-born, Canada-raised Lewis on a tortuous road to redemption and a claim to a place among the best heavyweights in history.
Weakness
Oliver McCall was the fourth man to challenge for the WBC title Lewis had inherited from his detested rival Riddick Bowe - the American he had beaten while boxing for Canada at the 1998 Olympic Games and who threw his belt in the dustbin rather than face his old foe.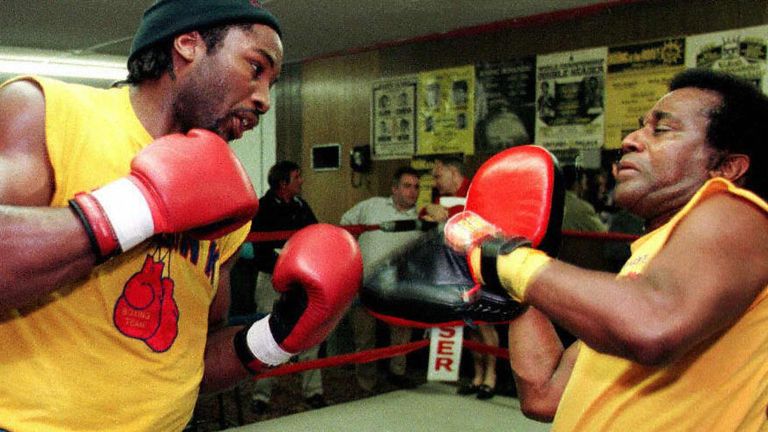 Few gave McCall a prayer - the 'Atomic Bull' had suffered five points defeats in 24 fights and was more noted for his sparring sessions with Mike Tyson than anything on his record. His problems outside the ring were well-known, too, but McCall had one decisive advantage over the champion: Emanuel Steward was in his corner.
McCall - and his personal demons - had been kept under lock and key for months before the fight by the canny Steward, who had long admired Lewis but identified as a weakness his overconfidence in throwing the heavy right hand which had become his greatest weapon.
With 31 seconds gone in round two, Lewis reached for the heavy artillery as predicted and, beaten to the punch, was sent to the canvas by a huge right from McCall which landed flush on the chin. The champ got to his feet but, in the words of the watching Hugh McIlvanney, "his legs fluttered like saplings in the breeze" as referee Jose Guadalupe Garcia called a halt.
Battling the immediate affront of a stung ego and the reality he was suddenly out in the cold in a heavyweight division now back in the hands of Don King, the ruthless promoter he had always chosen to keep at arm's length, Lewis and his manager Frank Maloney called 'conspiracy' as they railed at Garcia's over-eagerness to stop the fight on the back of one "lucky punch".
LENNOX LEWIS
From: London, UK
Nickname: The Lion
Fights: 44
Wins: 41
By KO: 32
Lost: 2
Draw: 1
It is an argument which carries some weight even today although, in Gavin Evans' Lewis biography Mama's Boy, Maloney later said "that referee may well have saved Lewis' career". Whatever the truth, Lewis would have Steward in his corner by the time he returned to the ring the following May.
Rebuild
Steward, an admirer since Lewis' amateur days, had been riled by the disrespectful attitude of previous trainer Pepe Correa in the run-up to the McCall fight. Rejecting the chance to stick with a King stable soon to include Mike Tyson, out of prison and back at the box office, Steward instead set about achieving what Correa could not: taking Lewis right to the top.
Lewis admitted cutting corners while preparing for McCall, and he learned a painful lesson as defeat cost him another shot at Bowe and much more. Frank Bruno took McCall's title and got a second chance with Tyson, while Lewis was forced to regroup and rebuild against the likes of Lionel Butler and Justin Fortune.
Several times Lewis-Tyson looked set to happen, but when Tyson vacated the WBC belt and instead took on Evander Holyfield Lewis instead found himself fighting for the vacant title against the one man to spoil his pro record - McCall.
"McCall is a dangerous opponent, and if they're saying he's in rehab that means he's in training. Like a lot of boxers he's one of those that can function better in the ring or the gym after a steady night's drinking." Lennox Lewis, February 3, 1997
Without Steward's influence in his life McCall had slipped back towards his old behaviour and, although back-to-back wins followed defeat to Bruno, the American's battles with the law had become as frequent as his fights. The rematch with Lewis was shunted back and back until, finally, a February 7 date in Las Vegas was agreed.
Lewis was guarded when asked about rumours his opponent was seeking psychological help to tackle his problems, careful to avoid the complacency which had cost him at Wembley, but everything about his pre-fight demeanour suggested total confidence.
And McCall was not the only target for Lewis' vengeance. In the days before he told the Daily Mail: "Don King put my career into slow-down mode. Now I'm in a hurry to make up for lost time. There ought to be only one world heavyweight champion, and that should be me."
OLIVER McCALL
From: Chicago, Illinois, USA
Nickname: The Atomic Bull
Fights: 70
Wins: 56
By KO: 37
Lost: 12
Draw: 0
Steward agreed, telling Gavin Evans: "Oliver won't be the same man I sent out, and Lennox won't be the same fellow we beat that night. McCall has never been stopped, but I can't see him lasting the distance this time..."
Aimlessly
Lewis entered the ring at 251lbs - heavier than ever before - and quickly took the centre behind a purposeful jab. McCall waded forward on the odd occasion, confident in a chin which had withstood hundreds of rounds of sparring with Tyson, but by the end of the third round it was clear this was no ordinary world title fight.
McCall wandered aimlessly around the ring between the third and the fourth and, visibly distressed, was again pacing up and down after the fourth until referee Mills Lane intervened. Asked if he wanted to continue, a barely-coherent McCall repeated: "I gotta fight. I gotta fight". It sounded like an ingrained mantra rather than a statement of conviction, and 55 seconds into the fifth Lane mercifully called a halt as Lewis seemed unwilling to finish a defenceless man.
Lewis had feared walking into a trap, Steward later said, but McCall's hopeless attempt at passing off his breakdown as a "kind of rope-a-dope strategy" could not mask the uneasy realisation that he should never have been passed fit to enter a boxing ring.
"A disgrace to the human race," was how Maloney described that decision. Lewis would later sympathise, but in the immediate aftermath of victory - with the WBC belt again slung over his shoulder, McCall avenged and Don King defied - he was pragmatic. "What can I do?" he said. "I just went out there to win the championship back."
Strength in adversity, that measure of a champion prized so highly by Lewis, had taken him back to the top and towards the super-fights and unification contests which might one day end the debate about his claim to greatness.
"I think history is going to be very good to Lennox Lewis," is how Steward put it. Lewis' history is Steward's history, of course, and without Oliver McCall it is a history that might never have existed.