Nicky Piper says Lee Purdy looked strong despite defeat to Devon Alexander
Nicky Piper wonders what might have happened if Lee Purdy had boxed on against Devon Alexander.
Last Updated: 20/05/13 12:51pm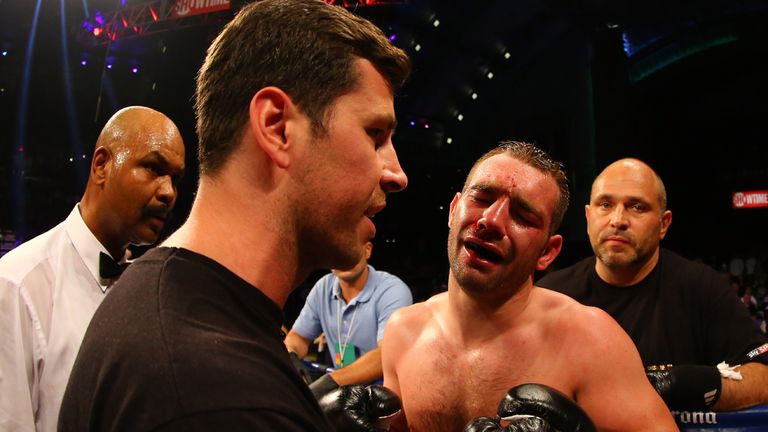 The British fighter looked to have a chance of causing a big upset after the IBF Welterweight champion injured his hand in the opening round, but he was pulled out at the end of the seventh round with the American well ahead on the scorecards.
The decision was clearly a difficult one for Darren Barker, the middleweight fighter placed in charge of Purdy's corner after trainer Tony Simms failed to get a visa, but Sky Sports pundit Piper said he did the right thing.
However, he was frustrated because he felt Purdy's fitness may have seen him come on strong in the later rounds.
"It's impossible for us to say whether it's the right decision or not because we don't know the fighter," Piper said.
"They know the fighter far better than we do, but we were actually getting a little bit excited here because Devon Alexander had hurt his left hand and was one-handed. He was hitting Purdy and nothing was happening, he was taking it.
"Purdy had loads of energy left and we thought maybe, just maybe, he was going to come on strong in the last part of the fight. It looked like it was going the best it could for him.
"Before the fight we would have settled for six rounds, no effect and still coming forward with loads of energy. Then it was stopped and we were robbed of seeing what was going to happen.
"But they know their fighter."
Level
Purdy was a huge underdog after being thrown into the bout as a late replacement for the injured Kell Brook and Piper said he was out of his depth at this level.
However, he said he showed enough signs to return to Great Britain and make plenty of headlines of the domestic scene before looking to step up again in the future.
"He's not at world level and we knew he wasn't at world level, Piper added.
"But having said that he's taken punches from a world champion, so he can take a punch at world level.
"His fitness was fantastic, especially as he's only had four weeks of preparation so we're not saying he can't get to world level and become a world champion in the future.
"I don't think he's got the boxing ability to be that good, but you can't doubt his strength and his commitment.
"Alexander is a classy champion who could out-box many boxers with just one hand, he's that good. He's just a really top fighter."