Mikkel Kessler says Danish fans at the O2 will inspire him against Carl Froch
Our Danish writer Peter Sloth expects Mikkel Kessler and his fans to conquer the O2 Arena on Saturday.
By Peter Sloth
Last Updated: 21/05/13 9:35am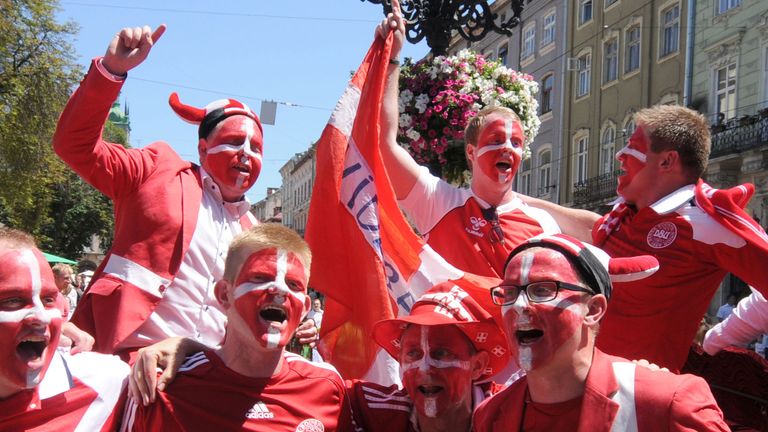 On Saturday, May 25 London will see thousands and thousands of German football fans warming up for the Champions League final between Bayern Munich and Borussia Dortmund at Wembley.
But a lot of Danes - the Viking fans - will also be visible in the streets and squares of the English capital. An estimated 2,000 Danish boxing fanatics will - at least for one night - try to conquer back a part of the British Empire: the O2 Arena.
At least 17,000 spectators will be present in the North Greenwich dome for the super middleweight fight of the year, which means the 2,000 Danes will not be that visible, sitting in small groups around the stands, among 15,000 Froch fans.
But to Mikkel Kessler the back-up from his countrymen means everything.
"When I go into the ring on May 25 it gives me incredible motivation knowing that maybe half a million Danes will watch the fight on telly back in Denmark.
"But of course to me, up in the ring, the fans present in O2 Arena will be my most valuable partners of the night," said the WBA champion.
"Around 2,000 fans out of 17,000 spectators in total? Well, you can say that it's quite few on my side, but I tell you that they mean everything to me."
Cheering
In the Dane's 2007 megafight with Welsh superstar Joe Calzaghe, Kessler fought in front of a crowd of more than 50,000 British boxing fans at Cardiff's Millennium Stadium.
Therefore the Viking Warrior guaranteed the 15,000 'Froch Army' members won't scare him in the slightest.
"In Cardiff I was actually able to hear the cheering from my Danish fans, despite the fact that they were maybe only one or two thousand against the 50,000 British fans," he said.
"My right hand was injured when I fought Calzaghe, and it hurt so badly every time I hit him, but the vocal backup from the Viking Fans meant incredibly much to me while it was most painful.
"I know that English fans - no matter whether we are talking football, boxing or another sport - are extremely noisy.
"But they'll get challenged by all the Danes who - or most of them, at least - will spend several days in London warming up for the fight with a lot of beer!" he laughed.
Superstar
Kessler is a national superstar in Denmark which guarantees a country tuning in after the Champions League final.
But only one thing regarding the subject of Danish fans' makes the Viking Warrior a bit sad.
"On one hand, of course, Carl Froch and I - and our promoters - are extremely happy that the fight managed to sell out the O2 Arena in very few hours.
"But on the other hand that also means that many, many Danes tried to buy tickets without getting the possibility because they were simply sold out.
"Normally, before my previous fights, I've been able to provide some tickets for my closest friends, but this time that has been absolutely impossible.
"That makes me sad. I just have to say 'sorry guys, you have to watch the fight on TV - but remember to shout loudly so I can hear you all the way from your living rooms in Copenhagen to London!'"

Peter Sloth is a boxing reporter and sports writer for Danish newspaper Ekstra Bladet