The Rematch #4
Miguel Cotto felt he had right on his side as he sought revenge against Antonio Margarito in 2011..
By Stephen Turner
Last Updated: 16/01/17 1:45pm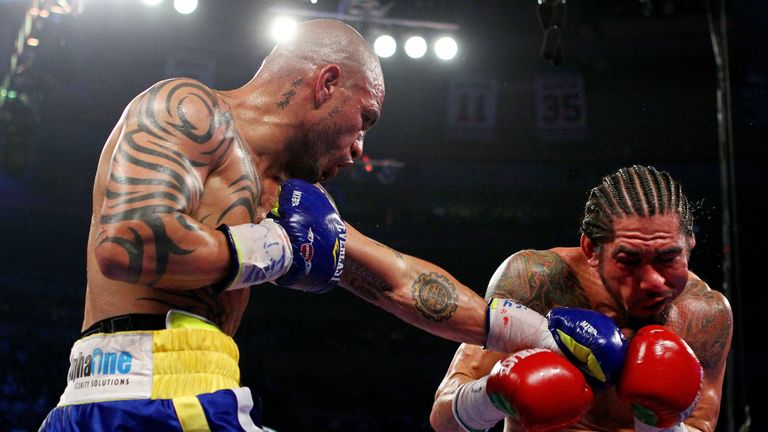 September 20, 2011, New York and Miguel Cotto - head bowed, measured, painstakingly dignified - recalled the night three years earlier when he suffered his first defeat as a professional boxer: he had over-trained, he said, run out of steam five or six rounds in, "accepted defeat like a man".
COTTO v MARGARITOP
FIRST FIGHT
MGM Grand, Las Vegas, USA
July 26, 2008
Margarito Won, TKO11
THE GAP
3 years, 4 months, and 7 days.
Cotto - Won 4, Lost 1
Margarito - Wone 2, Lost 2
SECOND FIGHT
Madison Square Garden, New York, USA
December 3, 2011
Cotto Won, TKO 11
Antonio Margarito had beaten Cotto with such relentless ferocity at Las Vegas' MGM Grand this proud Puerto Rican - caught on the ropes without the energy to escape - 'took a knee' in the 11th rather than stand up to another attack from his Mexican aggressor. In Cotto's corner the champion's trainer and uncle Evangelista reached for the towel - his reign as the WBA's welterweight king was over.
"That was a very sad night for me," Cotto's father Miguel Snr would later reflect. "The tears coming out of Miguel's eyes that night weren't normal. They were tears of blood. You had to see how deep his wounds were. It's impossible to explain. I couldn't explain how someone with gloves could do that."
For Margarito, in the immediate afterglow of victory, the explanation was simple. "I trusted my preparation," the new champ said. "Cotto is a great fighter but slowly the tornado rumbled and I told my corner I was going to knock him out. And I did."
This 'tale of the tape' was to reveal a shocking twist, though, and at the start of 2009 it was Margarito's trainer Javier Capetillo 'rumbled' in the moments before a first title defence against Shane Mosley attempting to cover his man's hands with a wrap later found to contain elements of plaster of Paris.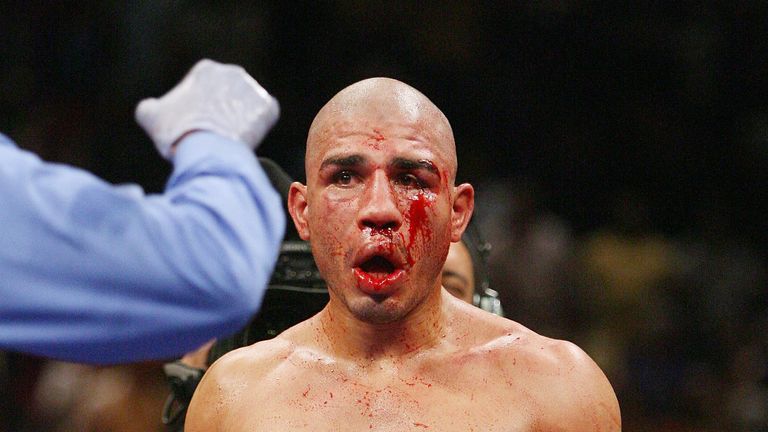 The wraps were replaced to Mosley's satisfaction and, hopelessly behind on all three cards, Margarito was stopped inside nine. Suddenly, it was open season on all the Mexican had achieved - including that brutal stoppage of Cotto.
If a trainer is prepared to use illegal hand wraps once, cried the critics, why not twice, three, four times? Margarito, as he does to this day, denied any wrongdoing. The California State Athletic Commission disagreed, banning fighter and trainer for a year.
Revenge
In the 38 months that followed that night Las Vegas much happened to both men. Cotto split with Evangelista amid reports of a brawl between uncle and nephew, lost Miguel Snr to a fatal heart attack and suffered a second devastating defeat in the ring - this time at the speedball-blur hands of the great Manny Pacquiao.
Margarito, vociferously supported throughout his ban by Top Rank boss Bob Arum, served his time and also suffered at Pacquiao's hands - so badly, in fact, that a broken orbital bone in his right eye threatened to finish him as a fighter. At Arum's intervention top opthalmologist Alan Crandall performed near-miracles to save, first, Margarito's sight in the eye and, then, his career.
And then, fuelled by those age-old motivations felt by all boxers - professional and personal pride, revenge, the need to earn a living - Cotto and Margarito were together again, in the same Manhattan press room, united by the goal of selling their December 3 rematch to the world. This time, Cotto came prepared.
He had spoken in the past about the Margarito-Mosley affair giving boxing "a black eye" but never before faced such intense questioning about his own defeat to the Mexican. Did he believe his victor fought clean that night?
Suddenly, he produced a mobile phone with an image of a jubilant Margarito, gloves off, celebrating victory at the MGM. He zoomed in and points the cluster of journalists towards what he says is a hole in Margarito's handwraps." Have you ever seen wraps turn to dust?", he asked. "You be the judge."
No-one was in any doubt now what Cotto believed, despite his deliberate protestations that this is "another chapter in my career" and Margarito "just another human being", and as the weeks counted down to the fight the build-up became increasingly bitter.
Determined
MIGUEL COTTO
From: Caguas, Puerto Rico
Nickname: Junito
Fights: 42
Wins: 37
By KO: 31
Lost: 4
Draw: 0

Cotto went on to use the word "criminal" when asked about his opponent's history. Margarito, locked in a battle with the New York authorities just to prove his eye is up to another war, brought up Cotto's violent parting of the ways with his uncle: "He is the real criminal for beating his own family."
"I am coming to his house and I expect to beat him and take the title home. people will believe I am clean. I have never done anything illegal, and this will prove it once and for all." Antonio Margarito, December 1, 2011
All talking done, Cotto entered the ring at Madison Square Garden with his WBA light-middleweight title the physical prize at stake. Both men had weighed in at 152.5lbs, although the sense of evenness was no more as the large Puero Rican contingent in the crowd created what The Guardian's fight report called "a wall of noise that would give onrushing lions pause for thought."
A single backward step not in his nature, Margarito marched forward nonetheless, determined to negate Cotto's athleticism with the kind of primal aggression which had long since become his trademark.
Merciless
ANTONIO MARGARITO
From: Tijuana, Mexico
Nickname: The Express Train
Fights: 47
Wins: 38
By KO: 27
Lost: 8
Draw: 0

Both struck heavy blows in the early rounds, Margarito grinning ostentatiously each time the man he had compared to a super-flyweight landed, but bravado alone could not protect the right eye which Cotto had vowed in the days before the fight to target with merciless precision.
He was as good as his word, cutting Margarito in the third and jabbing the eye all-but shut by the end of the seventh. The doctors twice checked, twice waved the contest on, but as the bell for the 10th sounded the challenger was stopped from leaving his corner.
Cotto had his revenge and wanted a mental memory - perhaps to replace that grainy mobile phone image from Las Vegas. Walking over to his beaten opponent's corner, Cotto offered no comfort or commiseration, instead staring straight at Margarito as the ring filled around him.
"Just to look at him and taste my victory on him. He means nothing to me." And, in reference to his 2008 defeat, there was one simple observation: "My face now is a lot different than last time."
Margarito, for his part, was as belligerent in defeat as he had been throughout both fights, claiming 'home' advantage had helped Cotto get the fight stopped just as he was getting on top. "He hits like a girl," was the Mexican's parting shot, but it sounded desperate. His face, and three lopsided scorecards, told an entirely different story. Six months later, after aborting a planned comeback against Abel Perry, he quit.
Cotto fights on, now an imitation of the boxer who threatened the highest reaches of the pound-for-pound rankings before losing to Margarito. But that most devastating defeat was avenged. One of boxing's most arresting rematch stories went his way.