Norm's notebook
Lucas Matthysse was the guy nobody wanted to fight - now he is the guy everybody HAS to fight if they want to call themselves the best light-welterweight in the world.
Last Updated: 20/05/13 1:01pm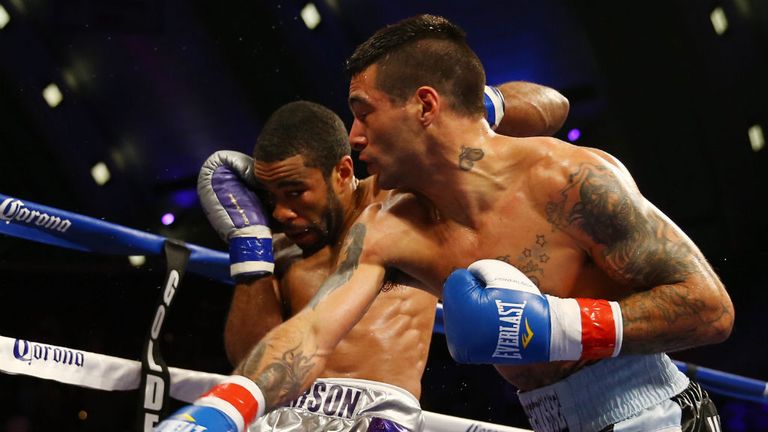 Things just got interesting in the light-welterweight division. Well, let's face it they were already, but over the weekend Lucas Matthysse finally announced his arrival.
The Argentine banger has been knocking at the door of the 140lb division for a number of years now - only to be told 'not today, thank you'.
Matthysse built his reputation on home soil, knocking out his first 22 opponents before arriving in New Jersey to take on enigmatic, shop-worn yet classy southpaw Zab Judah.
It was a step up for Matthysse but he took it in his stride, yet the American was handed a split decision by the narrowest of margins. 'Robbery' was the cry. But after dropping DeMarcus Corley no fewer than nine times he was asked to sit another southpaw test in Devon Alexander.
Alexander had a point to prove having just lost his light-welterweight strap to Timothy Bradley after pulling out of a fight that wasn't going his way. In a 10-round affair it was Alexander who got the nod again despite being knocked down in the fourth.
One judge gave it to Matthysse while many neutral observers had him narrowly ahead after Alexander had failed to impress with his 'combination-and-grab' tactics.
Matthysse re-grouped, knocked out a few more opponents before hammering the unbeaten and avoided Ajose Olusegun in a harem-scarem affair for the dubious 'interim' WBC title.
Title shot
And yet that strap may have been the one that got his foot in the door. Guided, like the majority of light-welterweights by Golden Boy Promotions, it only seemed a matter of time before he was put forward for a legitimate world title.
But he would have to wait a while longer as the IBF do not recognise other sanctioning bodies' fractional belts and Saturday's fight with title holder Lamont Peterson was made at a catchweight of 141lb to skirt round the issue. Nonetheless, the fight was on and the carrot - WBC and WBA champion Danny Garcia.
We did not have to wait long for the outcome. Peterson had said before the fight he was not concerned by Matthysse's power, but the first round suggested he was wary as he fought on the outside, refusing to engage the stalking Argentine.
There were gasps around the Boardwalk Hall though as Matthysse whipped in sharp left hooks that either missed the target or were caught on the glove. But the danger was clearly there and Peterson knew it.
The American had been down early in fights with Bradley and Amir Khan, going the distance with both while gaining a controversial verdict against the latter. His durability was renowned - but how would he take a clean shot from Matthysse.
The answer came late in the second round - a solid straight right had Peterson, now happy to trade, stepping backwards and his head may not have been clear when a left hand caught him on the temple and a slightly delayed reaction saw his legs give way.
The bell saved him but the code had been cracked - Matthysse had found a way through. Early in the third it was over. Unwisely Peterson felt the best form of defence was attack, and as they threw simultaneous left hooks Matthysse landed first and dropped Peterson heavily - it took him two attempts to return to the vertical.
Referee Steve Smoger is renowned to allowing fighters every chance - but surely he could have spared Peterson. Thankfully only a cuffing shot was enough to send him back to the canvas where it was clear even to Smoger that Peterson was no longer able to defend himself.
Frightening
With Garcia and Khan both ringside, Matthysse sent out a statement loud and clear. Only the chosen few are blessed with power beyond their size. Garcia has it, as Khan found out. But Matthysse also has it. Only two of his 34 vanquished foes heard the final bell. For those of us on the outside Garcia v Matthysse, reportedly set for September 7, is a truly frightening prospect.
Khan apparently yearns for the winner. Only few doubt that Amir wants to fight everybody there is to fight. Revenge over Garcia, to out-box Matthysse, they are Khan's goals. But those advising him could and arguably should be more inclined to guide him in the direction of light-punching Devon Alexander, the current IBF welterweight champion.
Alexander was due to fight Kell Brook on Saturday night and the injured Sheffield stylist must have watched the fight against late-stand-in Lee Purdy with a heavy heart.
Purdy, an honest trier but not an elite fighter, walked through Alexander's best punches for seven rounds and was still beating his chest seconds before being pulled out by his compassionate corner. The American had thrown everything at a one-dimensional opponent, albeit having damaged his left hand early on, but barely made a dent. There was nothing for Brook, or Khan to worry themselves unduly about.
And while Brook remains the mandatory challenger (Alexander must fight him within nine months) it looks like Khan could get first dibs. Because while Alexander-Brook doesn't shift tickets or ratings Stateside, Alexander-Khan is Box Office.
It makes sense for Khan, too, as there may be nothing left at 140lb apart from Garcia-Matthysse. Peterson could now be damaged goods and looks set to put his IBF title on the line against Zab Judah - should the New Yorker pick up the strap it would not have much appeal for Amir, who iced Judah in five rounds two years ago.
Mike Alvarado might have something to say about all that after his two highlight reel fights with Brandon Rios. But these are certainly interesting times.