The Rematch #5
When Sugar Ray Leonard lost for the first time to Roberto Duran, the revenge was instant and became infamous. Leonard danced his way to success while the Hands of Stone were left hitting thin air for most of the night. Until he could take 'no more'...
By Adam Norman
Last Updated: 23/05/14 11:04am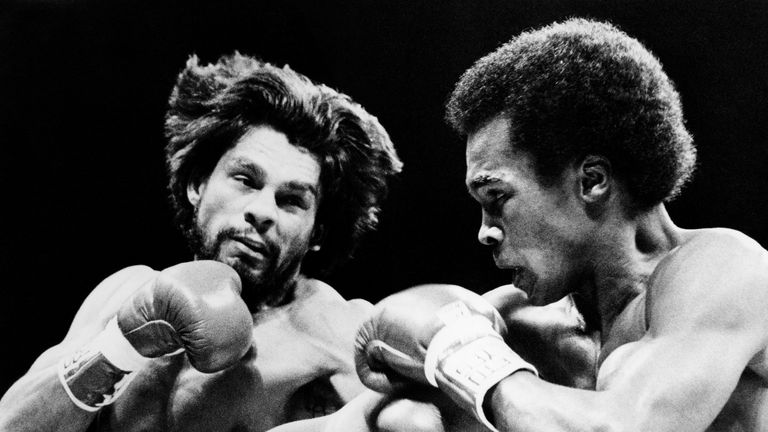 If eras define champions then even the less misty-eyed amongst us would have to confess the early 1980s pulls rank over any other.
More than 30 years on the names of Marvin Hagler, Thomas Hearns, Sugar Ray Leonard and Roberto Duran still resonate with even the most casual boxing fan.
LEONARD v DURAN
THE FIRST FIGHT
Olympic Stadium, Montreal, Canada
June 20, 1980
Duran Won, UD12
THE GAP
5 months, 5 days
Leonard - no fights
Duran - no fights
THE REMATCH
Superdome, New Orleans, USA
November 25, 1980
Leonard Won, TKO8
The sanctioning bodies, led by the WBC and WBA, were by now making their mark and new divisions were being created, but generally speaking when you were a world champion back then, you were recognised as THE world champion.
Hagler ruled the middleweight division but eventually the other three would move up to challenge him. Duran was older but had begun his career earlier and had become settled as a lightweight, ruling for six years after beating Scotland's Ken Buchanan in 1972.
Leonard and Hearns emerged somewhat later, the former being the golden boy of the Montreal Olympics and sweeping to the WBC welterweight title with victory over Wilfred Benitez after 25 straight wins - Puerto Rican Benitez himself would have been considered a 'great' in any other era.
But it wasn't long before Duran, now in his late-20s and struggling to cram just 135lb into his increasingly stocky frame, gave up his titles to go in search of Leonard, whose silky skills and lightning fast hands made him appear invincible.
Paycheck
It was a style that contrasted starkly with the meanness and brutality that Duran brought to the ring with his fabled 'Hands of Stone'. Duran beat Carlos Palomino - who had lost his title to Benitez earlier in 1979 - just months before Leonard was crowned champion. The stage was set for the 'Brawl in Montreal'.
Leonard was feted by his adoring fans as he returned to the scene of his crowning glory as an amateur, his paycheck of $9m proving that he was the drawing card, not Duran, whose earnings of $1.5 paled by comparison. This rankled with Duran, whose 71-1 record seemingly counted for little. He redoubled his efforts to make Ray pay.
'Sugar' Ray, taller, thinner, and at 24 still lacking true 'man strength', was expected to play to his own strengths, unleashing his artillary in short bursts before moving back out of range and away from Duran hurtful right hand.
Even now it's hard to believe what happened on that June night in front of more than 46,000 fans, with a record 1.5m viewing on closed circuit television. Leonard was soon trapped by Duran. The pair traded. He fought fire with fire, playing the Panamanian legend at his own game. Duran swarmed forward, jamming Leonard's sides, mauling and clinching, but Ray despite backing onto the ropes was getting his shots off with sensational bursts of hooks and upper cuts.
The early rounds favoured Duran, Leonard was wobbled in the second round and being made to miss - but in the fifth he had decided to stand his ground, lashing Duran's ribcage as the fight remained at close quarters. The plan worked, Leonard was back in the fight but then it turned Duran's way again as he landed heavy shots through the 12th and 13th rounds, surely putting him ahead on the scorecards.
Ray came out in the 14th as though he needed to win the last two rounds to preserve his unbeaten record and although he possibly edged them both it was Duran who celebrated wildly on hearing the final bell, and moments later it was confirmed - he had done the unthinkable and beaten Leonard on all three cards.
Lesson
Over the next few months, Duran went on a partying binge while Leonard went back to the drawing board with trainer Angelo Dundee, whose hit-and-run tactics in the first fight Ray had ignored. The stage was soon set for a rematch in New Orleans in November, just five months on.
ROBERTO DURAN
From: Panama City, Panama
Nickname: Manos de Piedra
Fights: 119
Wins: 103
By KO: 70
Lost: 16
Draw: 0
The second fight could not have been more different. And it broke Duran. Boxing to him epitomised everything a man should be - tough, courageous, passionate and intense. Leonard was too pretty, too soft and Duran wanted to hand him another lesson. But Ray wouldn't give him that chance.
What he should have done in the first fight, he carried out to the letter in the rematch. Trainer Dave Jacobs had quit Leonard's team claiming the second fight was too soon after such a blazing tear-up earlier in the year.
But Dundee had Leonard in better shape than ever; by contrast Duran was complacent after his career-defining victory, getting fat on success and not training properly. He listened to the voodoo men who told him that this time he would knock Leonard out. It came back to haunt Duran.
From the first bell it was Leonard of old, the slick boxer with the fast hands and the slight of foot. And the longer it went on the more Duran became frustrated, the more Sugar Ray ran. Duran was missing wildly, unable to pin Leonard down. He beckoned him to stand and fight like a man, but Ray wouldn't take the bait.
Pot-shot
The seventh round was the ultimate disgrace as far as Duran was concerned, as Leonard shimmied, shuffled and taunted his rival, his pot-shots leaving Duran bewildered. Leonard would fake a bolo punch with his right and instead throw a sharp left jab.
SUGAR RAY LEONARD
From: Palmer Park, Maryland, USA
Nickname: Sugar
Fights: 40
Wins: 36
By KO: 25
Lost: 3
Draw: 1
And then the unthinkable happened - again. Duran, totally baffled and humiliated by Leonard's reluctance to fight his fight, turned away early in the eighth, apparently telling the referee "No quiero pelear con el payaso" - "I do not want to fight with this clown." When Octavio Meyran asked if he was sure, Duran replied unequivocally; No Mas, No mas. It was over. In the words of commentator Howard Cosell; "It is the most inexplicable thing I've seen in a boxing ring."
In the immediate aftermath Duran denied Leonard had got into his psyche, instead claiming he was suffering from stomach cramps. "I saw that he was weak also, but my body didn't allow me to pressure him," he said in a dressing room interview. "I didn't think he was that great." But that night Leonard was great, he had broken the Hands of Stone.
Both men would go on to even greater heights - Leonard beating both Hearns and Hagler while nine years on from their two most famous fights Sugar Ray would best his old rival again in a clash between two fading stars that failed to live up to its billing.
Duran blew hot and cold, battering poor Davey Moore to win the WBA light-middleweight title before suffering losses to both Hagler and Hearns - the savage Hearns becoming the first man to legitimately stop him .
He would continue to defy the odds though, beating WBC middleweight champion Iran Barkley at the age of 38 in the Ring magazine's fight of the year. But for many he was never quite the same after the night when he said 'No Mas'.