Adam Etches believes he'd beat Eubank Jnr
The up-and-coming middleweight talks to Sky Sports about working as a doorman in Sheffield and his future inside the ring
By Shaun Brown
Last Updated: 05/07/13 10:07am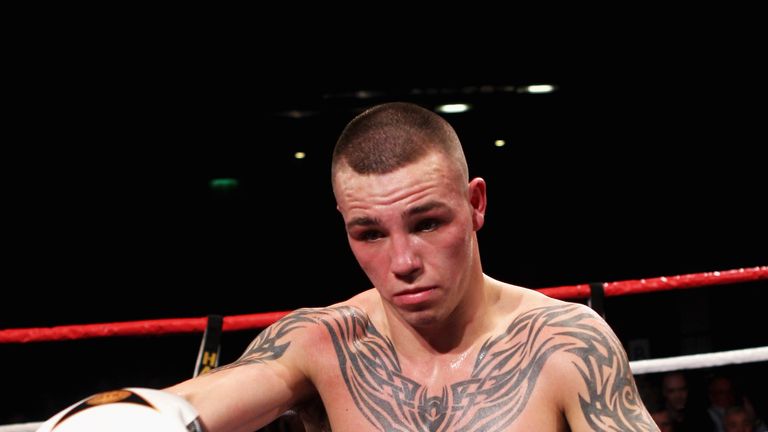 Adam Etches is biding his time when it comes to career progression but when it comes to fight night he's not interested in hanging around. His record of 12-0 (10 KOs) shows that only twice has he went the scheduled distance. Last time out 'The Bomber' fought Andrei Abramenka for the vacant IBF Youth Middleweight title, a Belarussian who once took Matthew Hatton the distance in 2011. Abramenka was halted in four rounds. That was Etches first test on paper.
"I won the IBF youth title and that's not a little title it's a well-known one and hopefully by the end of the year I can have a few more belts," Etches told Sky Sports.
"After only 12 fights I'm over the moon with my progress. I'm not going to start calling people out, I'm willing to fight anyone but it would have to be the right offer."
As it stands, the 22 year old finds himself in a pack of young, exciting domestic middleweights featuring the likes of Chris Eubank Jr, John Ryder and Billy Joe Saunders who could all at some point be facing off in future fights that would surely capture the public's imagination. Saunders and Ryder may well be the first pair to exchange leather in 2013 for Billy Joe's British title.
"It's a brilliant match-up," said Etches of that potential dust-up.
"To be honest I think Saunders would win a bit comfortably but stranger things have happened. Saunders struggled a bit with Nick Blackwell and John Ryder would put Nick Blackwell away. You just don't know because styles make fights."
And whilst Etches won't say no to fighting any of his contemporaries, his business head remains switched on when discussing it the matter.
"Right now I can do my own thing because I've got a fantastic support and they keep showing up for all my fights. Why would I go away from home to fight when I've got everything that I want on my own doorstep? I would do it but it would have to be better money than what I make when I fight in my own backyard.
"I would fight guys like Ryder and Blackwell tomorrow if it was right for me financially and on my terms as well. I'm not going to take a fight at 2-3 weeks' notice like some do and even though I'm not ruling them fights out the offer has to be right."
Tough work
His fists have been making him money since he was 18 years old. From that very birthday, Etches found himself in a Sheffield establishment that he regarded as "the toughest nightclub in the country" working as a young doorman.
"You'd have busloads and gangs of people coming from the likes of Manchester, Leeds and Liverpool every night and whatever you thought might happen usually did," Etches recalled.
"The reason I did that job was because the pay was good and you got twice as much at that kind of club than you would at others. I suppose that's why I find boxing easier because I know it's just me and one other guy with a referee and not five guys looking to beat you up. In the ring you've got gloves, it's legal, in a club the other guy could have a bottle or anything in his hand."
Etches greatest asset is his power. He isn't willing to forget about that or substitute it for the likes of superior head movement or footwork in the immediate future. Put simply, the Sheffield lad likes to have a fight and loves to entertain.
Even during his days as an amateur, 30 of his 35 opponents were either hurt or knocked out. Etches follows in a long line of naturally hard hitting middleweights such as Nigel Benn and another British bomber, Herol Graham.
If the finishing line is in sight, Etches ruthlessness will kick in. He refuses to become a victim for not doing what he's paid to.
"That kind of thing can haunt you in a fight if you don't take the chance when it comes your way," he explained.
"The win's the most important thing but I've seen so many guys have the chance to knock someone out, not do it and then they get caught later on. I'm not like that.
"It's just about believing you've got that power, knowing when to use it but not relying on it every time. I've never picked a weight up in my life. That just shows that you don't always need to be strong to have power. I'm not saying I won't ever not pick up the weights but right now what I do is going well for me."
Flocking back
And the crowds keep flocking back for more. Under the guidance of his manager and Hatton Promotions match-maker Richard Poxon, Etches is making a lot of noise on the British scene.
He admits that if in two to three years' time it's not working out as he had hoped he'll quit and try something else. For now, his fists have got him this far and he's loving every moment of it.
"Without Richard I wouldn't be where I am now. The whole thing is a team effort and we're not going to do anything stupid. Right now for example, if me and the likes of Eubank fight it's a big risk for a small reward. You can't deny Chris is a good fighter but I know for a fact if me and him fight there'd be one winner and it'd be me. But I'm not going to go to his backyard to make less money. He needs me more than I need him.
"Besides, right now I don't think there's a middleweight in the country that's better than me. On paper they might be but I'll prove that wrong soon enough."