Prospects
Frank Buglioni may have had only eight professional contests but the Londoner with the looks already has a huge following. He talks to Sky Sports about his emergence from the amateur ranks and some potential eye-catching domestic clashes in the near future.
By Shaun Brown
Last Updated: 05/07/13 10:06am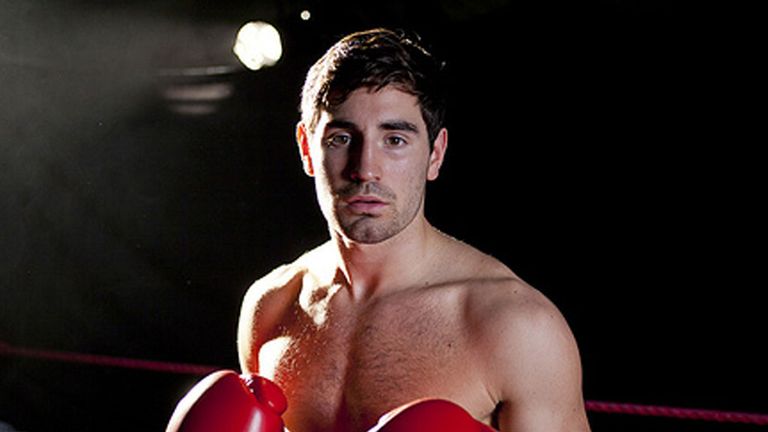 Frank Buglioni is standing back and taking it all in for now. From sparring with the likes of Billy Joe Saunders to seeing how champions and contenders conduct themselves at press conferences and weigh-ins, the 24 year old "Wise Guy" is enjoying his boxing education.
But that doesn't stop one of Frank Warren's most popular fighters having one eye on the future.
After eight fights, the super-middleweight from Enfield has stopped six of his opponents. His power and entertainment value puts bums on seats but the 168lb division from the higher echelons to those in the chasing pack is littered with challenges.
Just as his predecessors did and those that are still active, Buglioni is keen for the big domestic fights in the future.
Speaking to Sky Sports during a rare day off he said: "I'd love to have those kind of fights and it'd be great for my fans too. The big domestic fight that George Groves and James DeGale had (in 2011) catapulted them into the spotlight and did a lot for the sport domestically.
"In the future I think [Chris] Eubank Jr. will likely move up to super middleweight, we already have Callum Smith who I roomed with on the GB squad, Hosea Burton might go to light heavyweight but he can still do super middle. There's some unknown guys too like Grant Cunningham and of course there's Rocky Fielding, Kenny Anderson and Paul Smith."
But who does he see as being his biggest rival in the future?
"I think it'll be between me and Callum Smith," he said. "Callum's got the talent and dedication to take it to the top like me so I think we'll be fighting it out to see who is best. I think we're on a collision course."
Power
Buglioni hopes that course will feature a rematch from his amateur days.
"I got beat by [Anthony] Ogogo in the amateurs and that's one fight I've always wanted to have again. It all depends if Anthony comes up to super middleweight. I think I'd have the edge if he did because of my strength and power."
Buglioni will next fight on the July 20 show at London's Wembley Arena that features Dereck Chisora vs Malik Scott and if he comes through unscathed will then go on to the undercard of the September 21 showdown for the British middleweight title between Billy Joe Saunders and John Ryder.
That fight will be the first professional boxing event to take place at Copper Box, the venue that housed the successful Team GB boxing team and their achievements at last summer's London Olympics.
That unforgettable squad could have featured Buglioni but he felt that his all-action style would be more suited to the professional ranks.
"I was knocking people out in sparring and when it came to fights I was told to box more and move more", he recalled.
"I wasn't really using all of my strengths in the amateurs, I was more suited to the pro game and under Mark and Jimmy Tibbs I got the chance to utilise my power more. I'm really pleased at what the GB boys done, not just for them but for boxing too."
In the contests that Buglioni has been involved in, not only has his reputation been enhanced in the ring but so has that of his army of fans. Known as some of the noisiest in the country, Buglioni is humbled that so many spend their nights out to watch him fight.
"I don't think the fans realise how important they are to me," said Buglioni. "I've always had a decent following ever since the amateurs, my friends and family used to come along and make a lot of noise. Since my debut I've had friends come along who then tell friends of friends and then eventually more come along.
"It's a good night out, they enjoy the boxing and they enjoy the social aspect of it too. Without doubt you're nothing without your support and with the fan base I've got it means I can sell four to five hundred tickets and I'm grateful to them for that."
Critics
Sky Sports asked Buglioni if he thought in this day and age that there is more pressure on fighters who do sell more tickets than most to perform even better than those that don't.
"I know where you're coming from," he added. "Selling a lot of tickets does get you publicity. But I'm here to learn and my record speaks for itself. I've stopped some durable guys including Paul Morby who was a Southern Area champion. I'm starting to prove myself but you'll always have your critics, I'm learning and improving."
Buglioni has all the traits to become one of boxing's crossover stars. The package already consists of the personality, the good looks and the ability to knock people out. And despite having already appeared in a music video the third of four children has his feet where his family want them - on the ground.
"If I ever get too far ahead of myself there will be someone there to give me a clip round the head. My brother may be able to beat me at everything these days but I can still bash him about in the ring," he laughed.
"Besides, if the crossover stuff did come I'll be happy to use it not only to promote myself but boxing as well."
Buglioni is comfortable at the pace his career is going at. 'No rush' is the party line for Team Buglioni. A Southern Area title fight isn't too far away and next year he hopes to fighting for an English title and then headlining his own show somewhere in London.
"I could have had a Southern Area title shot a couple of fights back but there's no point in rushing it, I could've faced someone tough and strong who I maybe wasn't ready for.
"At this stage I've just had my first eight rounder and I'll be soon going to ten rounds and then hopefully a Southern Area shot. I just want to make sure that I'm ready and when I am I know I'll put on a great performance."