Judging Broner
Adrien Broner became a three-weight world champion on Saturday night when defeating Paulie Malignaggi on points. While the future remains bright for 'The Problem' we pick the bones out of his latest step towards boxing greatness.
Last Updated: 24/06/13 1:06pm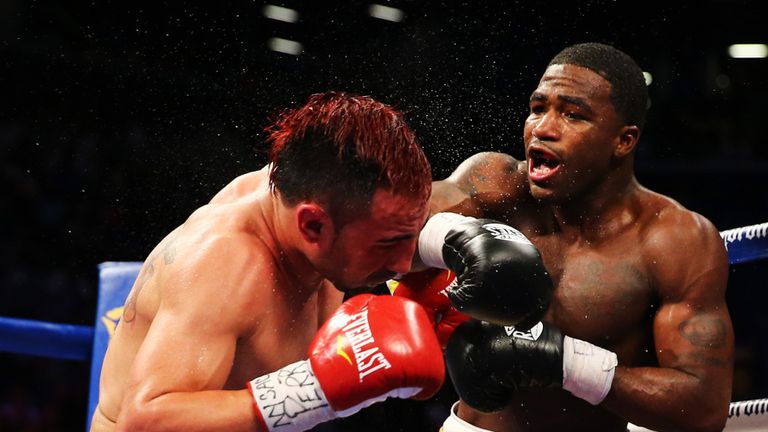 Love him or hate him Adrien Broner will be a part of the world boxing scene for many, many years. So get used to it.
In many ways 'The Problem' is a breath of fresh air in an age when champions are stifled by managers, promoters and sanctioning bodies. Broner has such faith in his god-given talent that he says he will fight anyone.
That he had the audacity, not to mention the minerals, to make the leap from 135lb after just two fights at that weight to 147lb - at the age of 23 - can only be applauded.
Of course, Paul Malignaggi was a perfect opponent for his first venture into the welterweight division, being pound-for-pound one of the lightest punchers in the game.
But that should not take away from the fact 'AB' has now won world titles at three different weight classes in his short career. Very few would even contemplate such a feat. Broner has already achieved it.
He has not yet done enough to burst into the top 10 pound-for-pound rankings yet - such accolades will wait. Those he has beaten for titles, Vicente Martin Rodriguez, Antonio DeMarco and now Malignaggi - as good as they are - could not be considered 'elite' level performers.
However, he has done what he has had to do and impressed everyone with his ability and skills. Unfortunately he has taken trash talk to a new low, and he seems to have put almost everyone's nose out of joint with his bad attitude.
But the 'skills pay the bills' as they say and Broner should have no trouble paying his. He reportedly made a career-high $1.5m against Malignaggi and there's more where that came from.
Rather like Amir Khan, Broner puts bums on seats because fans want to see him knocked flat on his back as much as they want to see him continue to rampage through the divisions.
I hope as he matures he learns to respect his profession the way his mentor Floyd Mayweather has. Floyd has become more respectful of opponents since his early days as a braggart, and maybe Broner will too. A loss would go a long way to ensuring that, although don't bet on that happening anytime soon.
Bully
Against Malignaggi, few could argue that Broner was the boss, never mind the split decision in which judge Tom Miller preferred Paulie's work-rate to the precise and heavier shots of the challenger.
In this middle-school scrap Broner played the bully while Malignaggi willingly fought his corner and came out of it with a few scrapes and more friends than he went in with.
Broner walked his man down, cutting him off but Malignaggi had the smarts to stay out of range long enough not to get tagged by AB's more telling blows.
Broner's Mayweather-esque lead-rights punished Paulie in the early rounds and on a couple of occasions the challenger looked as though he could smell blood. But the New Yorker to his credit always hit back with eye-catching combinations that while causing his opponent few problems signalled his intentions to not back down.
And yet by the later rounds it was frustrating that Broner had not brought the show to a close. In previous fights he has allowed his opponents to do their thing, at times toying with them until cutting them down seemingly at his leisure.
The impression was that Malignaggi was being set up for a similar fate but Broner could never get out of second gear, and credit should go to the champion for making him miss with the heavy artillery.
However, Broner only gets a seven out of 10 for this performance. He should not have left the outcome in the hands of the judges and moving up so far in weight did not seem to affect his power - several times his jab jolted Paulie's head back while a short hook in the third clearly buzzed the champion.
Broner will need to work for the full three minutes as the quality of opponent improves. And while his defence appears impregnable he lacks the head movement of Mayweather and against a banger he is there to be hit.
That leads to talk of potential opponents for the Cincinnati native but your list is probably as good as mine. This fight may tell Broner that while his long-term future lies at the higher weight, short-term he may be best to try and unify the lightweight division.
Numerous mouth-watering fights await at light-welter but his advisers should be in no rush to throw him to the wolves at 140lb.
As for Malignaggi, his future in the ring will be short-lived. He has carved a niche as a popular and erudite commentator on Showtime and has made plenty out of the fight game, being a two-weight world champion and fighting big-name Brits Ricky Hatton and Amir Khan.
He earned kudos for going to Ukraine and winning the WBA welterweight title against Vyasheslav Senchenko, the man who later brought Hatton's comeback to an abrupt end.
That gave him a bargaining chip at the top table and he did the right thing in 'cashing out' against Broner. Paulie has fallen into the 'who needs him' category and with a 32-5 record at the age of 32 Malignaggi is bright enough to know his future lies behind the microphone.