Prospects
Stephen Simmons has been labelled a 'Monster' by his training colleagues and the Scottish cruiserweight is hoping to prove a big hit over the coming years. We caught up with the Celtic champion in the latest in our series profiling the best up-and-coming domestic talent.
By Shaun Brown
Last Updated: 05/07/13 10:06am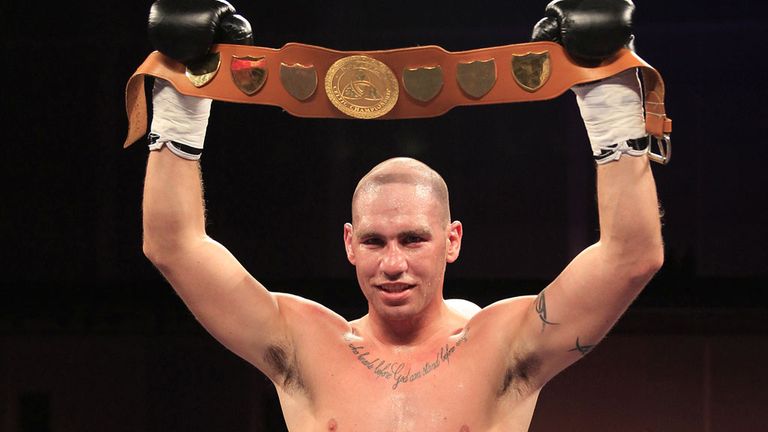 There's something coming over the cruiserweight hill and it's a monster, a Scottish monster. And in the coming months the unbeaten Stephen Simmons is aiming to put the frighteners into the British 200lb division.
Despite a homage to the 2006 song 'Monster' by The Automatic, Simmons revealed to Sky Sports why friend Derry Mathews and their trainer Danny Vaughan keep eluding to the nickname on Twitter.
"They keep saying I'm a monster in training. I keep lifting heavier weights and in the space of two weeks I can lift so much more than the previous two. Danny started calling me it.
"I'm going to get it on the back of my shorts next time out!"
The two-time Commonwealth Games representative will next appear on the 'Braveheart' bill in Glasgow on September 7 headlined by Ricky Burns in the next defence of his WBO lightweight title against Raymundo Beltran.
Simmons enjoyed the exposure that he got from fighting on Sky Sports on their last visit to Scotland and will do so once again in just over two months. The 28 year old believes his time is coming and it's only a matter of time before he challenges for the British title.
"I was hoping to be fighting for the British title within ten fights but that's not looking likely. I wouldn't say I'm too far off though. I hope I'll be fighting for it in four fights' time."
Annoying
And the 6ft 2ins former bouncer had this to say about his current counterparts.
"I see there being six guys in the division that will give me good fights. But at the same time they don't seem to want to fight each other. There's too many people avoiding each other. It's annoying because I'll fight anybody. There's too much padding on some of the other guys records. But guys like Jon-Lewis Dickinson, Matty Askin, Danny Price, Neil Dawson and Wadi Camacho are the fights I want."
Simmons specifically has Camacho in his sights after a mild beef on Twitter.
"I think he's very arrogant and he's scared to fight me," Simmons remarked.
Unlike some of his early years, Simmons is much better these days at keeping his emotions in check. The old boxing tale of the kid fighting on the streets and being taken to a gym for discipline can now boast the name of Simmons after his Mum decided enough was enough. By the age of 13, Simmons knew that being a fighter, in a controlled environment, was what he wanted to do for the rest of his life.
However he admitted that even though he has a knack of remaining calm in the ring there were a few occasions as a doorman when he had to bite his lip and not let the monster out.
"Yeah I had to control myself a good few times because of people's attitude. That was hard work as a doorman. People just took the p**s because you had a badge and you couldn't do anything in response. I'd work weekends and then go training. It was tiring so I packed it in last September. Now with Danny I can work more on my technique and the power too which I've shown in my last couple of fights."
Compliment
Last time out Simmons captured what he hopes will be the first of many titles by defeating Ireland's Michael Sweeney for the Celtic strap. It was a career best performance by the man from Edinburgh and one that was noted by many members of the boxing media.
"It's quite a compliment that people are talking about me positively. I've shown what I've been capable of in my last two fights, particularly with my power. I still think I'm being forgotten about but I'm quite happy to slip through because I know it's only a matter of time before I win a British title and keep it. And from there I'll be looking to win a world cruiserweight title."
Scottish boxing is in dire need of more fighters breaking through the professional ranks and emulating the feats of Ricky Burns and John Simpson. The likes of Simmons, John Thain, David Brophy, Michael Roberts and Jon Slowey are all looking to make their mark but the consensus right now is that Simmons is the pick of the bunch. His amateur pedigree speaks volumes with not only appearing at two Commonwealth games but two world championships and three Europeans. Simmons says that Scottish youngsters need to stay amateur longer before turning over.
"You can't buy the experience that you get in the amateurs and that sees you through when you turn professional. Too many Scottish boys turn professional too quickly and then quit because they get a shock in the ring as a pro. There are guys like Aston Brown, Joe Ham and Josh Taylor who are staying amateur and by the time they turn over it'll serve them well. So there are guys coming through.
"I had three years in the Team GB set-up and I had the time of my life on it. I travelled all over the world to places like Melbourne and Delhi and I'd do it all again if I could. I know when the Commonwealth Games come to Glasgow next year I'll wish I was taking part because the atmosphere is going to be electric. By that time though I hope to have a few professional titles of my own."
And after supporting a world champion like Ricky Burns on the big stage, Simmons is looking to headline his own show at one particular venue that would light up the Scottish capital.
"Edinburgh Castle would be amazing to fight at. The city's not got a huge amount of boxing venues but that would be an amazing night if it happened. Alex Arthur always talked about fighting there. I just don't know if we'd get the weather up here!"