Johnny Nelson and Glenn McCrory going head-to-head for charity
Johnny Nelson and Glenn McCrory are raising money for charity by predicting the big-fight results.
Last Updated: 28/06/13 2:13pm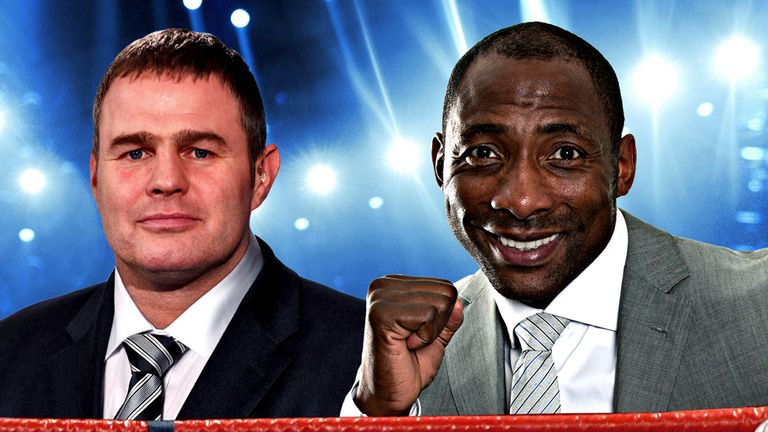 That's the boxing breakdown as Johnny Nelson and Glenn McCrory go head-to-head with the help of Sky Bet.
The Sky Sports pundits will be giving their predictions ahead of Sky Sports' Fight Nights both here in the United Kingdom and, of course, around the world.
Nelson and McCrory have both picked a charity to give their winnings to and the pair will pick up the pounds and also pile up the points as we put them face-to-face to see who is the best boxing predictor.
And that means the pals are ready to land the first blow - with McCrory, a cruiserweight world champion from 1989-90, starting off on the front foot.
"The biggest question in boxing at the moment is who is the better predictor, me or Johnny Nelson?", he said. "Well, we'll find out over the coming months!
"Johnny does know his stuff, I'll give him that. But through my career I've been in the trenches a bit more than him.
"I've been in with better fighters than he has, like Mike Tyson and Lennox Lewis, and I have been here at Sky for 24 years, so I reckon I have got the nod over him.
"The form-line speaks for itself. I am not a gambler, but I will be a winner again!"
Banter
Nelson, who was world cruiserweight champion from 1999-2005, is worried that luck is already on McCrory's side.
The pair admittedly predict fights before they go on air but with nowhere to hide, he believes his mate's luck will not carry him to another title.
"I was a better fighter than McCrory, but he was just luckier!" said 'The Entertainer'. "I think he knows, in fact, I think everyone knows I am a better fighter than him - and that will come across here.
"We do have a plenty of banter before the show and we always talk about the fights we've got coming up. I like to have a laugh but Glenn always plays his poker face and keeps his cards closer to his chest.
"He won't be doing that here because this is a competition, don't worry about that! This will get competitive. Well, it might but only if he gets lucky with his predictions!"
Click here to see what Glenn and Johnny make of Saturday night's fights, including Gavin Rees v Anthony Crolla and Matthew Macklin v Gennady Golovkin.