Glenn McCrory backed Anthony Crolla in the Sky Bet boxing Charity Challenge!
Glenn McCrory backed Anthony Crolla to hit Johnny Nelson with an early blow in the Charity Challenge!
Last Updated: 03/07/13 5:36pm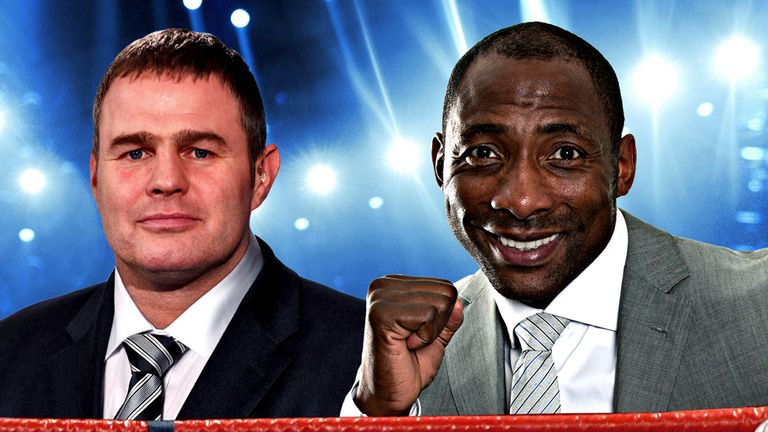 The Sky Sports colleagues both put their necks on the line for a busy weekend in Bolton and America, predicting the outcome of four live fights.
And it was McCrory who came out on top, thanks to Anthony Crolla. Glenn was one of a few who picked the lightweight to beat one-time world champion Gavin Rees - at a cool 13/2 with Sky Bet!
Both our pundits predicted it would go to points, but with Nelson expecting The Rock to roll and his mate picking the Mancunian, there were split decisions in and out of the ring!
"I told you it would be my experience, my know-how and my nouse that would come through," said McCrory.
"I thought Johnny would - for once - come out with all guns blazing with his bold predictions, but not many people went for Crolla.
"Well I did, so that's a nice little start. See, sparring with Mike Tyson might have seen me a take a few shots but it made me sharp when it came to picking the fight.
"It's a shame Million Dollar is only a nickname - and not my charity winnings... yet!"
Nelson did predict three out of the four winners, but his timing was a little off.
He picked specific rounds - which can bring you the money - and had to watch as his bets slipped away through a bust Saturday night, into Sunday morning, on Sky Sports.
Cautious
"I've been a slower stater before but I usually come out on top," said Nelson.
"But this time I stuck my neck on the line, trying to get ahead in the game but I wasn't far away from landing a couple of big shots that would have taken him.
"As for Glenn, well he won this one but that is because he played it oh-so-safe. Glenn 'Cautious' McCrory' I'm after you, my friend!"
The other three fights live on Sky Sports went the way most fight fans predicted, not least our Charity Challengers. And again McCrory came out on top, as he let 'caution' lead the way.
We all expected Scott Quigg to win his comeback after seven months out and he did just that, stopping William Prado in three.
Nelson bravely went for it to happen between the fourth and seventh rounds, so was minutes away from an outright win. McCrory's prediction was Quigg to stop his opponent, but refused to take a punt on what rounds!
Then both saw Paul Smith beat Tony Dodson again in a real crossroad clash and although both picked Smith, neither expected him to finish it inside six rounds - with Nelson going for a stoppage at least, albeit late on.
And then the final fight of the night was another familiar face as Matthew Macklin was looking to win a world title at the third time of asking, this time against hard-hitting Gennady Golovkin. Well, the champion went in with 23 KOs in 27 wins so not suprisingly the Sky Sports duo both favoured him to add another KO to the list.
But with Macklin giving other champions Sergio Martinez and Felxi Sturm a hard time, McCrory and Nelson both thought he would go into the last third at least... and both were proved wrong!
So it meant that again they got the right man but the wrong outcome, to leave one man coming out on top and one man winning the first round... and who better than Million Dollar Crolla to settle it!