Anthony Joshua looking to Lennox Lewis for advice on joining paid ranks
Anthony Joshua hopes Lennox Lewis will guide him towards world title glory when he turns pro.
By Richard Damerell
Last Updated: 04/07/13 9:16pm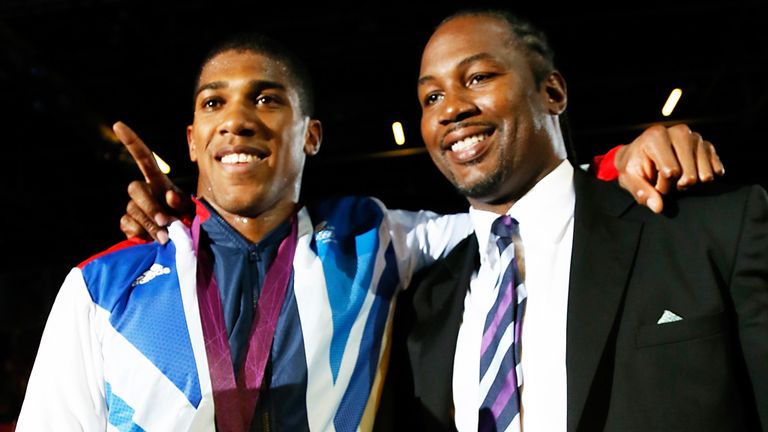 It will soon be decision time for the Olympic super-heavyweight gold medallist, who will study the contracts he is offered before choosing to stay amateur or join the paid ranks.
Lewis, another former gold medal winner, has already given his advice to the 23-year-old, with reports suggesting he wants to take an active role in Joshua's professional career.
Joshua refuses to say whether he has been swayed by Lewis' words, but is excited about the opportunity of working with the 47-year-old, who has helped David Price prepare for his upcoming rematch with Tony Thompson.
When asked about conversations with the former undisputed heavyweight king, Joshua said: "He told me to turn professional now, capitalise on your platform while you've got it and probably stay in the UK at the moment.
"He said it was best that I turn professional now because it's not like the Cubans who have to stay amateur, I don't have to stay amateur. I could turn professional and give it a good shot. That's his advice."
Lewis made a successful transition from the amateur circuit to the professional ranks, winning British and European titles before becoming undisputed world champion.
Corner
Joshua is keen to follow in his footsteps, but will also seek Lewis' thoughts about the murky world of boxing politics, which often disrupt a fighter's career.
"There'a lot of stuff that goes on that we don't see. Just speaking to him I can only gain," said Joshua.
"He went to the Olympics and done well, turned professional and beat the best in Britain, beat the best in America and then retired. So it looks pretty simple and straightforward, but there's a lot more that goes on. That's why I'd love to have someone like that in my corner."
When asked about a possible role for Lewis, he added: "I couldn't say. He's an all-rounder isn't he. He's said: 'you're a boxer, if there is anything you need, just stay in touch'."
The Londoner can look to Lewis for a blueprint on how to become a successful pro, but he also can learn from mistakes made by Audley Harrison, who failed to build on his own Olympic success.
Harrison turned professional in 2001 after taking gold in the Sydney Games, but his decision to promote and manage himself soon looked foolhardy as he suffered costly defeats.
Joshua insists he will not take on too much responsibility, but still wants to have a big say in his own career.
"I think the amateur career was phenomenal for him, I really respect what he done for us, he brought the funding in," he said.
"Professional, maybe trying to become his own promoter, a fighter, manage his own promotional team, pick his own fights and train and pick his training sessions. I think that is too much pressure on yourself.
"I like to know what is going on. I don't want to let people take too much control, where I'm just like a robot, but yeah definitely a good team is important."
Setback
Lewis suffered shock defeats to Oliver McCall and Hasim Rahman before avenging them in convincing fashion and Joshua admits a loss can help improve a fighter.
Joshua recalls how he suffered an early setback against a former Thai boxing champion and also fell short again after returning from a ban.
He said: "The first defeat, I boxed a Thai boxing world champion. He said he was an amateur, who had never boxed before. It was my third fight. It was supposed to be me two fights and him no fights, but we found out he was a world champion. It was a good fight, I lost by two points.
"I realised that because I had trained so hard for it, if I don't over train and I fight someone my level, I'll probably win.
"I got suspended from the GB team, then I got let back on, 10 days before the European Championships. In my quarter-finals I lost and I realised if I was fit and work hard I could definitely get a medal, so I beasted myself for the world championships.
"I trained really hard, went to the world championships and got a silver medal."
Vitali and Wladimir Klitschko currently dominate the top division and Joshua is full of respect for the two Ukrainian brothers.
At 6ft 6in tall, Joshua appears to have the physical attributes needed to challenge one of the giant duo, but he prefers to focus on his own career rather than worry about whether the Klitschkos will still be around to face him.
Joshua is fully aware of the many challenges that lie ahead as he seeks to become Britain's next ruler of the heavyweight division.
"I don't have any hopes for anyone else except for myself. Whatever they go on and do," he said.
"Whoever is around when I go for a world title, it could be Vitali or Wladimir, whoever it is I'm going to have to compete with. God willing I get there as well, but that is my plan, to become undisputed heavyweight champion of the world."