Prospects
Barry Awad changed his name to Kid Galahad and set about following in the footsteps of his idol Prince Naseem Hamed. Sky Sports talks to the Sheffield starlet who believes he can go all the way to the top.
By Shaun Brown
Last Updated: 09/07/13 1:04pm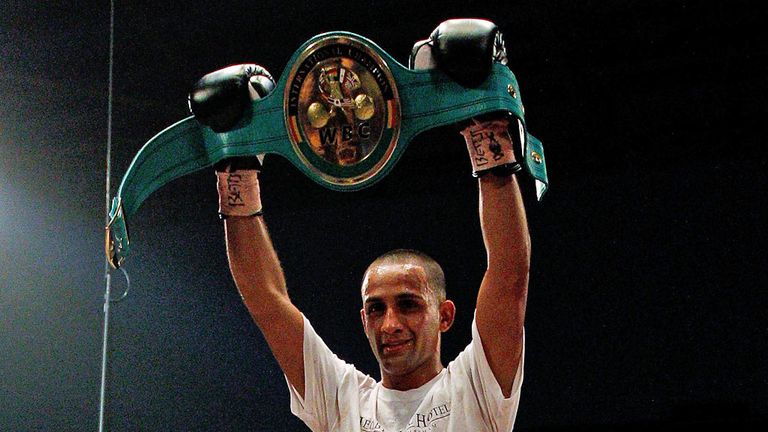 Kid Galahad isn't exactly short of confidence. After an unbeaten 14-fight start to his professional career as well as training at the nationally renowned Ingle Gym and fighting in front of a terrestrial audience on Channel 5, it's easy to see why.
When speaking to Sky Sports, the 23-year-old from Sheffield exuded self-belief with every question asked. Apart from Cuban star Guillermo Rigondeaux, Galahad (real name Abdul Barry Awad) doesn't believe any man in the super-bantamweight division can hold a candle to him.
When Galahad talks, a whiff of Naseem Hamed, his inspiration, is in the air. Galahad remembers telling one of Britain's greatest sporting exports all about what he was going to do as a boxer after discovering the sport with a story that many fighters can empathise with.
"One day me and a friend of mine decided to go to a boxing gym in town. We wanted to get a bit bigger and put weight on because the area I'm from is full of trouble. So we went down and there was a ring in the gym which I used to mess about in.
Name change
"The trainer at the gym told me I should start boxing. Two to three days later I went to a Mosque, the same one that Naz goes to and I told him I was gonna start boxing and that I was gonna do this and that. He told me "If you want to be a world champion then you go and train with Brendan Ingle."
But first came a change in name.
"When I used to go round to Brendan and Dominic's they used to call me 'Barry the Arab' which isn't correct for nowadays. One day me and Brendan were watching the Elvis movie 'Kid Galahad' and Brendan said 'why don't you change your name to that?'"
Galahad had escaped the streets of Upperthorpe -'everyone was doing something illegal' to become part of a stable that had produced Hamed, Junior Witter, Ryan Rhodes, Johnny Nelson and Herol Graham. And whilst he insists on becoming his own man the inspiration of his idol is never far away, Galahad has lofty ambitions and conquering America is one of them.
"I'd love to achieve what he [Hamed] did in America, no-one's done what he did and in the way he did it. I once went on a trip to America with Kell Brook and there was one American guy we spoke to that said [impersonates American accent] 'Naz could talk the talk and walk the walk too.' That was Naz. No English fighter has done what he's done in America other than Lennox Lewis."
He then commented: "I think Naz could have been better than Floyd Mayweather Jr. How Mayweather and [Manny] Pacquiao are now I think Naz could've been bigger, he had more potential than any other fighter. There was nothing he couldn't do."
Comparisons to the somersaulting, leopard print trunks wearing showman do not bother Galahad. "I don't mind if they put me in a category next to a legend like Naz. He's England's best fighter of all-time." However he remains grounded and his vision is clear on what he has to do domestically before even considering the world stage.
Different level
In Britain, most conversations at super bantamweight consist of the careers and paths of Carl Frampton and Scott Quigg. A rivalry that has been built for so long that it now seems a fight is further away than ever before. Galahad believes it's only a matter of time before he proves to them and other domestic rivals such as Jazza Dickens that he is the best by far (Galahad and Dickens could meet in the new season for the British title).
"We're waiting on the purse bid results for my fight with Jazza Dickens. Do I see him as a rival? No. I'm on a different level to him and the same goes with Scott Quigg and Carl Frampton. When I eventually get in the ring with these guys I'll show it. When I get in the ring, I can figure you out and you won't be able to hit me. I'm too smart. I've got a boxing brain and I know how to use it.
"Rigondeaux's the main leader in this division. In three to four years time he'll be finished. As for the rest, Leo Santa Cruz is just a tough Mexican, Scott Quigg is just a tough come forward brawler and Frampton is just a tough Irish fighter that comes forward."
And when these fights to come along, Galahad is not interested in wars of attrition or taking part in fight of the year candidates.
"I'm in this game to give out as much punishment as I can and take the least in return," he said.
"I'm not in this game to come out battered and bruised. I'm not going to go in there and have a war and not come out after six rounds, I'd rather go 12 rounds and only get hit by one or two shots."
Not only does Galahad insist that he will become British and European champion by the start of next year but in due course he's keen to climb through the divisions all the way to lightweight. But he leaves all those decisions to the Ingles, including his manager John.
"Dominic and John are always telling me everything is about timing. John knows when it's right for me to fight. I'm only 23 and right now I just need to focus on me."