The Panel: David Haye and Tyson Fury will get the public watching
Jim Watt, Johnny Nelson and Glenn McCrory say the David Haye v Tyson Fury fight will excite the public.
Last Updated: 11/07/13 2:55pm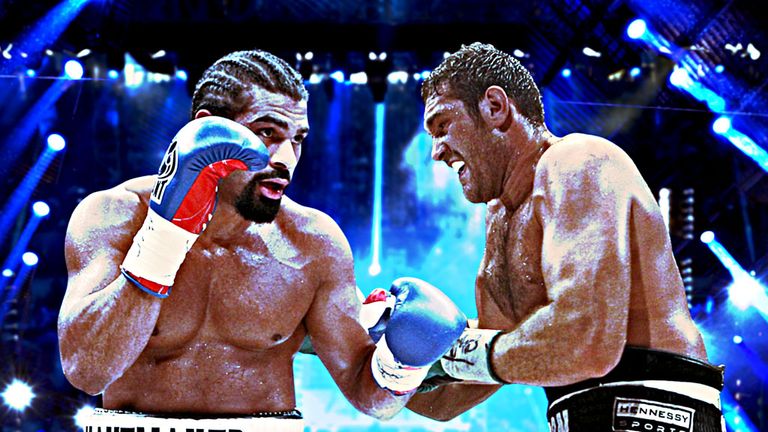 The fight takes place in Manchester on September 28 - but the Sky Sports boxing pundits are already looking forward to it...
JIM WATT
Nowadays it's not that often that you get a fight with two good heavyweights - and two British ones at that. That's what makes this exciting. We were looking at Fury taking on David Price but that has been shelved now after Price was floored in successive fights with Tony Thompson and has a hell of a lot of rebuilding to do. What that also means is, right now, Fury is the future of heavyweight boxing in Britain.
I like the fact that Fury's improving each time we see him. Don't forget he was a kid when he started so we couldn't really be too critical but there was a short spell when he didn't move on. But he seems to have come through that and because he is huge, he is starting to learn how to use that size properly. And if I'm honest, that is probably the only advantage he has over Haye.
Haye's experience is up a level, technically he's far better than Fury and, in my opinion, he is better in every department - and even if he was a cruiserweight, he would hit harder than him; David has carried that power with him and he probably punched like a heavyweight when he was a cruiserweight.
Haye is a two-weight world champion so this guy is a star and outside of the ring everyone knows him these days; he's been on quiz shows, he was on I'm A Celebrity and now people in the street know who he is, not just fight fans.
He is a world-class fighter and he is exciting when he turns it on and that is good for boxing, but Fury has also become well-known - not always for the right reasons - and having been in America, who need a heavyweight hero, he is big there now, too. This fight is going to be huge and people will pay to watch these two meet.
There is definitely some intrigue with this. David has been fairly quiet of late, whereas Fury has been shouting his mouth off here, there and everywhere. He is making a name for himself, which is great. One of the things I like about this fight is it is just not for the fight fans, this is for everyone.
When Floyd Mayweather faces Saul Alvarez it is a great trade fight, yet if you wander into your newsagents or walk through an airport, it is a fight no-one is talking about. But everywhere I go, people are asking me about Haye and Fury. It will catch the back pages and the British public will tune in. This will be big.
JOHNNY NELSON
Everything about this fight is going to be entertaining and above all, exciting. The build-up is going to be exciting, those press conferences are going to be exciting, the atmosphere at the MEN Arena, as usual, is going to be exciting - and whatever you think is going to happen, the fight is going to be exciting.
These two have already got the public's attention; firstly, if you don't like Haye you want to see him get knocked out. If you don't like Fury, you want to see him get knocked out.
Secondly, if you think you know this sport, you will think that Haye's fast hands and finishing will win this fight every day of the week. But then sit and look at the size of Tyson, his punching-power and what he can bring to the table and all of a sudden, it is not a foregone conclusion.
I am already thinking back to that fight with Audley Harrison in terms of the build-up for this one and if I am honest - and some of you out there are, too - I ended up thinking that Audley might be able to pull this off.
Of course, it never came close and David was always going to deal with him. But don't think for a minute this one is going to be the same as Audley's effort because Fury likes to fight. He likes to get involved and he is a handful. He also talks a good fight and maybe, just maybe, he gets David riled.
Haye is always the one winning the war before a punch has been thrown but this time, I wonder whether he will be getting wound up and come out all guns blazing, desperate to put Fury in his place. Now don't get me wrong and the Klitschko brothers will agree, David is pretty good at it, but can he take it that well? We will find out!
GLENN McCRORY
This is what we want to see! Two British heavyweights going at it; one out to prove he is still the best, the other to show us he is the new kid on the block. Haye has a point to prove and Fury has the chance to put himself right into the mix - but we cannot be certain what they are going to come up with in and out of the ring as the pair of them are Jekyll and Hyde characters.
They are both celebrities and this fight has got me thinking back to Nigel Benn v Chris Eubank. They were Britain's best and there was no love lost, but it was a rollercoaster ride in the build-up. Those two despised each other and Haye and Fury clearly don't get on already! If you follow Twitter you will know that; I don't mind a bit of banter - and there will be plenty of that.
I just hope they keep it clean and don't become too distasteful because we don't need that. Both of them have upset people with what they have come out with and that's not on. It is a gentleman's sport and doesn't need to be so unpleasant. But what it has done has made these two like Marmite: you eithe love them or hate them.
Fury has come a long way in a short space of time and has to be taken seriously now, while David has to prove a point, and show us all that he not only still has the ability, but also the desire. David has to show us why he is back in boxing. Is he just back for a payday or is he still looking for another big fight with a Klitschko and the world titles? But the one thing I want to see is that David is still in love with boxing.
Yes, it is a business, but you want to see the best fighters trying to get to the top and care about it. Haye has been in the trenches and been to the very top, so as well as proving his ability this will show us whether he still has that desire. Fury says he wants it, is not afraid and is not going to run scared, so it should be worth the wait!