Prospects
The welterweight division is as deep on the domestic scene as it is internationally. This week we catch up with a young Londonder who already has one eye on Frankie Gavin's British title.
By Shaun Brown
Last Updated: 18/07/13 12:57pm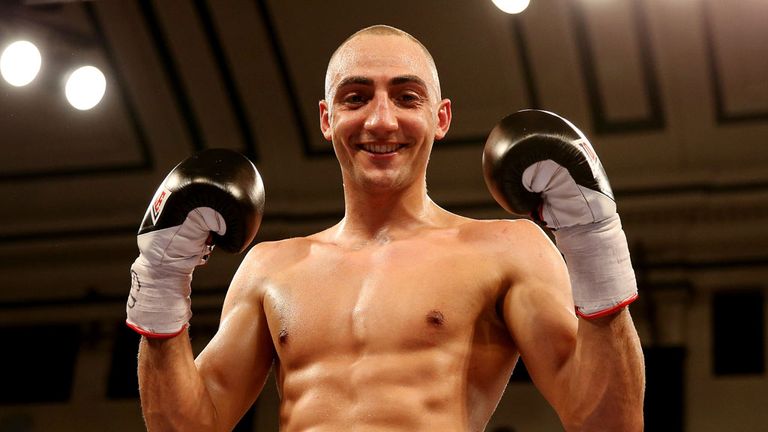 Bradley Skeete is taking everything in his stride at the moment. The 6ft 1ins welterweight has his 12th professional contest on Saturday at London's Wembley Arena but the 25 year old is hoping to make giant steps in the next 12 months.
On the undercard of Dereck Chisora vs Malik Scott, Skeete has a token 'keep busy' outing before fighting for the English title against Colin Lynes, which could well feature as part of the first show at the Copper Box on September 21 headlined by Billy Joe Saunders against John Ryder.
After winning, defending and now vacating his Southern Area strap, Skeete is now eyeing up the domestic pack leaders before challenging for the British title.
"I have a six rounder on Saturday that I need to deal with and look well in, then I can start thinking about Lynes," he told Sky Sports. "I'm now concentrating on cracking the British top ten and if I beat Lynes then that puts me in there.
Lynes is a 35 year old, 47-fight veteran whose guile, experience and overall ring craft has seen him become a two-weight British champion and European title holder at light welterweight.
Skeete has already stood on one banana skin in Peter McDonagh without slipping and he will do well to avoid another one when he faces his fellow Londoner.
When asked how he would deal with the 15-year practitioner, Skeete said: "It'll all be about getting good sparring, doing the work in the gym and working hard like I always do. Colin's boxed at a high level and I respect him as a fighter and as a person but the time is right for me to step up. If I put the work in before the fight then I'm confident I'll win."
Focus
Skeete has all the correct soundbites and that's not surprising because all he has ever known is boxing. This particular tale has left the mouths of fighters a million times and it will be told a million times again so here's how Skeete's began.
"I was always boxing from a young age and I'm not proud of the fact that I actually left school earlier than everyone else so I could concentrate on my boxing. I've never had a proper job, I've never really had anything else to focus on."
That was until his trainer Alan Smith gave him something else to put on his curriculum vitae.
"Alan's got a massive cleaning company and I've got to work a few contracts for him so I'm working hard for him in that as well as working hard in the gym."
Smith and Skeete work out of the Ibox Gym in Bromley with an aspiring stable featuring Ricky Boylan, Iain Weaver, Johnny Garton and others including "a big signing coming soon but I can't say too much at the moment," he revealed.
"He doesn't get the recognition he deserves," Skeete discussed when speaking about Smith. "He's like me in that he's a very humble guy and a quiet man but we've got a good group of fighters now and we've even got Weaver in America [who won his second professional contest across the pond] flying the flag for us."
Stateside ambitions aren't part of Skeete's plans right now. Going round the country sparring with the likes of George Groves and Darren Hamilton along with working on his power with a strength coach is the fine tuning that he believes will see him become British champion before too long. By that time he believes current holder Frankie Gavin will be long gone.
"He just needs one more win to win it outright and then he'll be on to the European title I think. I tipped him to beat [Denton] Vassell on points, he's a great fighter who is going to go on to great things.
"Without him the British division still has some great fights in there. Along with me, there's other up and comers following behind and everyone seems hard to split and I can't wait to be a part of it."
Critics
In a week where world welterweight star Adrien Broner has hit the boxing headlines for all the wrong reasons, Skeete sees no reason to court controversy himself. Describing himself as relaxed, cool and a family man with a little girl to keep him on his toes he's happy to engage in banter so long as the line isn't crossed.
"I save it for the ring," he said firmly. "I believe you sometimes have to hype a fight but it can go too far. A bit of banter on Twitter or whatever doesn't hurt anyone so long as it doesn't get personal."
It might take a lot to get under the skin of Bradley Skeete. Even when he turned professional there were those in the press that doubted he would even get as far as he has done. He's listened to his critics, he's read what they have to say but as he explained up until his first fight with Peter McDonagh he hadn't lost a single round in the professional ranks.
"No matter if you do good or bad, people will always criticise you. If you take it personal you won't get far in this game. It's all part and parcel of the sport.
"Before I boxed McDonagh I was getting the rounds in the bank. I didn't perform well against him first time but who knows what would've happened if I hadn't got those rounds in, I might have got stopped. I went ten rounds against him and won. Second time I performed much better.
"Now with a new strength coach I've been working on my power and making it explosive. The most important thing is getting the rounds in the bank but hopefully now I can get a few more stoppages or knockouts and get people talking about me."